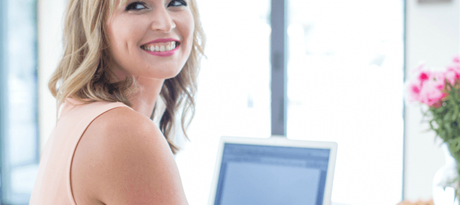 As I am finalizing the articles and information for our LAST day of our $16 Sweet Sale to kick off 2016, I wanted to leave you this little note.
Today I want to talk about the best decision of my life.
I remember just a few years ago when I had so much stress and anxiety going to work that my stomach would hurt driving into work. I would just sit in the car until the last possible minute.
I couldn't relax or enjoy the weekends because I dreaded Monday morning. Sunday blues literally hit as soon as I woke up on Sunday and then the whole day I was just so stressed.
I was stuck, unhealthy, overweight and depressed. My husband and I are were underwater on our mortgage and $80,000 in debt and our relationship was not the happiest as I was very moody after work everyday.
I knew I had to start making the right choices for ME, not my boss or my clients. I finally did what made me happy and let what other people wanted me to do go.
A week after my rock bottom of a very devastating personal experience after multiple pregnancy losses and being stuck for years in a job I hated, I hired a coach and got into a community of ambitious women who were rockin' it in their careers and doing amazing things that I wanted to do someday too.
That was my life changing decision. Not to dwell in negativity and impossibility any longer but to make a change and surround myself with positive go-getters who believed that ANYTHING was possible.
That is exactly why I created Love Your Career Formula 2.0 now with over 100 graduates who are on fire to live their career and life dreams too.
Prep School was 3 incredible evenings back in September-15, designed to map out your career transition. The course was recently updated as a home study course and is now available for you to jump in for only $16 if you join us Whether you want to change industries, companies or start a business, Prep School is designed perfectly to get you ready this year. This course is previously recorded so you can dive in and instantly start the entire course today.
I have seen firsthand So many women just like you need someone telling them that THEY CAN DO IT and cheering them on saying that how much potential millions of women have around the world that is unused because they just needed that extra support and positive environment. they can and WILL be a success and to believe in them that they really can launch their dream careers and businesses just like I have.
Your first step is to take the same life-changing step that I did, investing in myself and my dreams. That's why I created and you can start immediately (for only $16!!!).

We are so pleased with our student's success - the hundreds of ambitious women who have completed CCG's online courses. Some are thoughtful enough to leave us a note and I love it!
"I got a job offer today!" -Sarah Bensman
"So many doors are opening for me!" - Cristina Amurao
"Tomorrow is the first morning of entrepreneurship." - Beverly Fernandez
"I got 3 job offers in one week." -Vivian Ly
Will you be making one of your best decisions today? No more thinking, it's time to start taking action. We believe in you.
P.S. Prep School could fill up at any moment now and make note, the price will go back to normal TOMORROW, January 5th. So, don't delay and now.
About the Author

Anna is the founder of Classy Career Girl, named by Forbes as one of the top 35 most influential career sites of 2014. She helps millions of women design and launch their dream careers, businesses and lives through her website, online courses and social media channels.