The past couple weeks my husband and I have been discussing about adding another member to our family; a dog.  I have wanted a dog for years but being so busy with the kids' activities made it difficult to commit because of all the care needed.  But now that both Clara and Bobby are moved out, I am at home for half the day, and I feel like a walking partner, now is be the best time to adopt.
I researched online if we are ready for a dog and about what kinds would be good for our lifestyles and what we are looking for.  I found this quiz on Dogtime.com to see if we are ready for a dog.  The results said we are!  No surprise here!
I made a list of pros to get a dog: I am home often, am relatively active, we have a decent sized yard; and Cons: we have a nice house that I don't want chewed up and I don't want to have to clean up accidents every day.  Obviously the pros outweighed the cons.  A dog would keep me company when my husband goes away for work and during the day.
The research said that getting an adult dog is often easier to train and can adapt to the new environment better.  And most importantly is less likely to crew up the house.  It was clear we needed to get an older calm dog than needed some love.
After countless discussions I got my husband to agree with me and we visited our local shelter yesterday to see if there were any dogs were a good fit for us.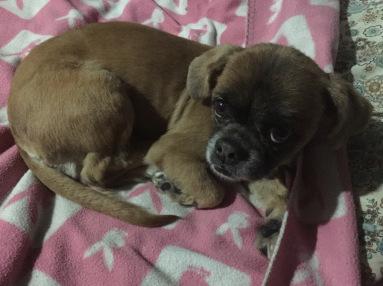 My heart melted when we walked through the door.  There were so many cute dogs that needed a home.  We got to play with them and even take a couple for a walk.  After just a short hour there, it was clear that Buddy was our third child.  He was so cute, calm, but loving, and immediately loved us.
To top it off he has had obedience training, is potty trained, had his vaccinations, and was up to day with other shots.  There was no way we could leave without him…so we did what any other dog lover would do, we filled out the paperwork to ADOPT HIM!  I felt like a little kid on Christmas! The shelter said it would take 1-3 days to get the paperwork processed and we would be able to pick him up!
I am one of the happiest women in the world right now!  We called Clara and Bobby right after leaving the shelter and they were just as excited as we were.  Bobby is even going to try coming home next weekend to meet Buddy!
We found a dog that is the perfect fit for our family and for where we are in our lives.  Adopting a dog is a big commitment and we know that Buddy is going to affect our life in many ways but we couldn't be happier for the newest member of our family!
What pet do you have?
:)