Last week, I posted information about my New Year's (non) resolutions, promising not to go too far into depth about how I planned to tackle each of them until 2013 rolled along.  As much as I hate to break a promise, I hate keeping secrets more: I've started tackling my (non) resolutions already.  Is that cheating? Probably. Am I worried about it? Not in the slightest.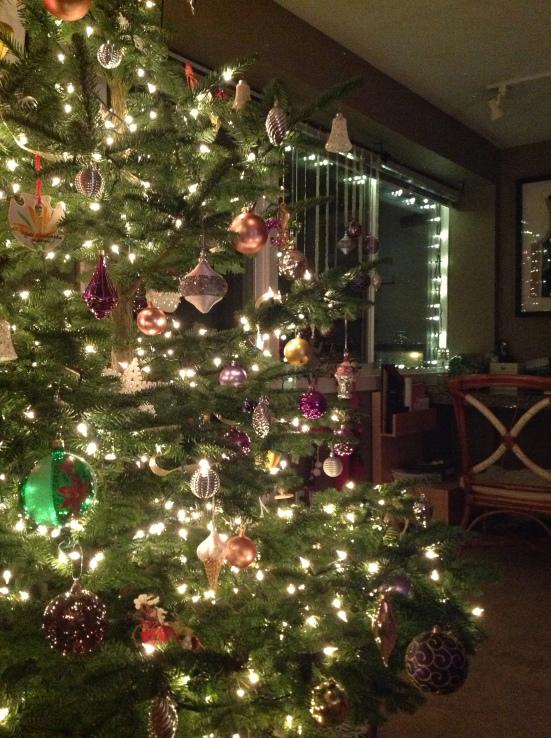 In case you were wondering, this is what my Christmas tree looks like.
Immediately after I finished blogging, I registered for three Rock 'n' Roll half marathons – Washington DC, San Diego, and Seattle.  Why these locations? Well… Washington DC is a fast course in one of my all-time favorite cities where my best friend will be waiting at the finish line with a bottle of bubbles in hand for yours truly.  I'm venturing to San Diego to run a half marathon with a sorority sister of mine.  This marathon is a shameless excuse to beach sit and catch up with Trisha over brunch and shopping and scoping out surfer dudes in the sunshine.  The Seattle half marathon will be my most serious half of the season, as it will catapult me into training for a full marathon in September or October (The race is still up in the air, as I have to wait for the Huskies to publish their football schedule before making concrete plans.  Yes, I'm that big of a fan.).
The day after I registered for each of these races, I received an email from the good people at Rock 'n' Roll that informed me it was time to start training for DC.  Whaaaaat? It's not even Christmas yet! How can it be time to start training?! I sat in silence, mourning the end of my off-season and immediately started planning out a training calendar.  Since starting CrossFit, I have seen huge gains in my muscle mass, changed my attitude towards workouts, and taken on a new approach to nutrition.  Each week, I am stronger and faster than I was before.  This fitness program is delivering results.  As a result, I have decided to move away from my previous training pattern toward the approach endorsed by CrossFit Endurance.  CrossFit Endurance (CFE) is an endurance sports training program for runners, triathletes, cyclists, and swimmers that is dedicated to improving performance, fitness and endurance sports potential.  It provides its athletes a solid mix of weight-lifting, anaerobic challenges, cross training and endurance sports practice.  It's theory is supported by the idea that the Long Slow Duration (LSD) workouts practiced by many endurance athletes result in the athletes being less powerful, less lean and more prone to injury, low energy and abbreviated sport longevity.  I'm dedicated to running and CrossFit for the long-haul – twenty years from now, I'd like to still be able to run 5-6 marathons a year.  In order to develop a body that can handle that sort of workload, I'm dedicating the next year of my life to developing the exercise and nutrition habits that set a consistent baseline for success.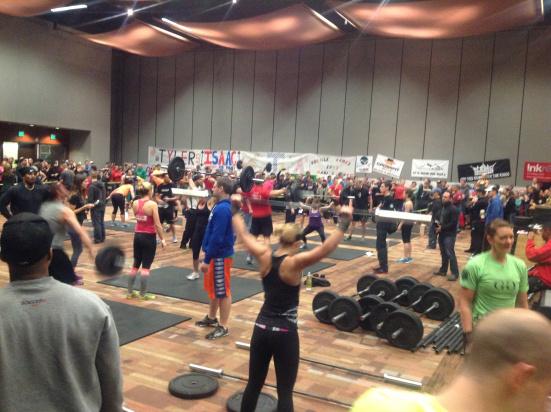 2012 Gorilla Games Athletes
So… what does CFE look like?  To make a long story short, it's kind of intense.  This week, I embarked on a six-week On Ramp program that features three class-based CrossFit workouts per week (Monday, Wednesday, Friday), along with two days of sprint workouts (Tuesday, Thursday) and one day of tempo running (Saturday).  Sundays are for chilling the heck out and rolling around on a foam roller.  More specifics, you say? Click here to see what I'll be working through until January 27.  After the On Ramp program, I'll dive into a 7-week training program to gear me up for DC and adjust my training pattern from there.  2013′s marathon season is an experiment that I may have to tweak a bit here and there.
Also… I ate too many cupcakes on Sunday and at least one Paleo coconut-chocolate-ganache pie last night.  I'm feeling guilty and bloated and uncomfortable in my jeans.  While I am not quite willing to forego traditions like Dad's specialty cocktails on Christmas morning or Irish Coffees with mom Christmas Eve, I am going to jump-start the Whole 30 program I had previously scheduled for January 2.  While I'll be 100% Whole 30 compliant for the entire month of January, I am going to knock out the last bit of December as 90% Whole 30 compliant.  We'll call it an "ease in" program for those (like me) who aren't quite ready to change traditions (yet).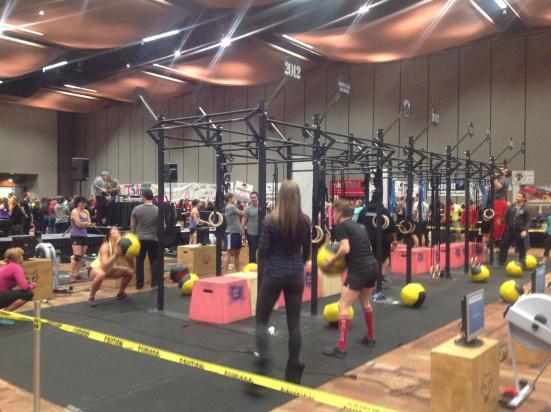 Another Shot of the 2012 Gorilla Games!