Every week day morning when I get up and have the urge to drive down the street to the local "drive-thru", yes "drive-thru" Starbucks, I always love when I get asked…
" Is there anything else that I can get you? "
Um…yes how about 5 of every morning pastry please?
I usually end up getting one of the new spinach squares, or a morning bun, because obviously having your morning coffee is never complete without a little bite.
Here is one of my favorite recipes for a morning sticky bun, but miniature sized.
Morning Mini-Sticky Bun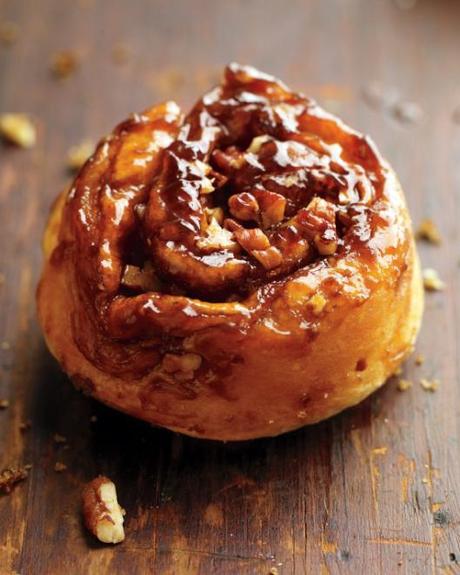 INGREDIENTS:
1 package active dry yeast (2 1/4 teaspoons)

1/4 cup warm water (100 to 110 degrees), plus more for raisins

12 tablespoons plus 1 1/2 teaspoons unsalted butter, plus more for muffin tins

1/4 cup granulated sugar

2 large egg yolks

1 teaspoon white vinegar

1/2 teaspoon plus 1/8 teaspoon coarse salt

1/4 teaspoon pure vanilla extract

1/3 cup sour cream

1 2/3 cups all-purpose flour, sifted, plus more for work surface

1 cup bread flour, sifted

1 cup raisins

Glaze

1 1/2 cups toasted pecans, very coarsely chopped

1 cup packed Brown Sugar Mixture

1 tablespoon ground cinnamon

Boiling water
DIRECTIONS:
STEP 1

In a small bowl, mix together yeast and warm water; set aside. In the bowl of an electric mixer fitted with the paddle attachment, cream together 11 tablespoons butter and granulated sugar on medium speed, scraping down sides of bowl with a spatula, as necessary. Add egg yolks, one at a time, mixing well after each addition and scraping down sides of bowl with a spatula as necessary.

STEP 2

Add vinegar, salt, and vanilla; mix to combine. Slowly add sour cream, mixing until well combined. Add yeast mixture and continue to mix, scraping down the sides of bowl with a spatula as necessary.

STEP 3

In a large bowl, whisk together both flours. Add to mixer and mix on low until well combined and dough begins to pull away from the sides of the bowl and just begins to form a ball.

STEP 4

Turn dough out onto a lightly floured work surface. Knead dough until smooth, about 5 minutes. Lightly flour the bottom of a large glass bowl; place dough in bowl and cover with a clean damp kitchen towel. Cover bowl tightly with plastic wrap; let stand until doubled in size, about 5 hours or refrigerated overnight.

STEP 5

Preheat oven to 100 degrees with racks in upper and lower thirds. If dough has been refrigerated, remove from refrigerator and let stand until it comes to room temperature. Place raisins in a small bowl and add enough hot water to cover. Let stand for 5 minutes and drain.

STEP 6

Set out four 12-cup or two 24-cup nonstick mini-muffin pans. Lightly butter the top of the pan (in between each muffin cup). Place about 1 teaspoon Glaze inside each muffin cup and sprinkle each with 4 to 5 pecan pieces, pressing into glaze; set aside.

STEP 7

Lightly flour a work surface. Punch down dough and turn out onto work surface; knead until smooth, about 2 minutes. Shape dough into a rectangular shape with one of the long sides facing you. Roll out dough into a 48-by-4-inch rectangle; brush off excess flour.

STEP 8

Melt remaining tablespoon plus 1 1/2 teaspoons butter, and brush evenly over dough. Sprinkle dough evenly with Brown Sugar Mixture, leaving a narrow strip of unsugared dough on the edge closest to you. Top sugar with raisins and sprinkle dough evenly with cinnamon. Using a rolling pin, press filling evenly into dough.

STEP 9

Beginning with the long side facing you, tightly roll dough away from you into a log; cut dough crosswise into 48 pieces. Place each piece into a prepared muffin cup, tucking the loose end under the center. Place a roasting pan on the bottom of oven and fill with boiling water. Divide muffin tins between 2 baking sheets and transfer to oven. Let dough rise for 30 minutes.

STEP 10

Remove sticky buns and roasting pan from oven. Increase oven temperature to 375 degrees. Line 2 baking sheets with parchment paper and set aside.

STEP 11

Transfer sticky buns to oven and bake for 11 minutes. Using a long, narrow spatula, tap down on the top of each sticky bun and tuck any loose ends back into muffin cups. Continue baking until golden brown, 14 to 17 minutes more. Remove from oven and let stand 1 minute.

STEP 12

Turn out sticky buns onto parchment paper-lined baking sheets, lifting pan straight up to remove. Let cool slightly before serving.