Leyte and Samar are in a State of Emergency, social feeds are abuzz with frustration, anger, and sadness after the strongest recorded typhoon in history hit the central area of our beloved country.  The truth is I'm full of mixed emotions as a bystander and resident of the unaffected areas, and this Saturday I even have two upcoming makeup workshops with 2 different brands that I wish I could postpone but one was a pre-commitment with MUFE over a month ago that of course I have to stick to, and the other, well, you'll hear about it soon.  Many, many aspects of life now seem frivolous, even posting pictures of food or products seems downright inappropriate.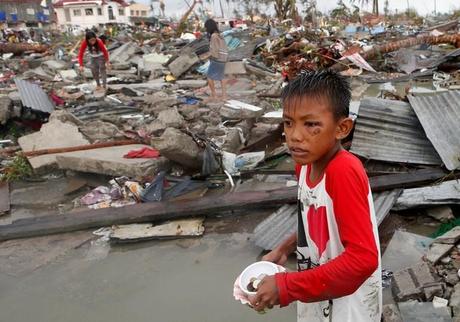 http://ibtimes.com/caption
"An ounce of help is more than a pound of pity, a grain of volunteerism is more than mountains of cynicism."
You may have noticed in the last couple of days I put up 1-image posts of upcoming promos and launches plus a small home feature instead of product reviews.  It's partly because I just simply have run out of the regular stream of beauty blogger words for the moment.  Truthfully, I can't completely go on a self-imposed blogging ban this month because I do have a few commitments to some brands from way before the storm hit to feature the seasonal stuff they sent me.  But yes for most other than workshops and brand new products I'm putting my foot down and I'll just have to apologize nalang because they'll have to wait, I just can't right now.  Forgive me if any reviews (if they do show up later on) end up somewhat lackluster or somber, they will always be honest and detailed but reviews are about temporary things that will never compare to the value of people's lives trying to hang on and in need of our help.  I hope you understand, whether or not a post shows up.  If one does then please also don't judge, this has become part of my work as well, but please know that I will of course be sensitive because I am, like many of you, quite affected by all that's happening out there.
There's the harsh reality that life goes on in the unaffected cities and sadly we all must comply responsibly with ongoing schedules if we're not sitting shotgun with military dudes en route to Tacloban, Capiz, Bohol or any of these devastated places.  My brother and I set aside our share for Yolanda relief and will still be trying to volunteer in the next few days at our church.  If you can do the same, please do, too, otherwise prayer and donations are always welcome (check out the legit organizations you can donate to here on the blog's sidebar).  There are ways to help, and as my German uncle shared "An ounce of help is more than a pound of pity, a grain of volunteerism is more than mountains of cynicism."  Let's also be balanced in our dealings at this time with other people in everyday life and try also to not step on their toes if they're celebrating a personal happy moment, finding joy in something, or embracing recent victories, after all happiness…as well as sadness is a part of life.
"Rejoice with those who rejoice; mourn with those who mourn." ROMANS 12:15