A slightly upgraded version of the Nokia Asha 501, the Nokia Asha 503 is another device in the line of Nokia's low-budget smartphones. It comes in vibrant colourful tones, has a unique glossy finish and it is the first Asha phone to come with 3G connectivity.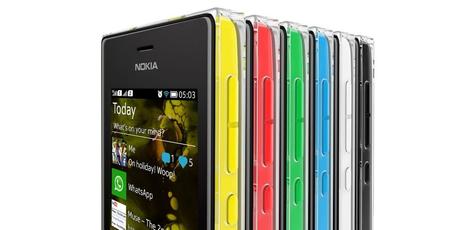 Younger crowds will probably like the Asha 503′s interesting design.
The Asha 503 has a clear, perspex back, which gives it an icy effect and the thick plastic casing makes it look and feel sturdy. It's a small and compact phone, really, and you'll have no problem operating single-handedly. When you remove its back, you get access to the battery, the SIM card slot (or, if you opt for a dual-SIM Asha 503, two slots) and a microSD slot, which allows you to expand your storage up to 32GB. Nokia even threw in a complimentary 4GB microSD card. The Nokia Asha 503 is available in vivid red, yellow, green, cyan, white and black.
The Nokia Asha 503 features a 3in LCD display (320 x 240 pixels) covered in protective Gorilla Glass, which ensures extra durability. Colours and contrast are not that great, but the screen is brighter than expected. Having its price in mind, it's a good bargain.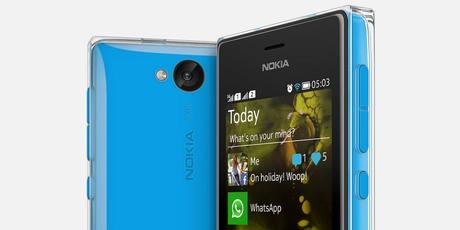 You get a 4GB microSD card with your Nokia Asha 503.
The Asha 503 runs on the Asha OS, which has a lot in common with Nokia's old OS, MeeGo. Since Nokia didn't release any details about it, we do not know exactly what powers the Asha 503, but many guess that it has a 1GHz single core processor. It also comes with 128MB of RAM, which is double the RAM the Asha 501 has, and around 170MB of internal storage.
On the phone's back is a decent 5-megapixel camera that captures 2592 x 1944 photos and the LED flash helps you shoot better in low light. Many additional camera settings are included and you can set the resolution of the images, choosing between VGA, 1MP, 2MP, 3MP or 5MP.
The Asha 503 has a small 1,200mAh battery which can, according to Nokia, get you through 4.5 hours of talk time on 3G. In terms of connectivity, the Asha 503 supports quad-band GSM/EDGE and dual-band 3G networks, as well as Wi-Fi b/g/n and Bluetooth 3.0.
If you're looking for a cheaper smartphone (around 80 GBP) that will serve your basic phone needs, but still looks quirky and fun, then you might want to look into the Nokia Asha 503.