Good evening Beautiful,
I write this as I'm watching the Oscar Red Carpet, so please bare with me if I say something random or have some gramatical/spelling errors, although I hope I don't because I have spell check.
How was your weekend??
I feel like this weekend ended much too quickly! I didn't get up to too much this weekend which was nice. I had a little bit of a funky stomach on Saturday, but I'll bare you the details of that! Unfortunately I didn't break a sweat one time this weekend, kind of pathetic, I know. I also didn't eat well... so double pathetic. I got my hair done on Saturday morning. A friend of mine does it for me and her and her roommate were both home. We all got to talking about how we've ALL been in such a funk lately! Gillian was saying how she hasn't been to the gym (in 2 days, that's a long time for Gill) and has been eating crappy. LIKE ME!! We're blaming it on the crappy cold, gray weather. We're all ready for summer to be here... Ugh. I really want to get running outside but the days that I plan on doing it end up being shitty in terms of weather so I just don't go. The good news about the whole thing is that I now have my spring time hair! Check it out -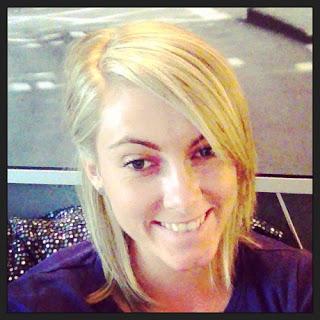 AHH! It's SO BLONDE!! And more blonde I've ever been in my entire life!! I was a little surprised to see how blonde it was, but I like it! It's A LOT different than what my hair was before, but it's cool! Very summer! I just need to work on getting the summer bod now as well!
Random question - Is Hugh Jackman's wife the lady that played Genie in I Dream Of Genie?? She's so darn pretty.
Today I finished my second course in my Holistic Nutritionist program! Haha I'm so excited!! I almost bailed on blogging so I could start my test, but I'm going to do that tomorrow night. I'm actually SUPER excited about ending this course because the text book was just the second half of my first course's text book so it didn't really feel like a new course... but now I'm done the 800 pages of reading and I'm onto my next learning adventure! I think it's Anatomy and Physiology, but I'm just guessing at this point. YAY!!
So I knew if I wasn't going to the gym today I had to do something that was both healthy and productive so I decided to find a new recipe and cook it and share it with you! Now this recipe didn't come from one of my paleo cookbooks, and it's not 100% paleo because it includes sugar and peanut butter. It looked so amazing though so I had to give it a shot. Here it is!
Chicken Satay with Peanut Sauce
Ingredients
4 large boneless, skinless chicken breasts
1 thumb-size piece of fresh ginger
1 tsp ground tumeric
1tsp ground coriander
2 tbsp of thai fish sauce
2 tbsp of sugar
1.5 tsp ground cumin
1/4 cup coconut milk
1 large green chile
1 onion
2 cloves of garlic
1 stalk of lemon grass
2 tbsp of extra virgin olive oil
4 heaping tbsp of peanut butter (the recipe calls for crunchy but I used smooth)
1 handful of fresh cilantro
20 wooden or metal skewers
Directions
1. Wash each chicken breast and cut each breast into 5 long strips length wise.
2. Peel ginger and finely grate the ginger and put it into a large bowl. Mix in the tumeric, ground coriander, 1 tbsp of the fish sauce, 1 tbsp of the sugar, 1 tsp of the cumin and 1 tbsp of the coconut milk. I poured this over the chicken and mixed it up with my hands. You can let it marinade for 30 minutes or up to 24 hours in the fridge.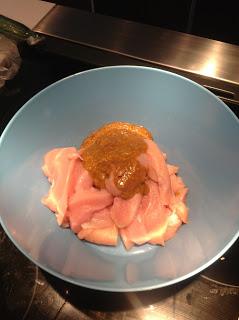 Chicken with marinade!
3. If you're using wooden skewers, soak them in cold water while you wait for them to marinade. This will stop them from burning while under the broiler.
4. Seed and very roughly chop the chile. Roughly chop the onion, garlic and lemon grass. Put them all into the bowl of a food processor with the remaining cumin, sugar, 1tbsp of the oil and 2 tbsp's of water. I ended up using my Magic Bullet because I don't have a food processor, BOO.
5. Process the ingredients together to make a smooth paste. Heat the remaining oil in a pan, add the paste then fry over a high heat for 4 minutes, until fragrant. Stir it as it cooks. I used a pot instead of a pan...
6. Add the peanut butter and a scant 1/2 cup of water into the pan and stir. The sauce will boil and then thicken quickly. Season with the remaining fish sauce. Set aside while you cook the chicken; add a splash of hot water if it starts to thicken up. When I added in the peanut butter and water it boiled SO fast and because it was thick, when it boiled it basically exploded everywhere! So I took it off the burner immediately and it was fine! I also added salt, but you can decide if you want to do that or not.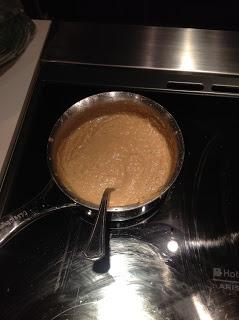 7. After you've marinated the chicken, thread each piece of chicken onto a skewer. Put the skewers onto a baking sheet, well spaced apart. Preheat the broiler (it doesn't give a temperature which is odd, but mine was pretty high..)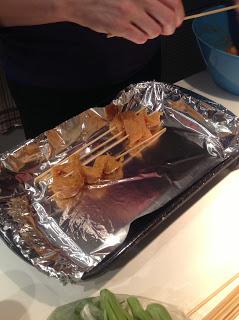 8. Broil the chicken until it's brown on top and then flip the chicken over and broil the other side. Spoon a little of the remaining coconut milk onto the chicken as it cooks. Service drizzled with more of the coconut milk, sprinkled with the cilantro leaves and with the peanut sauce ready for dipping.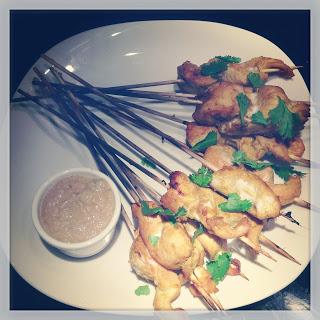 Mmm, I just finished eating some with kale chips and it was SO GOOD. I think I wouldn't use a whole onion in the peanut sauce next time, but other than that I wouldn't change anything! And obviously I didn't soak my bamboo skewers long enough because they burnt and the condo smells like campfire now. Oh well. :)
Ann Hathaway totally reminds me of Audrey Hepburn with her pixie cut... LOVE HER. She's also wearing Tiffany jewels tonight, so obviously Audrey!
One last Oscar comment, Kristen Chenowith is annoying.
How was your weekend??? I saw a ton of people ran races this weekend, if you ran one, which did you run and how did you do??