Some of you will be aware of an ultramarathon running challenge I have set myself for August of this year, and I have got to the position now where I have to promote this to the wider community. I have a goal to raise $50,000 for my two chosen charities both of which have a personal meaning to me (I won't go into those now, as they are covered on the 33 Marathons Challenge page).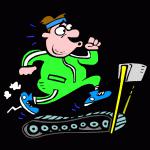 The first of my public promotions is a 12 hour session on a treadmill at the local MyFitness Club, which will simulate one day of challenge, but in a spectator friendly manner. I'll be doing this on Tuesday 1st February from 8am-8pm in Noosa. Now whilst this is good for raising the profile of the charity event, I have not been convinced as to its training benefit for me.
Treadmills can be great for those of us who are unable to get out doors to run, but I am sure that any runner given the choice would rather get out and get some fresh air into their lungs. So I have been thinking how I can get the most out of this opportunity.Firstly I have set aside 12 hours to run, and as it is in one place it makes the logistics very easy. All I need is just a load of fluids and other nutritional snack, and a towel or two. I wouldn't normally have a 12 hour training session planned, so it will be good to get those hours on my feet logged.It provides me with a great opportunity to test myself and my performance at set speeds related to my heart rate.  I plan to run at an easy 10kmh, as this is my comfortable plodding pace. So it will be interesting to see how my HR changes throughout the day, as I will be recording this with my Garmin. I can then use the results to give me an indication of how my body performs under different conditions.It also gives me the chance to add a great deal of structure to my session with regards to nutrition, such that I will eat my sandwiches every hour (as I do on the trails), and to consume a measured amount of fluids. This will give me a baseline of how my body performs under fixed conditions. I can then adapt my rate of food and fluid intake based upon the different conditions I experience (such as terrain, temperature, incline, etc).  The art of Ultrarunning for me is discovering how to keep your body performing at optimum levels under changing stresses, and what you put into your body is a major factor.Another area where I hope to learn more, which is an area of primary concern doing this, is the impact on my running gait and injury risk. Trail running uses all of you leg muscles in an unpredictable manner, driven by the inconsistency of the running surface, and I believe this helps reduce the occurrence of repetitive use injuries. On a treadmill, everything is consistent, so some muscles will be working much harder and some much easier, and the friction points in the joints will be the same with every stride. So I will need to consciously vary my stride length, vary the foot strike and degree of pronation and hopefully simulate the trail running experience. The secondary benefit of this is that, it will not only recruit more muscles and improve proprioreception, but it will also occupy my mind. 12 hours in a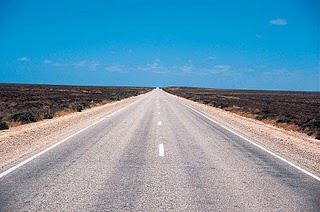 gym in front of daytime TV could drive anyone crazy! Again though this will be a good taste of what is ahead on the long, straight, featureless roads, including the" 90mile straight", of the Nullarbor Plain.
So hopefully I will find the whole thing an enlightening experience, and it will provide me with more incite as to how my body works under these sort of endurance stresses. I will of course report back with what I learn. I have a feeling that it will include a lot of psychology as much as physiology!
In the meantime if you do want to contribute you can donate to either charity via the links on the right hand side of this page. Also if anyone out there has links with the running gear industry we are looking for sponsorship and would greatly appreciate any help you can offer.Thanks and Happy RunningAndy
***Please check out and support my 33 Marathons Challenge***
"The only real mistake is the one form which we learn nothing" – John Powell
www.ultrarunning.com.au