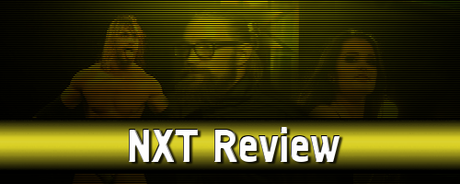 This week NXT from Full Sail University had Divas action, more feud developments, the NXT Champion in action and a superstar return.
Trent Barretta vs Johnny Curtis: After months out of action Trent Barretta made his return and was received with "Welcome back" chants from the crowd. He faced Johnny Curtis in a very good match. Is really nice to see him in the ring again.
Paige vs Alicia Fox: Really good divas action this week. Paige is really great competitor that's really over with the crowd. This match had a lot of different types of pins made by Paige. Is really refreshing to see an actual match put down together by the females. Is really a shame that the WWE got rid of people like Kharma and Sofia Cortez.
Conor O'Brien w/ Kenneth Cameron vs Jimmy Uso w/ Jey Uso: Continuing their ongoing rivalry this week just like last week. This match was just like last weeks, Conor O'Brien was dominating Jey Uso. The Ascension is such an interesting tag team because they're so different from the other tag teams. They have a cool entrance, they are really aggressive in the ring and they actually play as a tag team. Each day those two impress me more and I hope that with this revival of the tag division they get a spot in the main roster.
Briley Pierce is backstage interviewing the young Bo Dallas, but he is quickly interrupted by Michael McGilicutty. But that interruption ended in a brawl that had to be separated by the referees.
Sparring Session—Kassious Ohno (via sub) vs Oliver Grey: A short squash match that showed how dangerous Kassious is. But like the commentators said there wasn't any difference between a regular match and the sparring session. After his win he takes a microphone and he says how easy it was winning and that the guy wasn't ready. That's why he gives him another opportunity. He once again wins via submission end even though he won he continued holding the submission until Richie Steamboat appears. Looks like NXT is having their first real feud since their reboot.
A video package with a creepy Leo Kruger is shown. Looks like he is going into a more crazy gimmick. Weird that they changed his character when his past gimmick seemed good enough.
Rick Victor vs Seth Rollins: Just like all NXT main events this was a great match. Rick Victor really has a lot of potential, well he was trained in the Hart Dungeon that says a lot for him. Not so much to say about this match besides saying it was good and entertaining. Seth Rollins is really the future.
Another NXT show. The fact that there is a ongoing feud with Richie Steamboat and Kassious Ohno makes me look forward for next week. Watching Trent Barretta return also put a smile on my face, he really is a great competitor and seeing him back is great. The tag team division and divas division in NXT once again delivered good matches. Seeing them in action makes you wish they were on the main roster. Overall this show was great as always.
Final Score: 9.8/10