Classic white sneakers are among the top spring and summer trends this year.
Everyone from top celebrities to fashion bloggers are sporting this trend. While there are endless ways to style this wardrobe essential, you can easily make a mistake as well. So how exactly do you wear your classic white kicks?
Here are some ideas to help you out:
All white everything –

What color says "summer" like white does? For a cool and classy look, you can wear your white sneakers with an all-white outfit. Maybe you could wear them with your relaxed linen trousers and a crisp white shirt. Or you could complete a white jeans and white tee ensemble with these classics.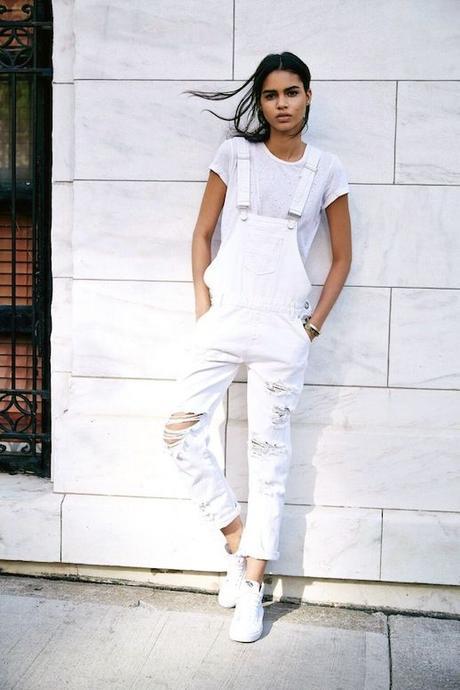 Source: Blog Lovin
With a miniskirt – For a fun and sporty look, wear your white kicks with a cute miniskirt. To avoid looking like you're going to a tennis match, you could wear a leather or denim jacket over a concert tee. White sneakers will look perfect with one of this season's hottest trends – a front-button, A-line miniskirt. Whether you choose denim, suede, or cotton; this classic pairing will work perfectly for the summer.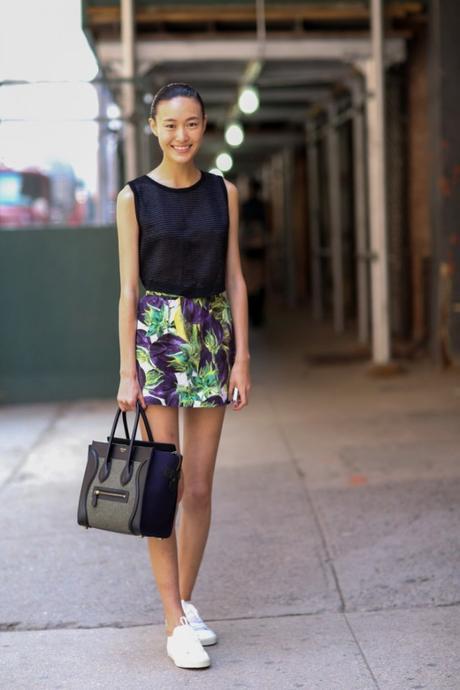 Source: Fashion Gum
With a maxi dress –

A maxi dress usually speaks feminine and delicate. Add an edgy touch to the outfit by wearing your white sneakers with the dress. Opt for something in chiffon or some other lightweight material. To get a summery look, choose the prints and colors carefully. Something sunny and cool like pastel shades will work just fine. Whatever you do, make sure the dress exposes your ankles and doesn't graze the top of your sneakers.
Source: Who What Wear
To add a modern twist – Your classic white kicks are ideal for adding the right touch of contemporary to a vintage outfit. When you're wearing an all-vintage outfit, it can be easy to look like you're wearing a Halloween costume. From a sixties-style shift dress to a seventies-style jumpsuit, these sneakers could help you avoid that mistake. You could add cute athletic socks or quirky prints when wearing them with a shift dress.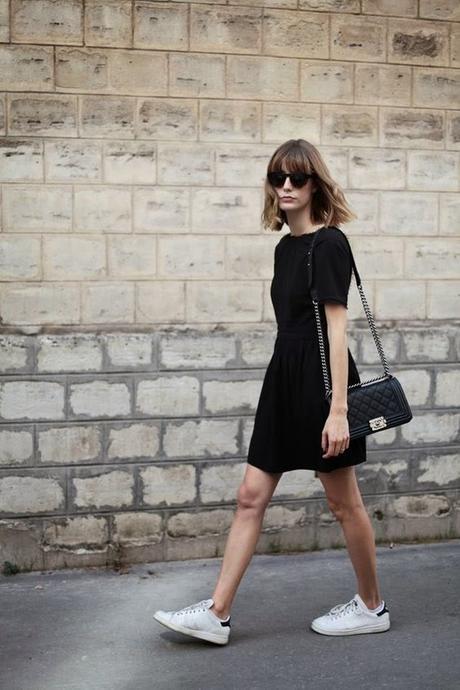 Source: Pinterest
To dress down formals – White sneakers are ideal for making your formal outfits more appropriate for everyday wear. Maybe you have a dressy cocktail dress that you hardly wear. Make the most of it by dressing it down with bright white sneakers. Or you have a pair of formal trousers that you no longer wear to work. Wear them with these shoes and a crisp white button-down. You could even tone down a pantsuit with these classics.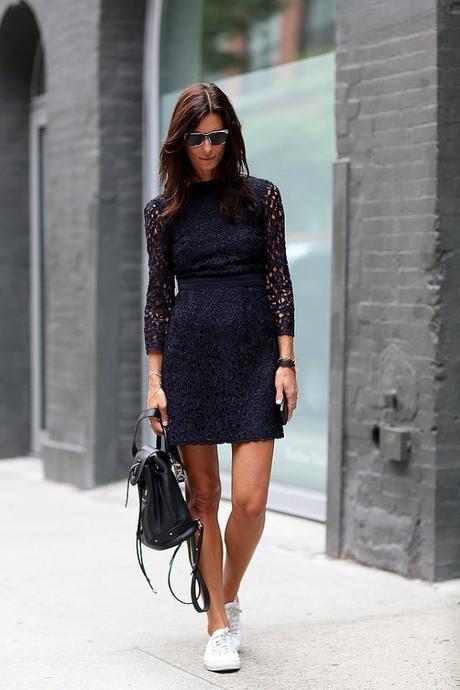 Source: Pop Sugar
With a midi skirt –

If you think midi skirts can only work with high heels, think again. Classic white kicks are the easiest way to tone down a dressy midi skirt. Give your gorgeous feet some rest by ditching the heels for the summer. Whether it's a layered fifties-style midi skirt or an elegant narrow pencil skirt, add a casual touch with these sneakers. Maybe you could complete the look with a crisp white shirt or a graphic tee and a denim jacket.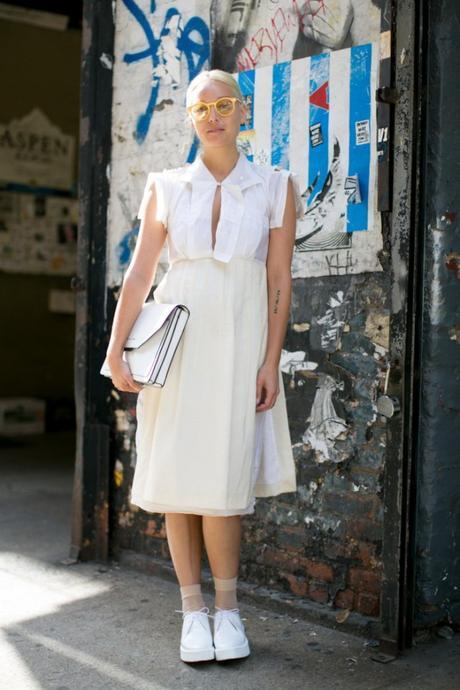 Source: Fashion Gum
Monochrome madness –

Bright white sneakers add the right level of pop to your monochromatic outfit. Maybe you want to wear different hues of gray for the summer. Wearing black shoes with this outfit will make it a fall or winter look. If you wear gray shoes, the outfit will look too dull. White sneakers are all you need to turn it into a summer outfit. You could carry a matching white bag to complete the look.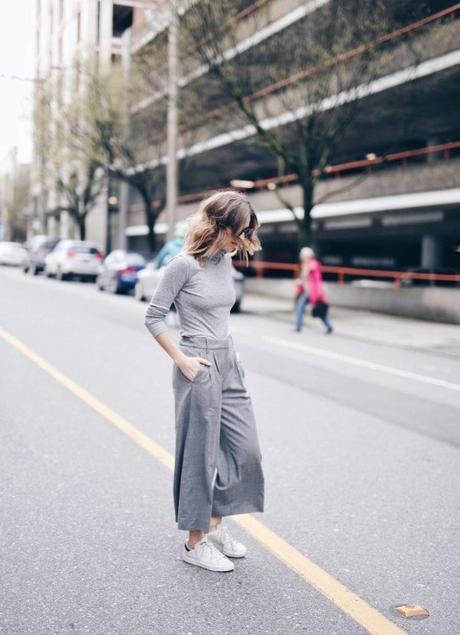 Source: Just the Design
From winter to summer –

With their summery look, white sneakers can take almost any winter staple to a more summer-worthy look. Maybe you have a lightweight sweatshirt that was your best friend during the cold winter months. You can simply throw this on over a summer dress and white sneakers ensemble. This look will be great on those summer days that are a wee bit chilly. White kicks will also look great with your favorite coat. You can use the coat to dress up your shorts and tank top look.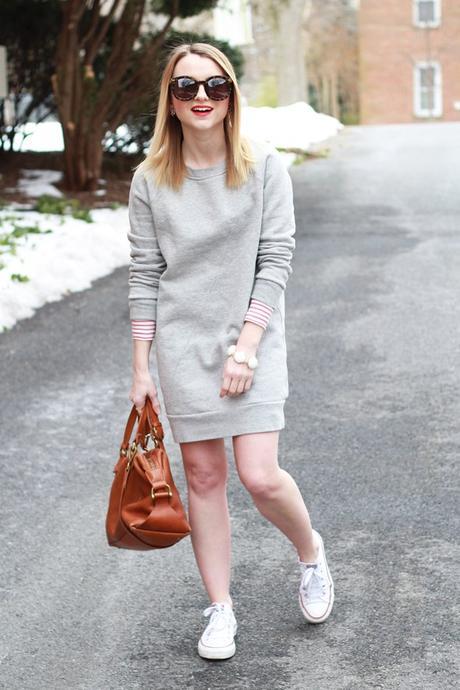 Source: Poor Little Girl
These are just the basic ideas to help you find the best possible way to style your white sneakers. You can wear them to go with your unique personal style. Just make sure you get to express yourself stylishly while combining style with comfort with all-white sneakers.
Author Bio:
Brandon Leibowitz, is a seasoned writer at Value Village, global thrift retailer. He is also a contributor to many social media blogs like social media examiner, businesss2community and many more… His knowledge and dedication made him popular on Social Media as a strong influencer.
Social Profile:
Google+: https://plus.google.com/+BrandonLeibowitz/posts
Twitter: https://twitter.com/bosmol                               
LinkedIn: https://www.linkedin.com/in/brandonleibowitz
Facebook: http://www.facebook.com/bosmolskate
Gravatar ID: [email protected]