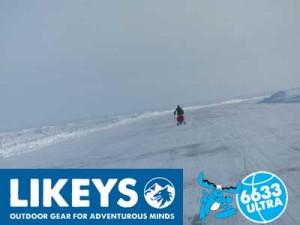 The 6633 Ultra 2015 got underway on Friday 20th March at Eagle Plains, Yukon with a short run to the Arctic Circle and back due to inclement weather. As the weather appears to have improved its possible that all the runners left yesterday. There are two distance options – 120 miles to Fort Macpherson or 350 miles to the banks of the Arctic Ocean at Tuktoyaktuk.
27 athletes representing 12 countries descended on Whitehorse and there have been 3-4 withdrawals already. With communication opportunities very limited, we await the organisers next report on the website for the latest update.
Seven of the runners are returning from the 2013 event and Englands David Smale is back for his 4th time
With only 11 finishers of the 350 mile race in 7 years, the 6633 Ultra has unquestionably established itself as one of the toughest, coldest, windiest ultras on the planet.
In 2010 Lowri Morgan was the sole survivor of the 350 mile 6633 Ultra Marathon becoming the sixth person to cross the finish line. Her race was filmed for S4C which won several BAFTA awards in 2012.
The 6633 ultra is a non stop self sufficient foot race over a distance of either 120 miles or 350 miles and competitors are expected to carry all their provisions for the race including food, cooking items, clothing, sleeping kit and other safety gear.
Checkpoints are spaced along the route at between 23 and 70 miles apart, where racers can rest for a while and prepare their own food. Hot water and shelter are the only things guaranteed at the checkpoints!
Organisers
The race is once again being organised by Martin, Sue and Kevin at Likeys together with significant help from a multitude of individuals from the UK and more importantly in Canada. All three of the organisers have raced in Arctic conditions on a number of occasions and it is this experience that they will be bringing to the 6633 ultra to make it the most testing and rewarding of multiday races.
Course Records
120 Miles – Kevin Hollings – 2013 – 34 hrs 35 mins
350 Miles – Mimi Anderson – 2007 – 143 hrs 25 mins
Links
Race website: 6633 Ultra
Facebook: Facebook.com/pages/6633-Ultra
From Multidays.com, post 6633 Ultra 2015