Frog and I were at Simpang Bedok last Saturday afternoon looking for a café to rest out feet and to have our tea break where we had chance upon Time Table Café located at East Village. From the previous blog post, you guys will know that this was not our first visit to Simpang Bedok for dining. However, it was our first time exploring East Village. East Village is a residential and commercial mixed development nested within the exclusive private landed estate of Simpang Bedok.
Here are 6 reasons why you should visit Time Table Café:
Cosy and Quiet Ambience Café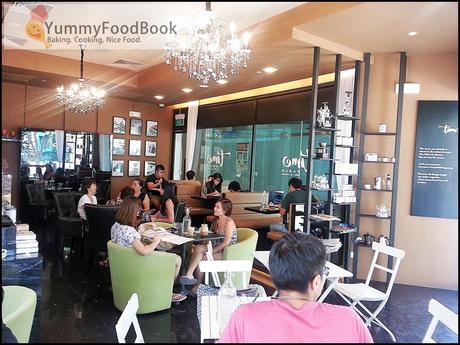 Stepping in the café, the place is brightly lit and cosy for chit chatting with friends over coffee, cakes or waffles. The café is not as noisy compare to other cafes that we had been too. Very homely feel!

Free WIFI
It is not easy to find café with free Wifi available for use in Singapore. Frog and I had tried the Wifi using our tab to surf net. Surprisingly, the connectivity is not weak and hence no disconnection while surfing net!
Free Power Charging Station
Yes you did not see wrongly, Time Table café offer free power charging station! Great place for work discussion using laptop, tap or phone over coffee and dessert. Need not to worry of battery going flat half way through the discussion.
Great Service and Friendly Staff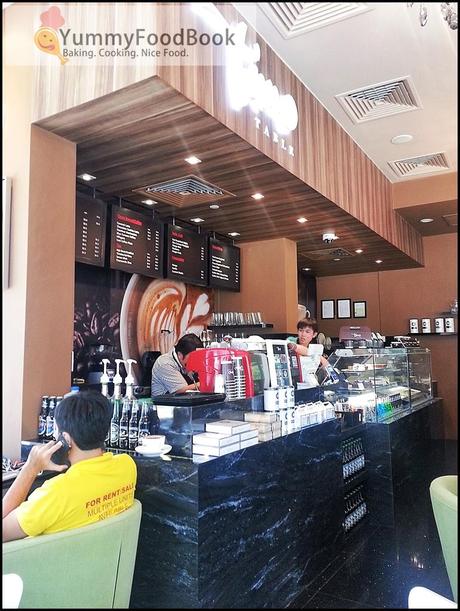 Greeted with warmth by the counter staff when we were taking our orders. Surprisingly the staff had taken our orders in mandarin that give us an unpretentious feel.
The boss of the café is attentive too. He had offered to refill the hot water for my pot of tea when he had noticed that there was no tea left. How nice!
Affordable Set Dessert / Meal Available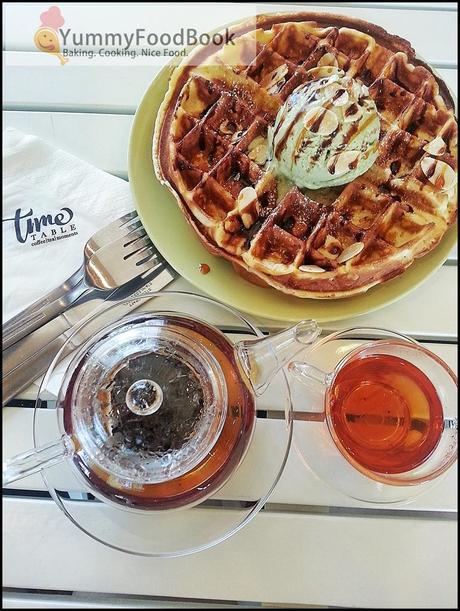 Since it was our tea break, I had ordered the tea and waffle (including a scope of ice cream of your choice) set for $11.80. Yes you can refill hot water to the pot of tea for free too. Frog had ordered a cup of café Americano (hot) for $4.20. Not only waffle, the café also sell cakes, spaghetti, pizza, lasagne and gelato too.
Nice Waffle with Gelato and awesome coffee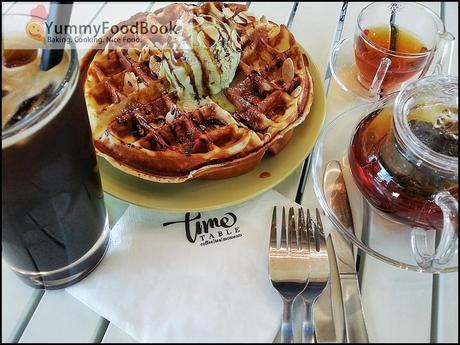 The waffle is hot and crispy and it goes well with the pistachio gelato. The gelato is smooth and rich in pistachio flavour that make us want to go for another scoop! Frog loves his Americano too. Rich and aroma coffee that lingers after every sip.
With the above reasons, frog and I will definitely be back to Time Table Café for our coffee and dessert fix :).
Time Table Café
East Village Mall
430 Upper Changi Road
#01-01, Singapore 487048
Opening Hours: 11.00am – 12.00am Mon – Sun
Tel: 6635 6960
More from YummyFoodBook
PERCOLATE (BEDOK) CAFE

BADOQUE – HALAL CAFÉ AT SIMPANG BEDOK 2014

THE ORANGE THIMBLE – TIONG BAHRU

WHITE TANGERINE CAFE – PAYA LEBAR KOVAN CC

DONG PO COLONIAL CAFE