Tourism to the Southeast Asian nation Laos is steadily growing year on year. This serene country has a great deal to offer anyone interested in history, Buddhist culture, or nature. Without a doubt, the most popular city for tourists is the north central city of Luang Prabang. Located between Nam Khan and the Mekong River, Luang Prabang has some of the best-preserved Buddhist temples in all of Asia. Fun fact: the name "Luang Prabang" literally means "Royal Buddha Image." This image is actually an extremely important ancient statue of the Buddha now housed in the city's Royal Palace Museum. If you're even a teensy weensy bit interested in this remarkable city, please keep reading. In this mini Luang Prabang guide, we'll tell you the top six things to check out on your tour of this UNESCO World Heritage city.
Check Out The Miraculous Temples And Museums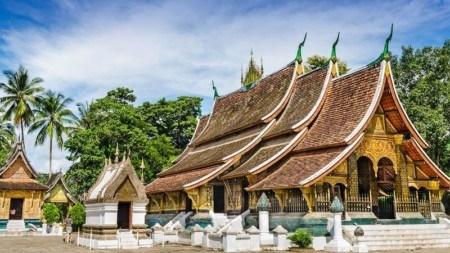 Photo by : visit-laos.com
Luang Prabang is probably best known around the world for its awe-inspiring Buddhist temples. The best of Luang Prabang's temples is probably called the Golden City Temple (aka Wat Xieng Thong). Built in 1559, this temple miraculously survived the Chinese raids of 1887 and was well maintained by the French during their colonial rule. In addition to viewing numerous statues, shrines, and mosaics, you can enjoy a relaxing walk around this temple's garden during your visit. A few other beautiful temples to add to your travel itinerary include Wat Mai Suwannaphumaham, Wat Manorom, and Wat Xieng Mouane.
Photo by : villasaykhamhotel.com
To get a better appreciation for Luang Prabang's complex history, it's a good idea to visit some of the city's celebrated museums. Definitely tour the golden Royal Palace Museum to learn more about the kings and queens of Luang Prabang's past. You can also get a good sense of Luang Prabang's colonial era by checking out the remarkable French architecture in the Old Quarter.
Enjoy The Natural Scenery At Mount Phousi And Kuang Si Falls
Nature lovers will a many places to explore just a few miles outside Luang Prabang's centre. The absolute best way to get a panoramic view of the city is by climbing to the top of Mount Phousi. Once you reach the top of this 150-meter high mountain you're rewarded with 360-degree views of the city and the romantic Mekong River. There are stairs leading both up and down this mountain, however you should plan on spending at least four to five hours here. Most visitors plan their trip up Mount Phousi to coincide with the sunset.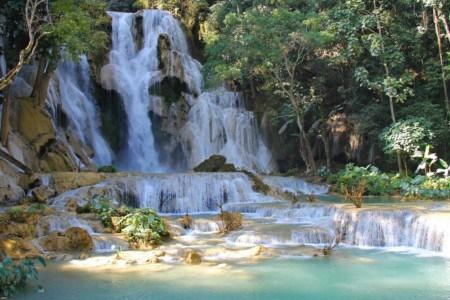 Speaking of natural beauty, we can't leave out an excursion to the Kuang Si Falls from our list. This three-tier waterfall measures almost 20 miles high. Be sure to bring your bathing suit here, because most of these pristine pools of water are open to the public. As of today, the Kuang Si Falls is number one on TripAdvisor's list of things to do in Luang Prabang. You can find the Kuang Si Falls in the southern region of the city.
Explore The Nearby "Buddha Caves"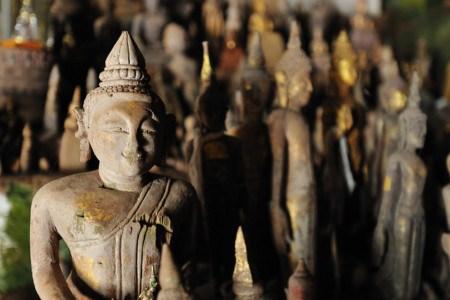 Photo by : flickr | llee_wu (CC BY-ND 2.0)
Located just one-hour north of the city, the Pak Ou Caves along the Mekong River contain thousands of stone and wooden Buddha statues. The two main caves are called Tham Ting and Tham Theung, which roughly translate to "lower cave" and "upper cave." As you could imagine, it's more difficult to get to the upper cave, but people who can make the steep climb are rewarded with some of the most impressive Buddhist statuary in all of Asia. While you could just take a car ride to Pak Ou Caves, many people prefer to take a relaxing boat ride up the Mekong River to the caves.
Participate In The Morning Alms Round
About 65 percent of Laos residents are practicing Theravada Buddhists. As dawn breaks every morning, hundreds of Buddhist monks go on alms round (aka pindapata). Tourists are more than welcome to offer the monks food and receive their blessings in the morning. Be sure to ask locals at your hotel when the monks will be passing through your area. Also, learn about how to respectfully offer food to the monks and how to tell real monks from scam artists. Since monks aren't allowed to touch women, any female travelers should place a towel over their hands as they offer food. Never offer monks money donations, and never believe a monk who asks for food after noon. No matter what your faith is, giving food to real Buddhist monks is a sacred experience you won't soon forget…plus, it's an easy way to earn some meritorious karma!
Shop Around The Energetic Night Market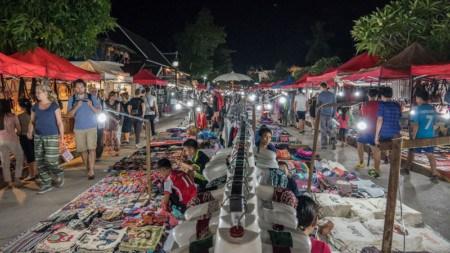 Photo by : imayroam.com
The best place to buy authentic handmade souvenirs in Luang Prabang is at the city's Night Market. Open from 5PM to 9:30PM every day of the week, Luang Prabang's Night Market is easy to find on the central Sisavangvong Road. Just be aware, street bargaining isn't as much a part of the Lao culture as it is in other Asian nations. Most of the time Lao vendors won't raise prices on you just because you're a tourist. Just use your best judgment while shopping around this exciting Night Market.
Splurge On Fine Dining And Street Food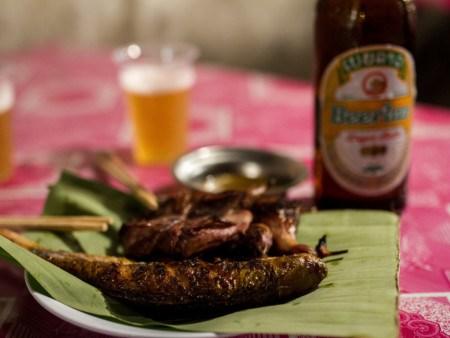 Photo by : xiaoeats.com
Luang Prabang is one of the few places on earth that doesn't have any fast food chains. So, if you can't live without your Big Mac and fries, then you're traveling to the wrong place! Of course, Luang Prabang has a wide array of traditional Lao cuisine, but it also has tons of Asian fusion and even high-end European restaurants to choose from. Due to the country's French colonial past, don't be surprised if you see a few baguettes or crêpes for sale in outdoor food stalls. A few famous street food eats include grilled catfish, fried spring rolls, and seaweed in chili sauce. If you're looking to try a trendy restaurant, give these highly reviewed names a look: Café Toui, Blue Lagoon Restaurant, and L'Elephant Restaurant. Finally, if you want to get a bit more "hands on," book a traditional Lao cooking class or tour a local farm.
A Few Final Luang Prabang Tips
Before you book your flight to Luang Prabang International Airport, here are a few last tips to help you have the perfect vacation. First, understand that Luang Prabang weather is usually divided into a hot season (March to May), a wet season (May to October) and a dry season (November to March). Average temperatures for these seasons range from 105° Fahrenheit in the hot season to 59° F in the cool season.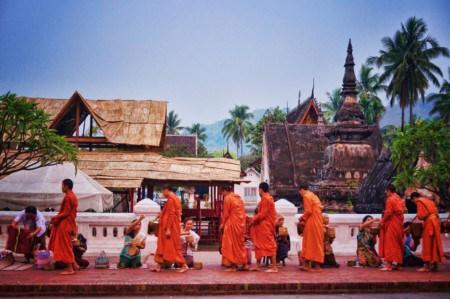 Photo by : thebigblackbackpack.com
As for where to stay in this city, Luang Prabang backpackers never have difficulties finding affordable hostels. One of the best-reviewed hotels in Luang Prabang city centre specifically for backpackers is the Vongprachan Backpackers Hostel near Mount Phousi. A few other highly reviewed hotels for backpackers include Fan Dee Hotel, the DownTown Backpackers Hostel, and Rama. For people looking for a more extravagant hotel, check out these highly reviewed places "where to stay in Luang Prabang" list: Maison Souvannaphoum Hotel, Villa Maly Boutique Hotel, and Satri House. By the way, the currency in Laos is the Lao Kip. You can check out the exchange rate on this webpage.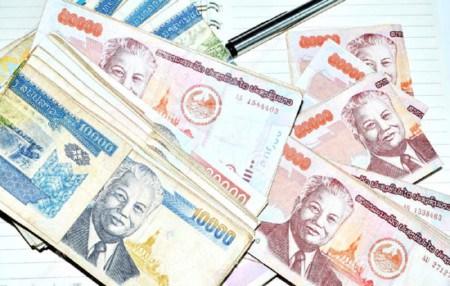 Lastly, international tourists will either fly into Wattay International Airport in Laos' capital city of Vientiane or the Luang Prabang International Airport. If you land in Vientiane, no worries; it's only a 45-minute flight from Vientiane to Luang Prabang.