Weekends are meant for playing and exploring, and when one does that she needs to dress the part. You can't just wear
any
old dress to that new underground speakeasy bar. And will pants or a jumpsuit work better to that one book reading you heard about last week? In the spirit of that, here's a series offering you fun ideas to try out this weekend, as well as suggestions on what to wear to them. And this one in particular? A Chicago bar guide!
Chicago readers- these are real events/ place you can go to this weekend. And everyone outside our area, go find these in your own town! I want to read all about it come Monday :)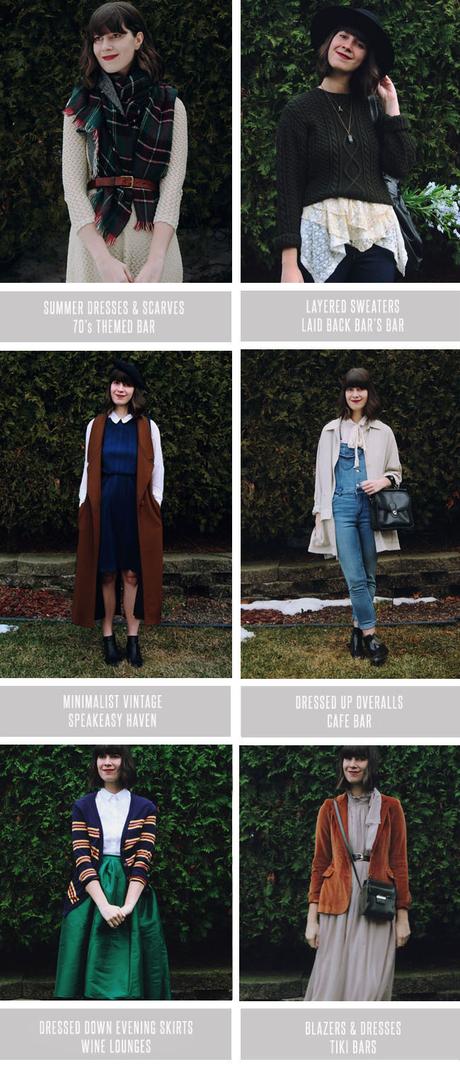 Pile on a cozy blanket scarf over your maxi summer dress to give it a winter appropriate amount of coziness, and head to The Brass Monkey in the Fulton Market. A '70s style bar and restaurant, it's got all the disco balls and tequila sunsets your heart could want. Some drinks that you can look forward to? The "Buzz Aldrin" with Vodka, Lemon, Spiced Pear, and Cherry Heering, or the "Hugh Hefner" with Gin, Cherry Heering, Hibiscus, Lime, and Bitters.
Get your lacy summer tops back into rotation by layering them underneath a sweater, and head to a border-line divey bar in Lincoln Park called Hook & Ladder. Fireman themed (bare with me) it's got that ratchet Saturday night feel, but is still quite and laid back enough to actually hear what your friends are saying. Some drinks to look forward to? $2 drafts from Sunday to Wednesday and a healthy amount of craft beers on tap.
Go minimalist with your vintage by pairing an unfussy smock dress with a duster vest and spend your evening at The Drifter in River North. An actual speakeasy from the 1930's, it's got a secret door an everything. They have a live performance nightly, ranging from everything from solo jazz singers to a troope of burlesque dancers. Drinks to look forward to? It changes nightly. They choose eight tarot cards from a deck and then craft cocktails around those themes. And to choose your drink? You have to pick a card.  
Give your overalls life during the winter by popping a pussybow top underneath and mosey on over to Beermiscuous in Lake View. A bar that looks and feels like a cafe (love seats included!), this place might lull you with its coziness but make no mistake- they're real serious about their beers With 12 different types on tap and over 300 (!!) bottles brews to choose from, there's a little something for everyone here. But the nice thing is that it really does feel like a cafe. So feel free to bring your work and set up shop while you sip on some something saucy. Some drinks to look forward to? They carry over 72 Chicago breweries. So, beers. You have lots and lots of beers to look forward to. 
Dress down a full evening skirt with an unassuming cardi and make your way to Andersonville for Joie de Vine, a primo wine bar. While it's all loungey and has a great wine list, it's also special in the fact that it doesn't have a cocktail list. Instead, they pass you a card explaining that if you tell the bartenders what type of tastes you like, they'll craft you a drink especially tailored around them. Can you imagine the concoctions? 
Shrug a blazer on top of your maxi dress for a polished, laid back look and get ready for some punch flavored cocktails at Lost Lake tiki bar in Avondale. Get your rum on and- bonus- the Chinese place next door delivers to your table!