Bridging site functionality, speed and attractiveness of design, recent advances in the world of web development and social networking has made the Web designer and social media guru as essential as the web programmer or project manager in the development of a companies' website. Advances in code like HTML5 and CSS3 have allowed designers to integrate elements of spatial design and simplify an otherwise complex language that requires plugins and more knowledge in programming than the average designer might have time to learn. Likewise, many of the new platforms used to share media such as, Pinterest, Vimeo, and Tumblr are changing the way we use Social Media to network and connect with other mobile and full websites.
In the Beginning, There was Technology…
It is important to note that the hosting company used by a web developer needs to support whatever technologies they have in the pipeline. Most shared web hosting companies include at least basic compatibility with video streaming, live chat, streaming audio, 3-D graphics, offline storage, plugins and launching mobile sites. If you make the decision to use any of these technologies, however, ensure your dedicated or shared web hosting company offers the features you need. Take a look at the following five web design trends to make sure you're not falling behind as a developer or a designer.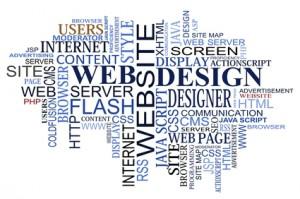 1. HTML5 is Not Just for Programmers
Its Multi-platform compatibility, 3D graphics, faster performance, and multimedia integration are a few reasons why HTML5 is being used more by professional web designers. just the beginning. With HTML5, web designers will no longer have to worry about third-party browser plug-ins that are not search engine optimization(SEO) friendly, like Flash, or sluggish bandwidth speeds. Beautiful, fluid interfaces can be designed through this XML-based language.
HTML5 is quickly being adopted across the board. Next generation browsers are being built around it. Mobile devices are including support. As the rest of the world moves towards HTML5, don't be left behind!
2. Now it's CSS3
When Cascading Style Sheets (CSS) was introduced, the way web designers approached interface development changed; color variation and the simplification of HTML code was combined with Javascript plugins for the first time in 1996 allowing web development to be more creative. Fourteen years later, the emergence of  CSS3 has surpassed what designers and developers could have imagined. When integrated with HTML5, CSS3 gives designers an entirely new toolbox of toys to play with. Transitions, animations, and other visual effects are the beginning of what one can do with CSS3. As HTML5 is increasingly adopted in web design, web applications, and on mobile devices, CSS3 is a necessary tool to get the most out of HTML5′s potential.
3. Images are Key
Any time a website gains popularity at the rate Pinterest has, the web design world takes notice. Pinterest has separated themselves from their competition by being a user based social network much like Twitter, unlike other sites similar to it, Pinterest's content is solely produced by it's users.  Pinterest also presents their users content up front and staggers each image "pinned" to their homepage, to provide a more diverse structure.
Sites similar to Pinterest are also changing the way they are laying out their design elements and influencing businesses to share images that represent printed content on their pages that can be "pinned." The term "Pinnable content" was coined by Pinterest.
4. The latest is not always the greatest
Facebook, MySpace, and Twitter all have had one significant thing in common when it comes to presentation, the information you see first is always current and up-to-date is at the top. After all, users want to see the latest status update, not a popular comment from last week. A recent trend involves websites moving away from the reverse chronological method of data presentation. If you need a major example, just look back to Pinterest.
The move is now toward presentation based upon popularity, groups of ideas, and common interests, rather than a time-sensitive manner of organization. Users are no longer interested in what the latest status update or trend is. Instead, organization of information in web design can be tailored to the individual based on parallel interests, recent website activity, and whatever else might truly matter. Algorithms can give information that is tailored to the social page's member.
5. Get Creative with Scrolling
Two decades worth of bland scrolling to read long web documents are about to come to an end. The standard vertical scroll through a gigantic text document or item lists will soon be passe.
Take, for instance, Noleath.com. A couple of years ago, that website would have been a bunch of boring images and text links that a user had to scroll through. Perhaps a customer would buy something – if they could get past the monotony.
It is no longer acceptable to do the "same old thing". Web design is now about presentation and reliability. If you can find ways to reliably present content in such a way that the user says "Wow!" then you are doing something right. Finding a new way to implement the same old thing, like the scrolling of your web page, implementing HTML5, CSS3 and new social network pages are a few ways to "wow" your visitors.
Guest post by author Clayton Stannard. Clayton has worked in website programming for most of his life and enjoys writing about technology. When he isn't reporting on technology, he does programming for upcoming PC games.
Mariasconsulting.com runs on the Genesis Framework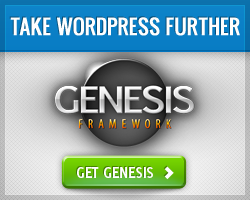 Genesis empowers you to quickly and easily build incredible websites with WordPress. Whether you're a novice or advanced developer, Genesis provides the secure and search-engine-optimized foundation that takes WordPress to places you never thought it could go. It's that simple - start using Genesis now!
Take advantage of the 6 default layout options, comprehensive SEO settings, rock-solid security, flexible theme options, cool custom widgets, custom design hooks, and a huge selection of child themes ("skins") that make your site look the way you want it to. With automatic theme updates and world-class support included, Genesis is the smart choice for your WordPress website or blog.