Yes, you heard that right - Instagram can help you become a better blogger in more ways than one. Instagram has lessons galore for all of us when it comes to presentation, communication and networking. Everyday, I scroll down the App page on my phone, I learn something new. 

Among all these lessons, there is one that stands out and it is this lesson - It is never about the app/camera/clothes/accessories or any other tool that can make a blog standout. It is always about you and how you use it all to create an exceptional blog.
Want to know how Instagram can help you be a better blogger? Read on..
1. Do the Right Groundwork
Instagram reminds me of  an elevator pitch, a term often used during our marketing classes. "An elevator pitch is a slang term used to describe a brief speech that outlines an idea for a product, service or project. The name comes from the notion that the speech should be delivered in the short time period of an elevator ride, usually 20-60 seconds."
Instagram is like that elevator ride - It takes only one look to make or break your point.  The same works for your blog.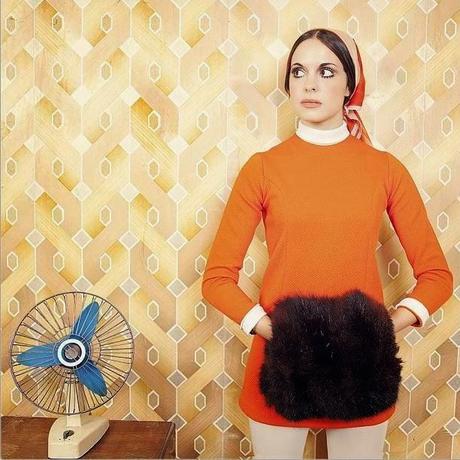 Via
You have 30 seconds to capture the reader's attention. How would you do it? Make sure the post titles are eye catching, the layout of your blog is neat and easy to navigate through and you have interesting and up to date content.
2. A Picture is worth a thousand words
Nothing makes this old adage more true than the Instagram App. So what is in it for you? On Instagram, Pictures do most of the talking. Similarly on your blog, Whether you post your personal style, share a DIY project with the readers or cover a fashion week - make sure it is your images that get across the point. Always bear in mind that it is all about quality over quantity, attention to details and choosing the right background. 
What can I say, Light travels faster than sound. :)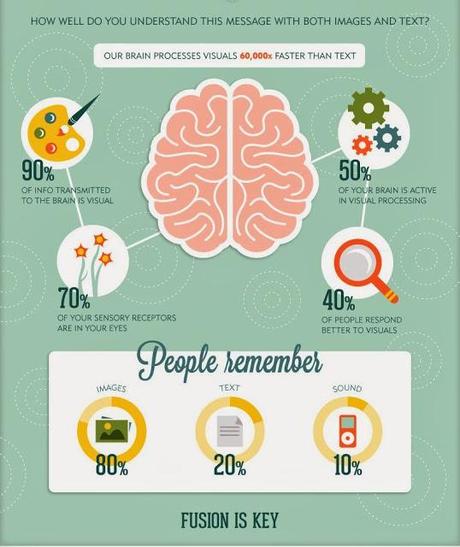 3. Be Concise
Only Pictures aren't enough, People always relate better to visuals with text (Refer to Infographic above). A caption on a photo you posted on instagram will get you more visitors than just uploading a photo and leaving it at that.
Readers have short attention spans. Making concise points and focusing on keywords helps get your point across to the reader and keeps them coming back. Don't leave it out for interpretation but create talking points that help trigger the conversation. This will ensure that readers talk to you via comments.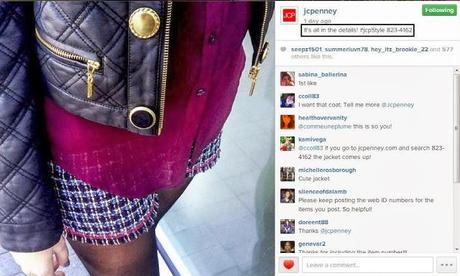 4. Weave a Story
I, personally like to visit
instagram accounts that tell a story. It could be about a trip, a fashion event they are covering or just updates during festive season. The continuity and anticipation keeps you hooked. For a blog, you can do the same.
Most weeks, I know what outfits I will be wearing through the week or which trend I would be covering on the blog. A weekly schedule helps in creating a story and giving your readers a preview of what's next. 
Case in point: The instagram account of the Russian photographer, Murad Osmann shows pictures of his girlfriend leading him by the hand, as they explore the world.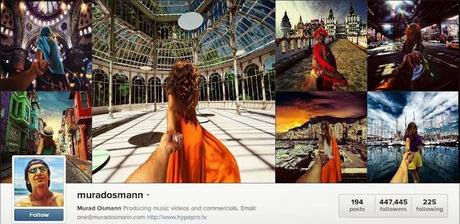 5. Create a Movement
'#litterati' is a global movement started by Jeff Kirschner on Instagram that is helping stop pollution and clean the planet "one piece of litter at a time". He created an Instagram account (@litterati) and uploaded photos of trash he had picked up along the course of his day. The movement soon picked up and other Instagram users started joining in by tagging their photos with #litterati.

If you feel strongly about something in the fashion world, don't be afraid to speak about it and involve other bloggers to get their input. People join in when they feel strongly about something. Find like-minded people and initiate conversations, organize twitter parties, blog linkups and create communities.
Lastly, Instagram is a great app for marketing your product and brand while also being able to connect with people. So. look no further for inspiration in order to improve your blog presence. 
Can you think of more ways Instagram can help us about become better bloggers? Don't forget to share them with me in your comments. 
I look forward to hearing from you. Have a great day! 
Seepz