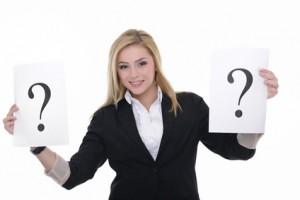 It takes more than wedding planning experience and skills to have a profitable wedding planning business. You have to do some homework in order to set yourself up for success.
Here are 5 questions you should be able to answer before you start your wedding business:
1) Who else is a wedding planner in your local area?
Learn all you can, but please don't do it by posing as a bride. Find out which brides they target, how they are different from one another, how they market their services, whether or not they are successful, and what services they may not be selling that brides need so you can offer these unique services.
2) Whom do you want to target?
Please don't start a business hoping to appeal to every bride, you'll end up not appealing to any bride. You want to do some research and find a target group of brides around whom you can create the services and products they would buy, a brand identity and style that would make you appealing to them, and a marketing campaign that would help them understand that you are the wedding planner they need.
3) How will you market your services?
When you first launch your business, you will spend most of your time getting the word out. Start small and don't let yourself get sucked into expensive advertising and marketing programs. The online basics are a website and/or a blog, Facebook business page, Twitter account, and Pinterest account. You might also want to consider advertising on wedding websites. Offline, you might look into joining business organizations, wedding and event planner associations, and social groups where you can meet brides or people with whom you can exchange referrals.
4) What additional training or experience do you need before you launch?
While you can't know everything about planning weddings, you may uncover gaps in your knowledge and skills while you are researching the needs and wants of your target market. If so, look into taking classes or getting an internship or job that will give you what you need.
5) How will you support yourself as you are building your business?
Wedding planning is not a "get rich quick" business. It may take time before you can make the money you need to support your lifestyle. This may mean keeping a job while you start your business part-time, adding corporate event planning and meeting planning to your services (if you have the skills), or making sure you have enough savings to last you several months.
Taking the time to do some research and serious thinking before you launch will help you create a wedding planning business that can thrive for many years.