I have a confession.  I love buying new bags.  I need something big enough to carry around everything I need for an entire day of work and school.  I go through work totes pretty fast because only a few can handle carrying all of my
crap
important belongings until they start falling apart.  Lately I have had the best luck with a simple Merona black tote from Target (see #4 below).  Here are a variety of work totes that may just work for you.   We can all dream of having a 
Louis Vuitton
bag, can't we?  Of course we can!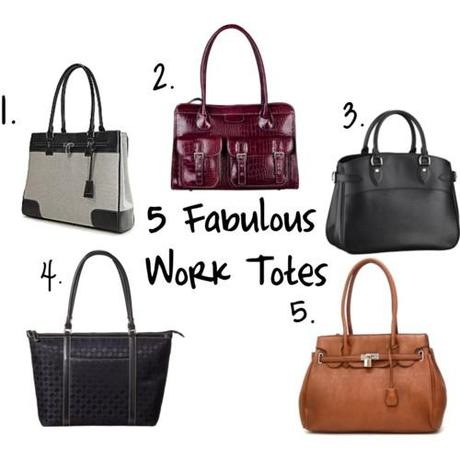 1) Mobile Edge Madison Work Tote - eBags.com, $1602) Merona® Exotic Work Tote - Red:, $283) Louis Vuitton Passy, $1,6804) Merona® Jacquard Work Tote - Black:, $455)
London Office Tote
: $40
Do you have a favorite work tote?  Where did you find it?
Are you obsessed with shoes too?  Make sure you read 5 fabulous shoes for the career girl.