Girls who love to buy makeup have one common problem to struggle with and that is the right organisation of their make-up products. Organizing makeup is very important especially if you continue to buy new products without waiting for the ones you already have, to finish. And when we have something new, we start using that and forget about the old ones and keep lying in some ignored corner of our drawer and get expired. Therefore to avoid such wastage of makeup and to make sure that all your makeup items are visible to you and it is easy for you to pick what you are looking for on a particular time, you must invest in some functional makeup organizers like lipstick organizer, lip-gloss organizers, make-up brush organizers, eye-shadow palette organizers and nail paint organizers because these are the items that we continue to buy even if we already own plenty of these. Makeup items like concealers , foundations, blush, compact powder etc are usually limited to 1 or 2 in one's makeup arsenal because this are bought according to one's skin type.
Here I have chosen 5 best makeup organizers for you which are not sturdy, useful, pretty and at the same time, affordable. You can use these to organize your makeup mess and make use of every makeup product that you own.
1. Lipstick Organizer : "I have enough lipsticks" said no girl ever. Despite of how many lipsticks we already own, we still keep buying new ones which makes it difficult to use every single piece that we own because if they are not organised in a visible manner then we just forget about them. This lipstick organizer is the perfect answer to your "How to organize lipsticks ? " question. It is a clear lipstick organizer which can also be used to store foundations, contour sticks, concealers and pretty much every makeup product which is round/square and not wider than a standard lipstick. As it is clear so it will suit all types of decors so you do not have to worry about how it will look on your makeup table. It's dimensions are 5.75" x 3.75" x 1.75". and it has 24 compartments where the width of each of the compartments is 1" so it fits all types of lipsticks no matter thick or thin. For a very affordable price of only $5.99 , you can not go wrong with this. Click the image below to buy it.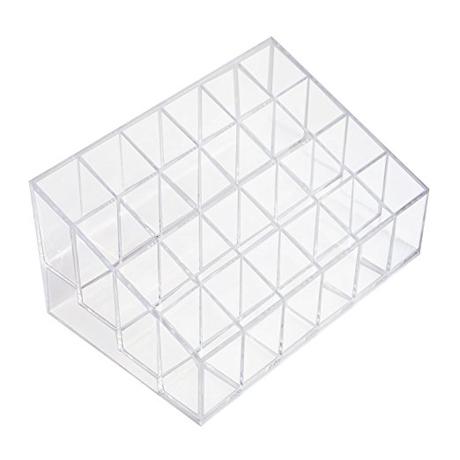 2. Nail Paint Organizer : Another thing that we keep on buying more of is nail paints. Even girls who do not like makeup, use nail paints. The last time I counted my nail paints, was nearly 5-6 years ago and that time I had 70ish something in my collection which did not stop growing but I did stop counting. If you also are a nailpaint hoarder then you definitely need a nailpaint organizer in your life. The one that I find useful is this acrylic nail paint organizer which not only looks pretty but is sturdy and useful as well. It can easily fit upto 60 bottles of nail paint. It has 4 small shelves which are at different levels so you can easily see and pick your favorite color in a second. Click the image below to buy this must have nail paint organizer for just $12.99