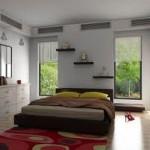 Having a conceptual set of designs and drawings before the real construction of any project is the trend that is prevalent these days. These photo-realistic imaginations are not only beneficial to the clients in getting an overall idea of the project but also to the construction professionals in enhancing the marketability of their architectural projects.The process of integrating the different animated designs of the interiors to form a composite model is known as 3D interior rendering design. These renderings are so imbibed with the high resolution 3D images that they give the clients with the actual feeling of those respective building interiors.
One of the most popular methods implemented in the 3D interior rendering design is the Radiosity method. Being considered as one of the most effective rendering method for the interiors, our technique is based on the principle that the energy reflected by every surface is accountable for the absorption or reflection by other surfaces.
This energy is calculated and analyzed in the form of lighting exhibited by the different surfaces of the designs, so as to ensure that the whole architectural design emerge out as a well balanced realistic view of the interior of the building.
One of the most important advantages of the radiosity method is that this is not dependent upon the position of the viewers. In this method, first the light interactions in the design environment are noticed and then multiple rendered views are produced.
Form factor is a critical parameter, which is evaluated in the radiosity method, in order to analyze the geometry among the two design surfaces during the reflection and refraction of light between them. In the final stages of the 3D interior rendering design process, the form factors are computed again before integrating all the rendering components into a single composite design.
The radiosity method of 3D interior rendering design can successfully be implemented in different types of projects such as the interiors of residential and commercial apartments consisting of bedrooms, living rooms, kitchens and bathrooms; hotels, restaurants, spas, retail stores, malls and multiplexes etc.
With the usage of the right CAD and animation tools, the interiors are produced in a fully accurate manner and that too in a significantly less interval of time.
To discuss more for our other technique, contact us today!!!