Day 4 of the 30 Day Beauty Challenge is....
what is my Favourite Foundation?
This is an easy as pie question...none other than
Bare Minerals Foundation
(original) in Medium Beige.  The easy application, great coverage, and versatility, makes this by far my most reached for foundation currently.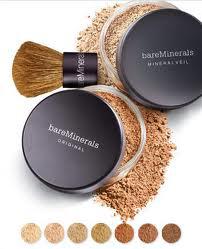 I don't know if liking bare minerals makes me into an old woman or not lol.  I got teased recently that only middle aged women wear this (which I think is total nonsense lol), but I don't care.  I love my Bare Minerals!  It's one of those foundations that you don't have to devote too much time too.  Other foundations can leave streaks and can cake, but with bare minerals, it just attaches itself to your skin and gives you this healthy glow while covering up blemishes and scars (and boy do I have plenty of scars).  if you don't like the glow, they also came out with a matte version, but I prefer the original.
The other reason why I choose Bare minerals out of all the other foundations is because it is the most versatile for me.  When I lived in D.C., I wore a liquid foundation (forgot which one now so many years ago), then when I moved to Miami I had to change my foundation completely.  Liquid foundation ran right off of my face in that humid climate, and that is when I found bare minerals.  Even when I was sweating like  a pig, it stayed on me.  Now that I'm in England with the colder temperature, bare minerals works for me too.  It's just really really versatile and I'm so very happy with it.  So happy that I use it very sparingly as bare minerals costs a lot more here in the UK than in the states. 
Sorry I don't have a FOTD for you, because frankly I look a hot mess from this cold, but I did do a quick google search and there were tons of FOTD's and the ladies look wonderful with their nicely covered glowing skin, so check it out.
GOOGLE SEARCH FOR BARE MINERALS
You can buy bare minerals foundation at department stores and
online
as well for £24 (basically double what it costs in the US hmph!)
What's your favorite foundation lovelies?