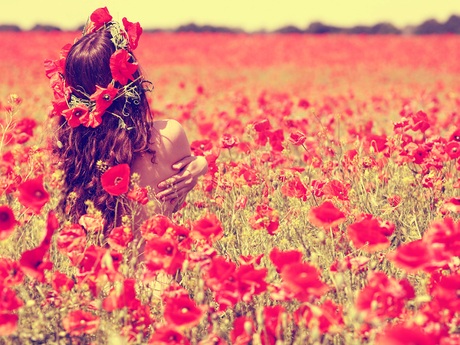 Photography by Blog Da Fernanda Gregorin
We've all been noticing 'Wish Lists' on everyones blogs lately, that every cat and their fish seem to be doing. So I thought I would give it a go...
Of course, like most of my posts, I always have to make a big song and dance about it or go the extra, EXTRA mile and include a little too much.
When I look at other Bloggers Wish Lists I can't help but think to myself, "Is that all they want?" or are they just being very, very specific? I tried to make a Wish List with no more than 10 items, but I just ended up with half of the High Street fashion on my blog. I mean, you could probably call me greedy, but I just couldn't help it! I literally spent 12 hours yesterday looking through clothes and accessories, on all my favorite High Street websites (with food and pee breaks in between obviously). 
COME ONNNN! IN MY DEFENCE, I blame Topshop, River Island, H&M, Miss Selfridge, Urban Outfitters, Motel Rocks and ASOS for my greediness. Why do their clothes look so, god dam good!
It's quite depressing when I scroll through all these images and realize I don't actually own any of it. My bank balance probably wouldn't even cover 1/4 of it...
So, Winter is beginning to fade away and Spring is slowly (very slowly) beginning to peek around the corner and we all know what that means... SHOPPING! Oh, and sun!
I love shopping for winter clothes such as, wooly knits, colourful tights, leather boots, chunky warm coats, and animal print scarves and gloves to match, but I cannot wait to put it all away for another year.
There is just something about Summer clothes that I absolutely ADORE. All the bright colours and the Bohemian and Aztec prints alone, give out that warm, happy, summer feel. 
I CAN'T WAIT FOR SUMMER. 
Oh yeah, back to my exaggerated Wish List (got a bit carried away then)...
I've included everything I have seen over these past few days in Company Magazine or online at my favorite High Street Shops that I want, need and will not be able to live without, if they are not hanging comfortably in my wardrobe soon. 

Oh, and give it a week or so, and all these shops will be stocking way more pretty prints and patterns that'll I will want, want, want!
Enjoy!

P.s. I may have went A BIT over the top with the mint green coloured handbags, but all of you pastel lovers out there, will truly understand my need for anything and EVERYTHING in these shades!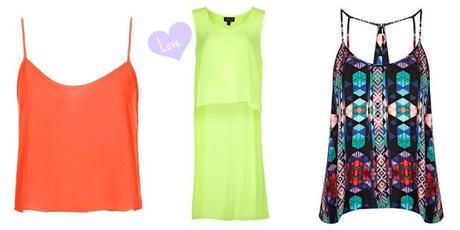 Left to right:
Crop Strappy Cami, Topshop
Fluro Step Hem Tunic, Topshop
Aztec Print Pleat Suntop, Topshop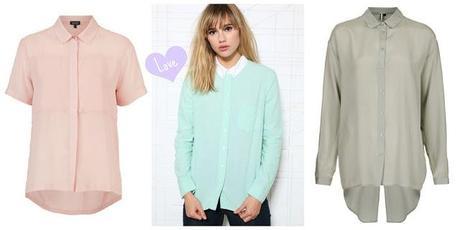 Left to right:
Short Sleeve Panel Shirt, Topshop
BDG Oxford Poplin Shirt, Urban Outfitters
Premium Silk Slash Back Shirt, Topshop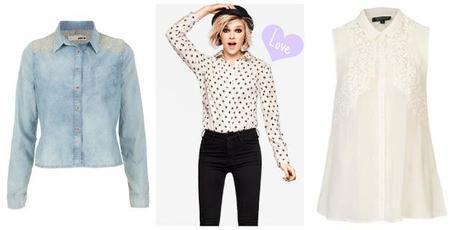 Left to right:
MOTO Lace Crop Denim Shirt, Topshop
Cross Patterned Blouse, H&M
Flower Crochet Detail Shirt, Topshop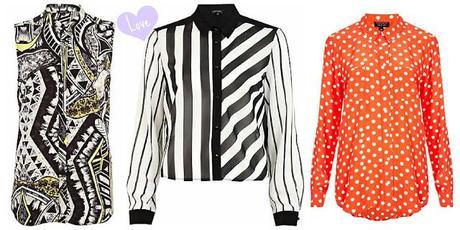 Left to right:
Black Marble Tribal Print Sleeveless Shirt, River Island
Black and White Multi Stripe Cropped Blouse, River Island
Longsleeve Spot Shirt, Topshop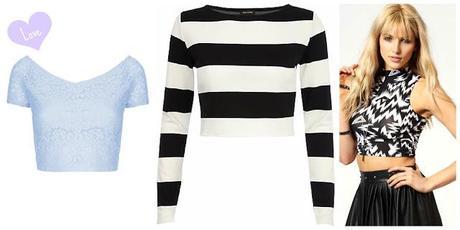 Left to right:
Lace Bardot Crop Top, Topshop
Black and White Chunky Stripe Crop Top, River Island
Samiah Aztec Crop Top, Boohoo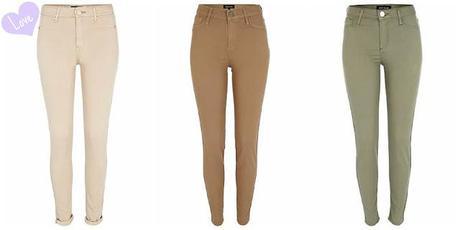 Left to right:
Light Beige Molly Jeggings, River Island
Beige Molly Jeggings, River Island
Khaki Molly Jeggings, River Island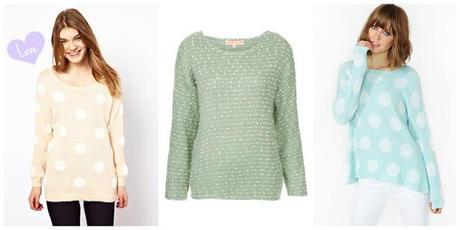 Left to right:
Oasis Spotty Jumper, ASOS
Fluffy Jumper by Oh My Love, Topshop
Sweet Spot Knit, Nasty Girl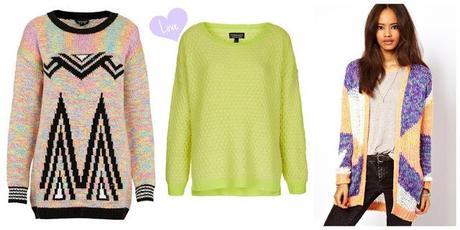 Left to right:
Knitted Aztec Rainbow Jumper, Topshop
Knitted Tuck Stitch Jumper, Topshop
Edge To Edge Patterned Cardigan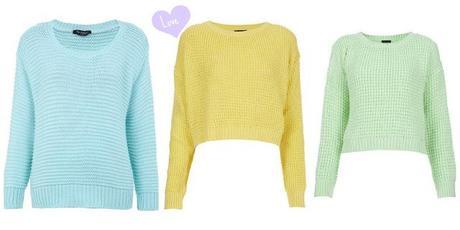 Left to right:
Aqua Crop Garter Stitch Jumper, Miss Selfridge
Knitted Textured Crop Jumper, Topshop
Knitted Textured Crop Jumper, Topshop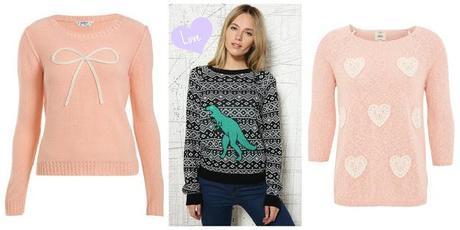 Left to right:
Petites Bow Jumper, Miss Selfridge 
Cooperative T-Rex Sweatshirt, Urban Outfitters
Shell Pink Applique Heart Print Jumper, New Look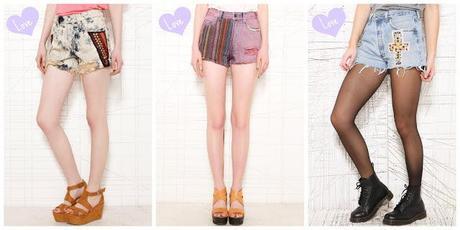 Left to right:
BDG Foxy Wash Freja Shorts, Urban Outfitters
BDG Shannon Wash High-Rise Cheeky Shorts, Urban Outfitters
Vintage Renewal Gem Cross Levi's Denim Shorts, Urban Outfitters 

Left to right:
MOTO Acid Wash Blue Hotpants, Topshop
MOTO Dip Dye Highwaist Hotpants, Topshop
Moto Lilac Acid Wash Hotpants, Topshop

Left to right:
Yumi Black Bird Print Shorts, New Look
MOTO Pastel Geo Print Hotpants, Topshop
Polka Dot Short, Miss Selfridge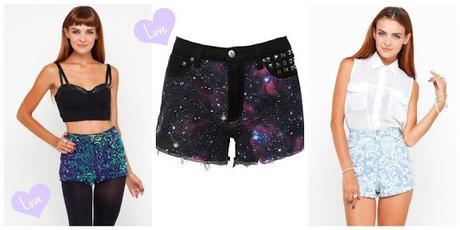 Left to right:
Spandangle Knicker Short in Iridescent Purple, Motel Rocks
Bambam Cosmic Print Shorts, New Look
Mizzy Denim Hot Pants in Paisley Blue Print, Motel Rocks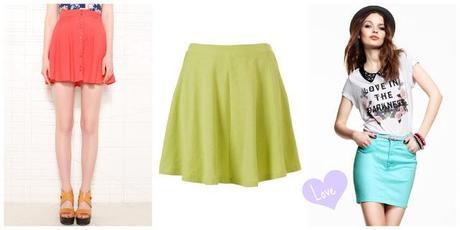 Left to right:
Kimchi Blue Solid Pippa Skirt, Urban Outfitters
Lime Marl Skater Skirt, Topshop
Turquoise Skirt, H&M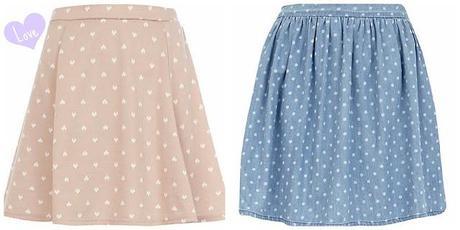 Left to right:
Pink Heart Jacquard Print Skater Skirt, River Island
Blue Polka Dot Skater Skirt, River Island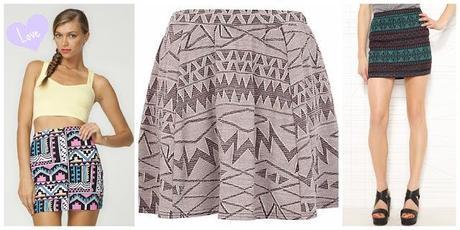 Left to right:
Kimmy Mini Tube Skirt In Aztec Pastel Print, Motel Rocks
Pale Purple Jacquard Pattern Skater Skirt, River Island
Staring at Stars Intarsia Skirt, Urban Outfitters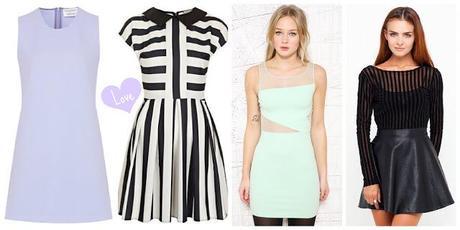 Left to right:
Neoprene Dress by J.W Anderson, Topshop
Stripe Prom Dress by Love, Topshop
Silence and Noise Green Laser Beam Bodycon Dress, Urban Outfitters
Motel Agnes PU Skirt In Black Flocked Stripe, Motel Rocks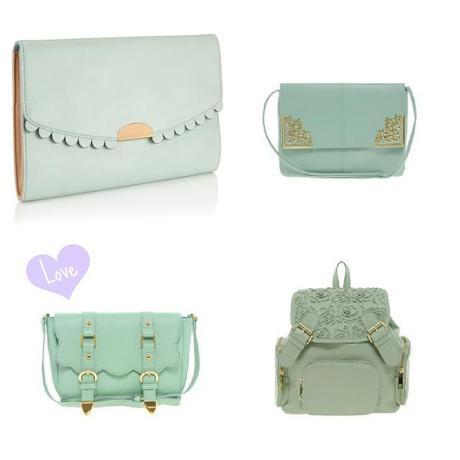 Left to right:
Scallop Shoulder Bag, Accessorize
Clutch Bag With Flower Metal Corners, ASOS
Scallop Double Buckle Across Body Bag, ASOSBackpack With Mini Floral Cut Out, ASOS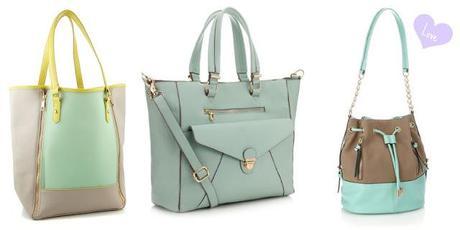 Left to right:
Contrast Jelly Zip Tote, Accessorize 
Elinor Pocket Tote, Accessorize
Pastel Colourblock Duffel Accessorize 

Left to right:
Cambridge Satchel Company 11" Satchel, Urban Outfitters
Blue Structured Colour Block Bowler Bag, River Island
Cambridge Satchel Company 13', Urban Outfitters 

Left to right:
Hoxton Satchel, Accessorize
Padlock Metal Corner Satchel Bag, ASOS
Kissing Birds Across Body Bag, ASOS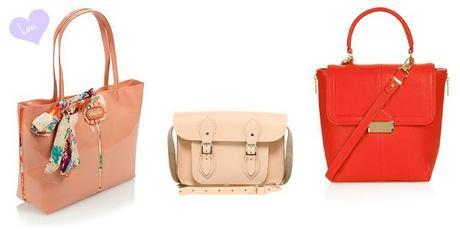 Left to right:
Coral Floral Insert Small Tote Bag, Sasha London - Debenhams 
Cambridge Satchel Company 11" Leather Satchel, ASOS
Pushlock Crossbody Bag, Topshop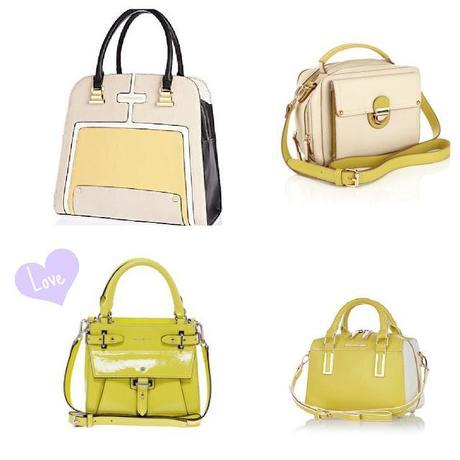 Left to right:
Yellow Contrast Panel Structured Tote Bag, River Island
Liz Camera Bag, Accessorize 
Karren Miller Leather Strap and Keeper Small Tote, ASOS
Yellow Smooth Mini Box Bowler Bag, River Island

Left to right:
Abbey Contrast Lock X Body, Accessorize 
Satchel Bag With Scallop Trim And Buckles, ASOS
Shoulder Bag, H&M

Left to right:
Cord Arrow Ring, Topshop
Semi Precious Cross Ring, Topshop
Lilac Moustache Ring, Miss Selfridge
Multicoloured 5 Pack Rings, H&M

Left to right:
Beauty and The Beast, Disney Couture - Treasure Box
Tinkerbell Snow Globe Ring, Disney Couture - Treasure Box
3 Interlocking Slogan Rings, Disney Couture - Accessories Online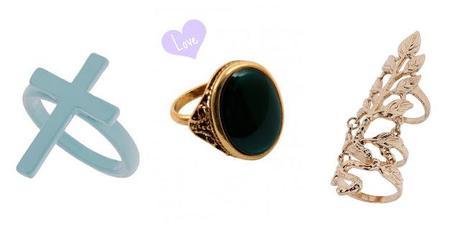 Left to right:
Mini Cross Ring, Miss Selfridge
Pixie Lott Rachel Vintage Stone Cocktail Ring, Rock 'N' Rose
Leaf Armour Ring, Miss Selfridge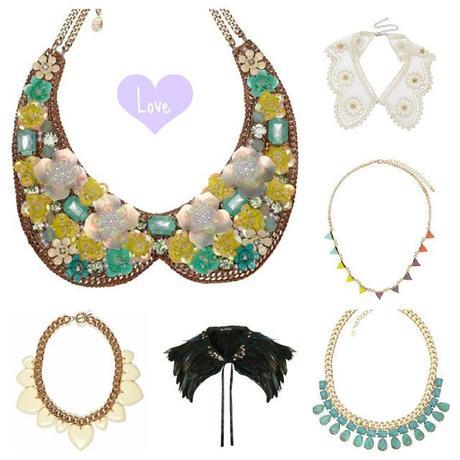 Left to right:
Elaborate Bloom Peter Pan Collar, Accessorize
Fabric Lace Collar, Miss Selfridge
Neon Bunting Collar, Topshop
Cream Retro Heart Chunky Short Necklace Collar, River Island
Studded Feather Cape Collar, Miss Selfridge
Natalie Statement Necklace Collar, Accessorize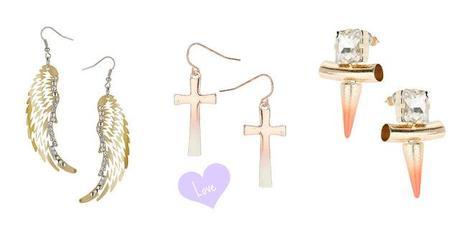 Left to right:
Wing Shape Drop Earrings, Topshop
Ombre Cross Drops, Miss Selfridge
Stone Dip Dyed Earrings, Miss Selfridge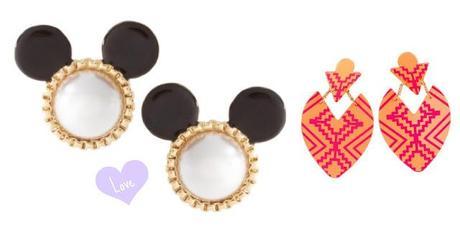 Left to right:
Mickey Mouse Earrings, Disney Couture
Earrings, H&M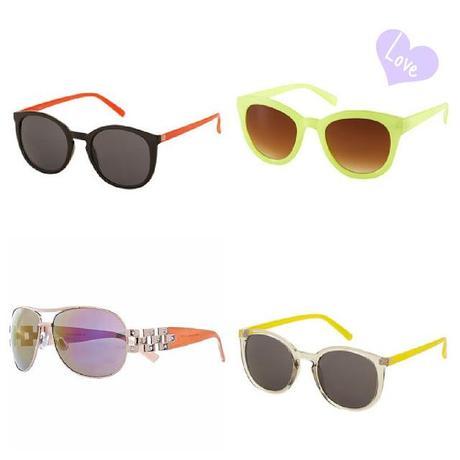 Left to right:
Preppy Clear Round Sunglasses, Topshop
Bright Jelly Sunglasses, Topshop
Gold Tone Rainbow Lens Aviator Sunglasses, River Island
Preppy Clear Round Sunglasses, Topshop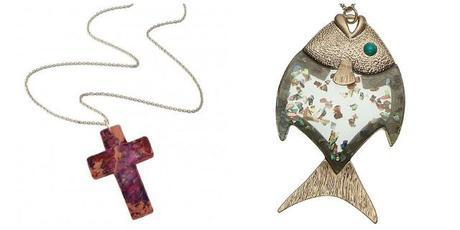 Left to right:
NITA Variscite Stone Cross Necklace, Rock 'N' Rose
Oversized Fish Long Pendant, Accessorize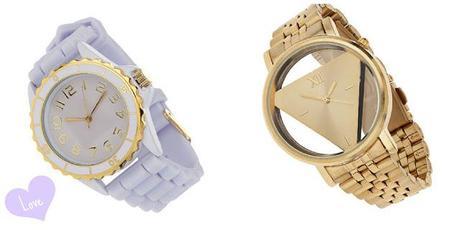 Left to right:
Lilac Watch, Miss Selfridge
Triangle Face Watch, Miss Selfridge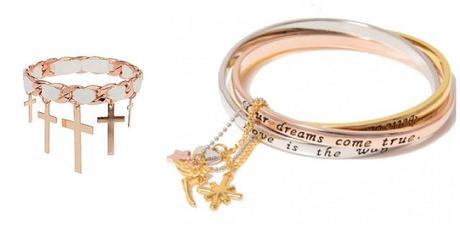 Left to right:
Fabric Cross Bangle, Topshop
Tri Colour Interlocking Tinkerbell Bangle, Disney Couture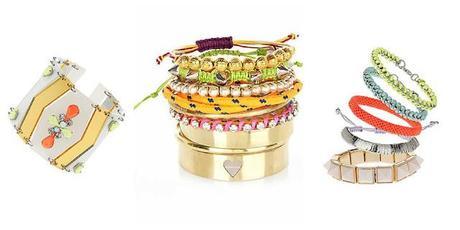 Left to right:
Neon Perspex Bracelet, Topshop
Multicoloured Bungee Bangle Bracelet Pack, River Island 
Cord Stud Mesh Bracelet Pack, Topshop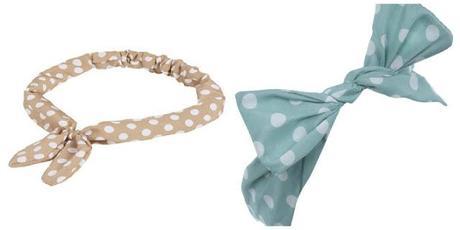 Left to right:
Polka dot Wire Headband, Topshop
Mint Spot Bow Band, Miss Selfridge

Left to right:
Dynamo Rose Gold Stud Slipper, Miss Selfridge
LINGO Ballet Flats, ASOS
Mascot Brogues, ASOS

Left to right:
LEI Two Part Platforms, Topshop
Holland Leather Heeled Sandals, ASOS
Westend Grey Split Wedge, Miss Selfridge
DV8 Javelin Cut Out Suede Wedges, ASOS
Winona Nude Straw Wedge, Miss Selfridge

Left to right:
HINDERS Gold Woven Sandals, Topshop
Fierce Leather Studded Flat Sandals, ASOS
Marine 2 Part Pointed Shoes, Topshop
Liberty Pointed Ballet Flats, ASOS