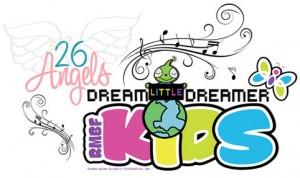 VIRGINIA BEACH, VA (December 19, 2012) – As many of us stand in long lines to purchase holiday gifts and travel to see our family and friends, the community, families and friends of Newton, CT continue to bury their children and loved ones. Toy stores and gift wrapping has been exchanged for funeral planning, anguish and grief.  These families and their community are facing an unbearable pain… it's hard to imagine the loss of a loved one, but to lose a child in such a tragic, unexpected way is an agony no one should ever have to suffer.
The Raven Maria Blanco Foundation (RMBF), Dream Little Dreamer (DLD), Michael "Magnedo7" Crawford and Shameia LaCrawf teamed up to raise money to aid the victims of this tragedy through the 26 Angels Benefit Campaign.
The goal is to raise $26,000 for the 26 families who lost loved ones in the shooting massacre at Sandy Hook Elementary School by partnering with at least 26 radio stations across the country to play Guardian Angel, Raven's Song for 26 days beginning Wednesday, December 26. They also ask that the participating stations encourage listeners to visit "My Sandy Hook Family Fund" to make direct donations.  In addition, each purchase of Raven's Song via iTunes during the 26 days of the campaign will provide the net proceeds to the "My Sandy Hook Family Fund".
Though RMBF is founded on protecting children from harm during pediatric dental care, their bigger mission is to bring safety and promise to children. As a result, RMBF partnered with DLD to create a music video from a song that was written for Raven by Shameia LaCrawf and her Grammy Award winning husband Michael "Magnedo7" Crawford. The video has since gone viral and has received over 430,000 views to date.
Guardian Angel, Raven's Song depicts a powerful track sang by a group of DLD artists between the ages of 4 to 21 to support the lives of fallen children and their loved ones.
To purchase Raven's Song please visit www.iTunes.com and search for "Guardian Angel Raven's Song" or visit www.rmbfinc.org. If you are interested in becoming a partnering radio station please contact LaWanda White at [email protected].
###
 The Raven Maria Blanco Foundation
RMBF is a 501 (c) (3) non-profit organization founded in 2009, two years after the death of eight-year-old, Raven. RMBF honors children who have passed away due to complications during dental procedures as well as their families who are left to endure this tragic loss. In the name of these lives, they dedicate the impassioned pursuit of medical emergency preparedness reform within the dental community. For more information on RMBF visit www.rmbfinc.org or contact Nicole Cunha, Executive Director at [email protected].

Dream Little Dreamer
DLD is a youth music and entertainment company started by Platinum selling songwriter Alisha "M'jestie" Brooks who is best known in the music industry for writing Rihanna's 2005 Smash Hit "Pon de Replay", which catapulted the 17 year old artist to super stardom. DLD's mission is to inspire youth to change the world with their music. For more on DLD visit www.dreamlittledreamer.com or contact Jamie Styron at [email protected]
Michael "Magnedo7" Crawford
Magnedo7 is a Grammy award winning producer whose most recent work includes producing 50 Cent's track "Definition of Sexy". Magnedo7 has worked with major artists from E Ness (Making the Band), Twista, Jim Jones (Sony/BME/Columbia/Koch) Young Buck, Hot Rod (G-unit/Inters cope), the legendary Camp Lo (Motown), Eminem and 50 Cent (Shady- aftermath/Interscope). Michael won a Grammy for producing a song on Eminem's Recovery Album in 2010. Many industry insiders have called his production style 'The next sound in music'. If you're ever around Crawford, you will hear this quoted quite often "Persistency, consistency, and stability are the keys to success." To contact Magnedo7 email [email protected]
Shameia LaCrawf
By age 17, Shameia had released her first independent album.  She has shared the stage with & studied under some of the industry's best such as Cherelle, Lil G, Tony Terry, Calvin Richardson. Featured on Vashawn Mitchell's 2012 release, Created 4 This, on the song Lost.  She is currently a background singer for Veteran Soul Singer, Angie Stone. Shameia's goal through writing and singing is to tell a story. She believes what she can't always say verbally, she can express through song. For more information on Shameia LaCrawf please visit www.Shameia.com or email [email protected]
My Sandy Hook Family Fund
The "My Sandy Hook Family Fund" has been established by local Sandy Hook, CT parents and friends dedicated to providing immediate and continuing support for the 26 families of those who lost children and loved one in the Sandy Hook School tragedy. The fund was selected from an article on www.abcnews.go.com.