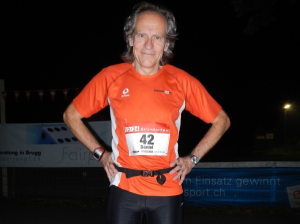 The Brugg 24 Hour Race which incorporated the Swiss National 24 Hour Championships this year took place 20/21st September. The race was won by Maic Seegel with 226 km and Dutch runner Jannet Lange won the womens race with 167 km.
The 12 Hour Swiss Champions are Ramon Casanovas and Gabriele Werthmüller.
Race Director Fredi Buchler reports there were thunderstorms and heavy rain and third placed Daniel Steiner confirms that in his race report.
In 2015 this event will host the Swiss 24 Hour National Championships. Date will be announced here when available.
Pos Name Nat. Km
Men 24 Hour
1 Maic Seegel GER 226.172
2 Peter Knodler SUI 187.737
3 Matjaz Bucovec SLO 184.750
Women 24 Hour
1 Jannet Lange NED 167.567
2 Laura Ravani ITA 136.480
Men 12 Hour
1 Ramon Casanovas SUI 127.582
2 Daniel Schwitter SUI 121.571
3 Thomas Puggl AUT 111.279
Women 12 Hour
1 Gabriele Werthmüller SUI 126.311
2 Sandra Schmid GER 91.952
3 Claudia Verga SUI 78.996
Website: 24-Stundenlauf Aareinsel Brugg

Facebook page
Race report by Daniel Steiner
From Multidays.com, post 24 Stundenlauf Brugg 2014