After many weeks of not eating out to avoid the cold and wet weather in Manchester, I finally gave in and had to go out to satisfy my steak craving! So I have heard from a few friends that 24 bar and grill was worth a visit for a chilled out evening. It's just off Princess street in town so I made a visit for dinner around 8ish on a Friday evening with my boyfriend. To my surprise the restaurant was very quiet and only had a few tables in but you can't judge the food by that. Also, the host asked if we were guests of the hotel - we didn't even know there was a hotel there so to my assumptions this bar and grill is part of the Arora hotel (but it's nice that they kept the buildings separate) 
But other than that, we were seated quickly in a booth and had a few cocktails and wine to start while we decided what to eat... 
Starters: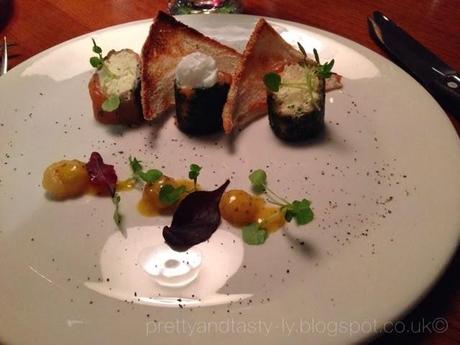 Cannelloni of oak smoked salmon (with cream cheese, poached quail egg on toast, hot toddy puree) £8.50 
This was my starter as I'm a big fan of smoked salmon and cream cheese. The smoked salmon was seasoned well with herbs wrapped around it and the toast was crisp and went well with the salmon and cream cheese but it would be nice to have a few more slices as the cream cheese was quite heavy. The quails egg gave it a extra texture and flavor and worked well with the salmon. I wasn't a big fan of the hot toddy puree as it was too sweet and thick but overall it was presented well.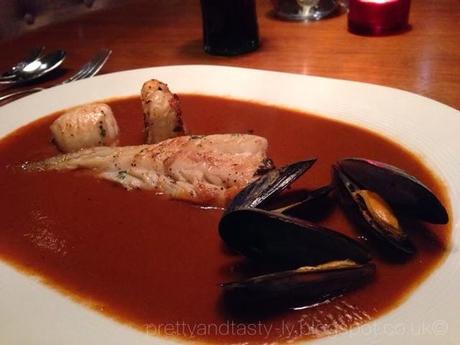 Bouillabaisse (Seasonal fish, tiger prawns, mussels, harissa & Gruyere crouton) £6.95
This was basically grilled fish and shellfish in a tomato based thick soup which had a spicy smokey kick to it at the end. It was a very light dish but was very satisfying with all the flavours, however we realised it was missing the prawns and croutons :(. 
Main Course: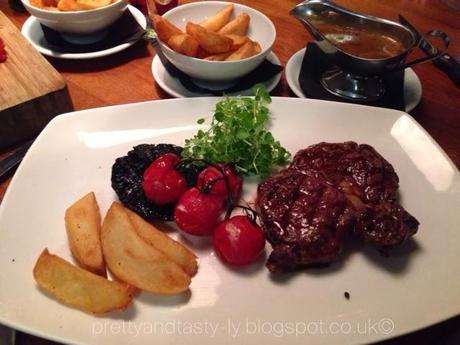 10oz Ribeye Steak (282g) served with triple cooked beef dripping chips, field mushroom, sun blushed tomato and watercress £18.95. Green peppercorn & Cognac sauce £2.00 
I was looking forward to this so much and boy the cut of steak was so soft and succulent, it literally melted in my mouth, was easy to cut and it was not chewy at all. I loved the smokey grilled taste it had but the green peppercorn sauce did not do it any justice. The sauce was too overpowering which ruined the natural flavours of the steak. Also, I was expecting the best chips in the world when I read it was 'triple cooked in beef dripping' (dribbles) but nope they were just your standard chunky chip.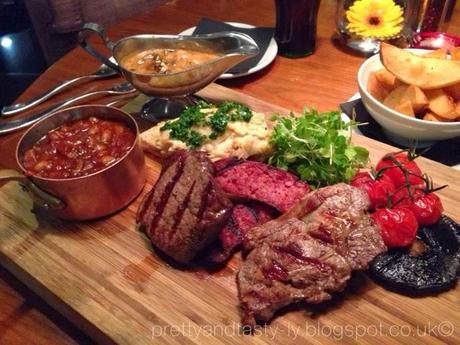 24's Mixed Grill (Rib eye steak, lamb rump, maize fed chicken, toulouse sausage served with cassoulet, sun blushed tomatoes, field mushroom, watercress and triple cooked beef dripping chips) £24.00 
The daddy of the meal! This is one of the best and well presented mixed grill's I have ever seen - everything is within good portion size and there is everything you need for a meat lover and for that price you cannot complain. The highlight was definitely the sausage, something different from your ordinary cumberland. 
We was way too full for dessert so we might revisit and aim to save our stomachs for dessert. 
Overall, 24 ar & Grill serves honest tasty food where there is something for everyone. The head chef Kevin Lynn has definitely showed his skills in his presentation and selecting simple, seasonal and quality assured english farm beef for the best steaks. The menu isn't too big but it's a good thing as sometimes you can be spoilt for choice. This little chain is definitely worth a visit if you are ever down in Manchester and want to get away from all the fuss and noisy atmospheres most restaurants have. 
You can view the full menu here http://www.24bargrill.com/the-restaurant  
Now I hope you're hungry :p 
Clarissa xo