High-protein food makes a perfect snack. Why?
Protein is a vital nutrient for maintaining muscle mass and bone health. That's important for all of us, but critical as we get older. Unfortunately, many people, especially women, may not eat enough protein.
Could that be you? Find out more in the "What's protein?" section at the end of this guide.
Protein is good for you, filling, and doesn't raise blood sugar to the same degree that sugary and starchy snacks can. Studies show that protein has little to no impact on blood sugar in both in both people with type 2 diabetes and those without.
That's why protein is the perfect snack, especially if you want to feel full with less hunger.
Start your FREE 30-day trial!
Get instant access to healthy low-carb and keto meal plans, fast and easy recipes, weight loss advice from medical experts, and so much more. A healthier life starts now with your free trial!
High-protein snack ranking
Do you feel hungry between meals? That may be because you're not getting enough protein. Kill hunger and cravings with a 10-gram serving. This snack size helps you feel fuller until your next meal.
Sometimes, you'll get a bit more if the serving size makes more sense that way. (For example, it's hard to eat 1.75 eggs, so you'll get almost 13 grams from two eggs.🥚🥚)
While you're getting your protein fix, don't forget to keep carbs low. Many of these snacks have less than 1 gram of net carbs; none have more than 7 grams.
We rank each snack based on four characteristics:
Is it low in net carbs?
Is the % of energy from protein high?
Is it easy and convenient?
Is it inexpensive?
For each characteristic, a snack gets a score of one to five stars. Add them up for a total of 20 possible stars.
To learn more about how we ranked the snacks, or to sort them based on the characteristic you care about most, please see our snack chart at the end of the ranking.
We obtained nutrition information from FoodData Central, the USDA's nutrient profile database.
If you love variety and want to mix and match these snacks, then skip to our quick combos section for creative snacks you can put together anytime.
1. Canned fish and seafood
19/20 stars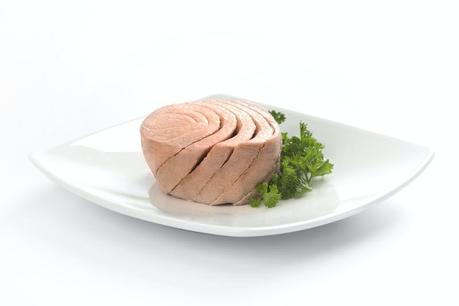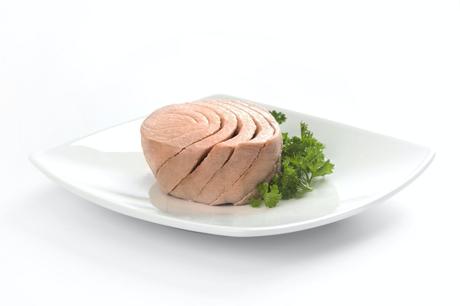 Want protein? Just a few savory forkfuls of canned fish or seafood deliver 10 grams of it. Aim for 2 ounces (60 grams).
The perfect snack in so many ways. Easy to store. Relatively inexpensive if you go for tuna. (But pricey if you go for crab.) It's mostly protein with virtually no carbs.
Canned fish comes cooked, so sprinkle on herbs, add a squeeze of lemon, or just dig in. It's a quick snack that you can keep stocked in your pantry.
Whether you choose firm tuna, briny sardines, or delicate lump crab, it's a win on the protein front.
2. Zero-sugar jerky
16/20 stars
Whether smoky, peppery, or flavored with soy sauce, beef jerky is an easy, on-the-go protein solution.
Since most of the water has been evaporated, you'll need just two-thirds of an ounce (about 20 grams) to get 10 grams of protein. That's one or two large pieces of jerky. It packs a powerful protein punch with less than 1 gram of net carbs.
Jerky is an easy snack. It goes straight from the bag into your mouth. All you have to do is chew. (And chew.)
When you grab a bag of zero-sugar jerky, the only downside is that the price per serving is on the high side. Check the label and choose a brand with less than 1 gram of carbohydrates per serving.
3. Cold cuts
14/20 stars
Sliced ham, beef, or turkey, please! Deli meat is convenient, and it gives you about 10 grams of protein in just over two slices. Aim for about 2 to 2.5 ounces (60 to 75 grams) for this snack-sized serving.
If you're looking for the cheapest cold cuts, ham is your best bet. If you love the savory kick of salami, go for it - just know that the added fat may triple the calories.
Either way, if you watch the label and choose a brand without sugar, you'll get all the healthy protein without any carbs.
They call them cold cuts for a reason. Enjoy them straight out of the fridge. Roll them before eating for a more dignified experience.
4. Protein shakes
14/20 stars
We usually shy away from processed food and hope you do, too. But protein powders are a cheap and easy source of - you guessed it - protein. That's why these shakes did so well in our ranking. Just 2 tablespoons (20 grams) blended with water gives you about 13 grams of protein.
With whey protein powder, you get complete protein plus about 3.5 grams of net carbs. (Whey protein isolate gives you the protein without the carbs but costs more and may not taste as good.)
If you choose a pea protein powder, the protein is less expensive, and it comes with less than a gram of net carbs. The downside is that it is less digestible.
Can you choose yummy flavors like peanut butter fluff or cookies and cream? Of course. But watch the carb counts and confirm that the sweeteners used work for you.
5. Eggs
13/20 stars
They're delicious, fast, and convenient. Hard boil a few so you can grab and go (or, if you don't mind the extra cost, buy them pre-boiled and peeled).
Two delicious eggs have almost 13 grams of protein and less than 1 gram of net carbs, so they're a perfect low-carb snack option.
Egg yolks are like nature's multivitamin. So, if you choose eggs, you'll get more than just protein. Learn more in our guide, Eggs: 10 health benefits and nutrition facts.
6. Extra-firm tofu
13/20 stars
Dig into 4 ounces (114 grams) of extra-firm tofu, and you'll get 11 grams of protein and just 1 gram of net carbs. The best part? It's vegan-friendly.
Tofu is made from soybeans - a complete plant protein source. Eat it right out of the package, like cheese, for an easy, healthy snack. Or pan fry if you want something crispy.
Too plain? Spice it up with a splash of salty tamari or woodsy Worcestershire.
If you prefer silkier tofu, you'll need to eat more to get to the 10-gram protein target. You'll get more carbs, too.
7. Cheese
13/20 stars
Cheddar. Swiss. Havarti.
Sharp. Smoky. Mild.
Sticks. Slices. Cubes.
With so many options, cheese provides robust flavor along with plenty of protein. Enjoy about 1.75 ounces (50 grams) of full-bodied cheddar, and you'll get over 11 grams of protein and about 1 gram of net carbs.
As a general rule, you'll get more protein from harder cheese. If you love soft cheeses like Brie or feta, you'll need to eat more.
Cheese is calorie dense, but that might not be something to fear. Did you know that eating high-protein dairy products like cheese may help you lose fat and gain muscle?
Eat cheese straight from the fridge. Buy it pre-sliced, and you won't even need a knife. If you're on a budget, cheese is a thrifty way to get your protein fix.
8. Pumpkin seeds
13/20 stars
Pumpkin seeds aren't just for Halloween. Enjoy about ⅓ cup (40 grams) of shelled pumpkin seeds (also called pepitas) anytime for an easy-peasy 12 grams of plant protein with just over 1 gram of net carbs.
These nutty seeds come naked, salted, or even spiced. Keep them in your car or purse for handy, low-carb snacking.
9. Dry-roasted edamame
13/20 stars
Want a little crunch with your beans? Dry-roasted edamame gives you that, plus ultimate convenience. Grab just 3 tablespoons (23 grams), and you'll get about 10 grams of protein with only 2.5 grams of net carbs.
Enjoy these mild beans salted or spiced up with curry, paprika, or cumin. They're often available in supermarket snack aisles (or dry goods aisles).
If you prefer to steam your edamame, that works, and it's less expensive, too. You'll need about two-thirds of a cup of shelled beans.
10. Nutritional yeast
13/20 stars
Never heard of it? Nutritional yeast is another great protein and vegan-friendly snack. About ⅓ cup (20 grams) gives you over 10 grams of protein with 2.6 grams of net carbs.
How do you eat it? It's delicious as a cheesy topping on kale chips. But if you're not making kale chips, you can sprinkle it on any other savory food.
Or, put the yeast in a bowl, and add just enough water (about 3 tablespoons) to make a paste. Eat it with a spoon. It's an acquired taste (and salt might help).
If you're new to nutritional yeast, start with just a tablespoon to be sure it doesn't cause headaches or irritate your gut. Although these reactions are uncommon, it's best to start slow and work your way up.
11. Greek yogurt - plain, 2% milkfat
13/20 stars
Snack on ½ cup (123 grams) of plain Greek yogurt, and you'll get about 11 grams of protein that's easy to eat and easy on your wallet. Greek yogurt is strained to make it more concentrated, which means it provides more protein, ounce for ounce, than regular yogurt.
It's creamy. It's tangy. It's ready when you are. Just grab a spoon to eat it and expect about 3.5 grams of net carbs in a ½-cup serving.
Choose full-fat Greek yogurt for an even creamier experience. This will add a few calories and you'll feel fuller, too. Or, go with non-fat for fewer calories with all the protein.
If you find Greek yogurt too sour, try its Icelandic cousin, skyr. You'll pay more, but it has a milder flavor. Or stir in a low-carb sweetener and flavoring like vanilla extract to sweeten things up.
12. Lupini beans
13/20 stars
A traditional Italian favorite, lupini beans deliver big. Snack on ½ cup (80 grams) of this old-world snack to get the protein you need. The carb count is on the higher side, at 4 grams of net carbs for this snack-sized serving.
Lupini beans, also called lupins, taste a lot like firm and chewy chickpeas. They're pretty big beans. Most people eat them with their fingers, which makes them perfect for snacking. Some people like to squeeze off the outer skin and eat only the insides.
Lupini beans usually come packed in mild pickling brine, but they're not sour - just salty and a little tangy.
If you buy dry beans, after cooking them, soak them for several days in the refrigerator (changing the water daily) until they are no longer bitter. Don't skip this step! It helps remove toxic alkaloids.
13. Cottage cheese - 1% milkfat
13/20 stars
Another popular choice from the dairy aisle, cottage cheese is an affordable, protein-rich snack. Just ½ cup (113 grams) gives you about 13 grams.
Cottage cheese is creamy like Greek yogurt but less expensive. Each ½-cup serving has about 5 grams of net carbs. Keep it refrigerated, and all you need is a spoon!
If you go with 4% cottage cheese, you'll get a creamier flavor and a few more calories. Whatever you choose, the modest price is a bonus!
14. Chia seed pudding
12/20 stars
Soak chia seeds in water, and magic happens. An hour later, you'll have a rich, gooey mixture that contains plenty of nutrients. About ⅓ cup (56 grams) of seeds stirred into about 1 cup of water will get you the 10 grams of protein you need.
These seeds have some carbs but are fiber-rich too. Net carbs in this serving are just under 1 gram.
The flavor of chia is a little nutty; the mouth-feel is a little surprising. Spice things up with cinnamon, nutmeg, or cardamom. Brighten your pudding with vanilla extract or a sprinkle of cacao. A touch of low-carb sweetener or cream is a possibility, too.
15. Parmesan crisps
12/20 stars
Are you looking for crunch? Then you've found your snack. Just 1 ounce (30 grams) of Parmesan crisps gives you 10 grams of protein with only 1 gram of net carbs.
Purchase these cracker-like creations in almost any grocery store. They come in snack-sized packs. Keep a couple in your car for on-the-go emergencies.
Make these high-protein crisps yourself by melting small mounds of parmesan cheese on a cookie sheet and letting them cool. It's a one-ingredient wonder.
Here's our parmesan chip recipe, with added seeds.
16. Black soybeans
12/20 stars
Don't buy black beans. Instead, buy black soybeans for a low-carb, high-protein snack. With a ½-cup (130-gram) serving, you'll get 11 grams of protein and only 1 gram of net carbs. (Regular black beans have a little less protein and a lot more carbs.)
You can buy black soybeans in cans, ready to eat. Or, save a little money by buying them dry and preparing them yourself.
Black soybeans can be a little hard to find. Shop the organic section of your supermarket if you can't find them in the bean aisle. They're also available on Amazon, but you'll pay a little more.
For more on the pros and cons of soy as a protein source, check out the soy section of our guide to the top protein foods.
17. Peanuts and peanut butter
12/20 stars
Salty, satisfying cocktail peanuts are one of the cheapest sources of protein available. You'll get 12 grams of protein in just 1.5 ounces (45 grams) of peanuts and a little less from 3 tablespoons of peanut butter.
Unfortunately, peanutty deliciousness comes with a significant amount of net carbs. This snack-sized serving packs about 6 grams.
Peanuts are easy, tasty, and inexpensive. But if you're looking for a lower-calorie snack, most of the other options are better.
18. Ground beef - sliders and meatballs
11/20 stars
Sliders (mini burgers) or a couple of meatballs are both snack-friendly ways to eat ground beef. With just 2 ounces (60 grams), you'll get about 10 grams of protein and no carbs at all.
For convenience, try grilling a batch of seasoned sliders and freezing them. Or, try a low-carb recipe from our hearty meatball collection, and freeze them right after cooking them. Now your snack is just a microwave-minute away from eating.
If you want fewer calories, buy a leaner blend. You'll pay a little more but increase the percentage of energy from protein in your snack.
19. Hemp hearts
11/20 stars
Hemp hearts are hulled hemp seeds. They're soft but a little crunchy with a subtle earthy flavor.
You can eat them by the spoonful or sprinkle them on Greek yogurt or chia pudding. To get 10 grams of protein, you'll need ¼ cup (30 grams) of hemp hearts.
Hemp hearts are low in carbs, with only 1 gram of net carbs per ¼ cup serving. That's impressive for a seed.
Are they expensive? Not really. The price puts them right smack in the middle of these high-protein options.
20. Tempeh
11/20 stars
Originally from Indonesia, tempeh is made from fermented soybeans that are pressed together in a block. For 10 grams of protein, eat about 1.75 ounces (50 grams) of tempeh.
It's a low-carb, wholesome snack with about 3.6 grams of net carbs per serving.
Shop for tempeh in the dairy case or other refrigerated area in your market. Watch out for products made with added grains. These blended versions tend to have less protein and more carbs.
Another soy product, natto, has a similar nutrition profile. It has a strong taste, and it's quite expensive. But if you're a fan, it's also a healthy high-protein snack.
21. Almonds and almond butter
10/20 stars
Roasted, salted almonds can be a little addicting. The good news is that about ⅓ cup (47 grams) gets you 10 (delicious) grams of protein. If you're eating almond butter, you'll need 3 tablespoons to get you there.
Either way, you'll get about 4 grams of net carbs along with your protein. Like peanuts, these nuts pack a lot of fat, too. Bottom line: this is not a low-calorie snack selection.
Almonds are pricier than peanuts - about three times the cost. But they're just as convenient and taste great.
Snack chart
You can see the number of stars these snacks got for each characteristic here. Click the column heading to see the snacks ranked from best to worst by that characteristic.
Quick combos
Get creative and imagine even more snacking options by combining the snacks from our list. Even throw in a little crunch by adding low-carb veggies or coconut to your protein.
Here are our favorite easy combos:
Deli roll-up (cold cuts, cheese, and a pickle)
Trail mix or granola (peanuts, almonds, pumpkin seeds, hemp hearts, and coconut)
Mini parfait (Greek yogurt or cottage cheese topped with nuts, seeds, or hemp hearts)
Cheesy peanut butter (Parmesan crisps or cheese slice with peanut butter)
Loaded celery (peanut butter and celery)
Cucumber "sandwich" (cheese and cucumber)
Wrapped asparagus spears (deli meat and asparagus)
Bean salad (lupini and soybeans mixed with salsa)
Cheesy scramble (egg and cheese)
Tasty but crazy (peanut butter and salami)