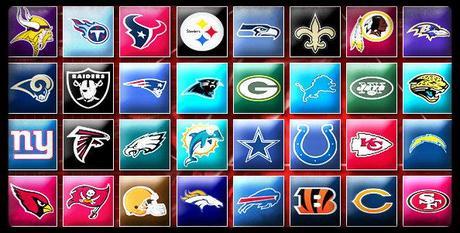 Image: tipsandpicks.com
- Adam Parker
Week Two of the 2012 NFL Season is in the rear view mirror and Week Three is right around the corner.
Man, do I love football season.
Even on days where there are no games on the schedule, there's still so much to discuss with your buddies around the water cooler about last week's games that it feels like the NFL has no off-days.
For starters, did anyone see the Arizona Cardinals knocking off the New England Patriots in Foxborough? I mean, it's bad enough that it was Arizona, but it must have that extra sting for New England since they lost to a Kevin Kolb-led Cards' team in their first home opener loss in over a decade.
Then you have the Eagles, who, despite dialing up as many pass plays as Mike Leach typically does at Washington State (and Texas Tech before that) still found a way to win in the final moments over a tough Baltimore Ravens squad. Say what you will about all of the Michael Vick's turnovers — the fact still remains that the guy absolutely delivers in crunch time.
I improved my Pick 'Em numbers a bit in Week Two with a record of (7-9) after going a dismal (5-11) in Week One. Hopefully, I can continue to build on that slight improvement moving forward.
My Pick 'Em Record: 12-20
Week Three awaits!
New York Giants (1-1) at Carolina Panthers (1-1) on Thursday Night Football
Both teams are coming off of wild Week Two wins; especially the sea-saw battle the G-Men were involved in with the surprisingly competitive Tampa Bay Buccaneers. Cam Newton and company did their thing against the division rival New Orleans Saints, and honestly, even though it's going to be viewed as an upset coming in, I like Cam-Cam and crew to send the G-Men home with a loss as well.
The Panthers rank in the top half of the league in pass defense thus far, which means the Giants' 24th-ranked rushing offense is going to have to find a way to produce and since it's not the playoffs (where the Giants' typically non-existent running game explodes), I'm guessing their running game remains ineffective; at least for one more week.
Prediction - Panthers win, 23-20
St. Louis Rams (1-1) at Chicago Bears (1-1)
The Bears come into this game boasting a top ten rush defense. That only means one thing — Steven Jackson, as much as the Rams might want and need him to, likely won't be able to make much of an impact in this one. With that being said, it's going to come down to the play of Sam Bradford if the Rams are to stay competitive in this one. Yes, the Rams' defense will play inspired, but in the end, I just don't see their offense mustering up much of anything; especially with Julius Peppers and company wreaking havoc on the Rams' makeshift offensive line. Matt Forte goes off in this one.
Prediction - Bears win, 24-13
Buffalo Bills (1-1) at Cleveland Browns (0-2)
Fred Jackson may be out for the Bills, but former first round pick C.J. Spiller has filled in splendidly thus far and is a game-changer for Buffalo on offense with that sprinter's speed of his. Unfortunately, Spiller, like Jackson before him, is basically the only positive thing Buffalo has going offensively. Normally I'd take the Bills here on paper, but the Browns have been more impressive to me in the always reliable 'eye test.'
Prediction - Browns win, 17-10
Tampa Bay Buccaneers (1-1) at Dallas Cowboys (1-1)
Oh the Cowboys... In Week One, you knocked off your arch-nemesis as well as defending Super Bowl champion New York Giants. Then, you follow that up with a Week Two shellacking (27-7 was the final score) at the hands of the Seattle Seahawks? Seriously!? Don't get me wrong. By no means am I saying the Seahawks are a pushover, especially with that underrated defense of theirs, but honestly, its getting harder and harder to predict which Cowboys' team will show up from week to week. On the other hand, I've really liked what I've seen out of the Bucs' thus far, so I'll go with them here.
Prediction - Buccaneers win, 21-17
New York Jets (1-1) at Miami Dolphins (1-1)
It seems like after every loss, the media will debate whether the Jets should bench their big-money quarterback in Mark Sanchez in favor of Tim 'Touchdown Jesus' Tebow. I, however, have not gone off the deep end. Sanchez should be the quarterback. I mean, come on people, it's only been TWO WEEKS!
Next up for the Jets is a game against their bitter AFC East rivals — the Miami Dolphins. It appears that in his seventh year in the league, Reggie Bush may have finally figured out how to play running back in the NFL, which is good news for the Dolphins and rookie quarterback Ryan Tannehill. The Dolphins look very good to me in this match-up. They can run the football on offense and stop the run on defense, which means it'll come down to Mark Sanchez and the Jets' passing game to make the majority of the plays. Give me Miami. Reggie Bush runs wild again.
Prediction - Dolphins win, 24-20
San Francisco 49ers (2-0) at Minnesota Vikings (1-1)
The 49ers look like the best team in football by a long shot at this early point in the season. Through the first two weeks, they've already comfortably knocked off the Green Bay Packers and Detroit Lions — two teams who best two of the top offenses in the league. Needless to say, if it wasn't already obvious, I don't give the Vikings much of a chance at all in this one.
Prediction - 49ers win, 31-13
Kansas City Chiefs (0-2) at New Orleans Saints (0-2)
The Saints have gotten off to a very rough start so far, losing to mobile quarterbacks Robert Griffin III and Cam Newton in back-to-back weeks. The biggest problem on the Saints' laundry list of them? Probably their defense, or lack there of. We all knew things would be tough this year after 'Bountygate', but being ranked 26th against the pass and dead last (32nd) against the run is just downright terrible. Drew Brees and the offense will do all they can, but New Orleans needs to tighten things up quickly on defense if they don't want this season to go to waste.
Like the Saints, the Chiefs have also not looked that impressive thus far, but because their offense ranks in the top ten statistically both through the air and on the ground, I'll have to go with KC in this one. Brees' magic can only carry the Saints so far. Even when he puts up the yards and makes the plays on offense, the defense continues to him down.
Prediction - Chiefs win, 27-24
Cincinnati Bengals (1-1) at Washington Redskins (1-1)
The loss of Brian Orakpo and Adam Carriker will no doubt hurt the Redskins' defense badly. That being said, the Bengals are coming off a defensive performance where they gave up 27 points to the Cleveland Browns. Enough said. However, I think the injuries to Orakpo and Carriker will make too much of an immediate impact for the 'Skins to overcome this week. Give me the Bengals and the Andy "Red Rifle" Dalton to A.J. Green connection.
Prediction - Bengals win, 23-20
Detroit Lions (1-1) at Tennessee Titans (0-2)
After getting handled by the superior 49ers, the Lions continue their road trip with a stop in Tennessee against the host Titans. The good news for Detroit? The Titans are terrible on both sides of the ball and I don't see that changing anytime in the near future. Detroit wins this one easily.
Prediction - Lions win, 35-13
Jacksonville Jaguars (0-2) at Indianapolis Colts (1-1)
This one is a little tough to pick. The Jaguars are seemingly bad at everything, but I still have faith that their defense can improve and Maurice Jones-Drew will eventually return to form. On the other hand with the Colts, Andrew Luck and the passing game is the focal point of a still-developing offense. Indy's defense, oddly enough, is quite stout against the run though, ranking 14th in the league. Could this much-improved Colts' defense be enough to keep the Jags at bay while Luck and co. do just enough to win on offense? I'm guessing yes.
Prediction - Colts win, 23-17
Philadelphia Eagles (2-0) at Arizona Cardinals (2-0)
The Eagles have been playing the role of comeback kids early on this season, winning both games in their final offensive drives. The Cardinals are coming off an upset victory over the New England Patriots in Foxborough, which I doubt anyone saw coming. In this contest, it all comes down to which team you have more faith in. Will Kevin Kolb show up to play well against his former team, or will Michael Vick continue working his late-game magic? I'll take my chances with Philly.
Prediction - Eagles win, 23-21
Atlanta Falcons (2-0) at San Diego Chargers (2-0)
Another match-up between two (2-0) squads, but in my opinion, the Falcons' start has been much more impressive considering the level of competition they've faced so far. I like the Dirty Birds to continue soaring high in this one.
Prediction - Falcons win, 31-21
Houston Texans (2-0) at Denver Broncos (1-1)
Peyton Manning will no doubt spend all of today going over game tape to find out what happened against the Falcons, but come Tuesday, he'll leave that game in the past and transfer his focus to the Texans who have arguably the top defense in football right now, especially against the pass, where they currently sit atop the league rankings with only an average of 124 yards allowed. Granted, their top ranking could merely be a facade based on the fact that they've faced two run-heavy teams in Jacksonville and Miami so far, but something tells me that the ranking isn't too far off. Oh, and Arian Foster is a beast. Good luck in this one, Peyton — you'll need it.
Prediction - Texans win, 24-20
Pittsburgh Steelers (1-1) at Oakland Raiders (0-2)
The Raiders, especially running back Darren McFadden in particular, have not looked good at all so far this season. The Steelers may be currently ranked 30th in the league in rushing, but something tells me this is the week that they break through. Pittsburgh wins comfortably.
Prediction - Steelers win, 27-17
New England Patriots (1-1) at Baltimore Ravens (1-1) on Sunday Night Football
Both teams are coming off last-minute heartbreaking losses in Week Two to teams that they probably should have beaten. All that means is that both squads come into this one with something to prove. Baltimore's usually stout defense has looked pretty bad thus far, ranking 27th against the pass and 20th against the run while the Patriots rank in the top ten in both categories. It's going to be a long day for Joe Flacco, Ray Lewis, Ed Reed and company...
Prediction - Patriots win, 31-20
Green Bay Packers (1-1) at Seattle Seahawks (1-1) on Monday Night Football
This could prove to be the most interesting game of the week. The Seahawks are great at running the ball and stuffing the opposing team's running game. That won't be a big hindrance for Aaron Rodgers and Green Bay though, as they prefer to sling it all over the yard anyway. The Packers are currently ranked second in the league in pass defense, but the Seahawks don't pass the ball much anyway. It's a tough choice, especially with Seattle at home, but I just don't see Rodgers not being able to pull this one out.
Prediction - Packers win, 17-13
Be sure to follow Beard And Stache on Twitter 
@BeardAndStache
, and also Adam 
@Adam_Parker43
, Like our Facebook page 
HERE
!