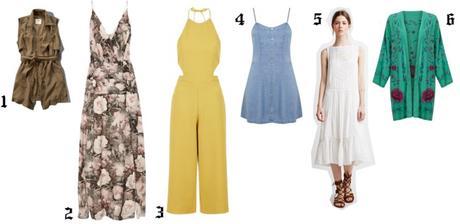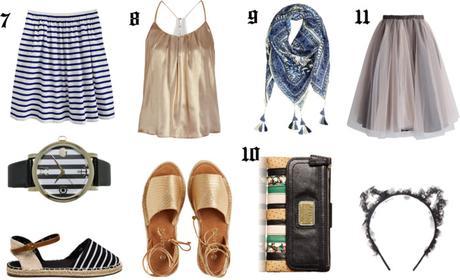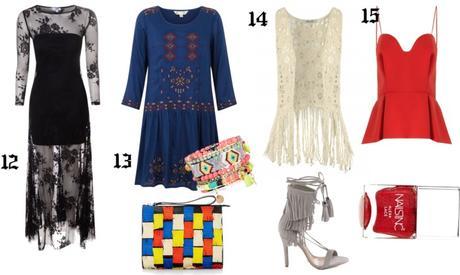 This season is going to be all about the 70's and details such as sheer fabrics, hippie chic ensembles, eclectic mix & match and fringes. It is not too late to get your wardrobe ready for summer. Today, I have a roundup of the trends for approaching Summer season and quick updates you can make to keep your wardrobe up to date. 
1. Trench Vest in Khaki  2. Light Flowy Dress in a Floral Print  3. Jumpsuit (Preferably in a bright color) (See our guide on finding the perfect jumpsuit)  4. Denim Dress  5. Dress with Lace and Crochet Detailing  6. A Kimono 7. Nautical Anything (A Skirt in nautical stripes or an Accessory for a nautical update) 8. Metallics such as the gold blouse and metallic pair of sandals 9. A Silk Scarf  10. Patchwork Wallet  11. Tulle Details like a tulle skirt or an accessory to channel the ballerina in you  12. Sultry Sheer Maxi Dress  13. Eclectic Updates such as an embroidered dress, disco bracelets or a bohemian clutch  14. Fringe Detailing as seen in the vest and sandals
15. Matte Red for that pop of bold red with a red blouse and matte red nail polish
How are you updating your wardrobe for summer? Which of these are your favorite trends?
I wish you a very Happy Weekend. Please do take time to let me know your thoughts in the comments section below.
Shop the Post