Liquid Lipsticks are the new fad! Every brand has been introducing liquid lipsticks left, right and center in the past couple of years - which is amazing!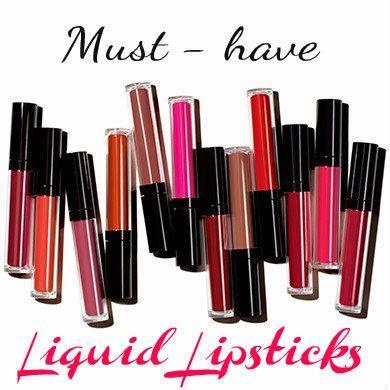 These are highly pigmented lipsticks with rich, opaque color, most of them with a matte finish and have incredible staying power. Some are transfer-proof and kiss-proof as well.
Easy to apply, no lip liner required, does not bleed and a range of finishes to choose from - liquid lipsticks are the best thing to have happened to makeup lovers!
I love liquid lipsticks too and have tried them from a couple of brands. Hence, thought of compiling the best and renowned liquid lipsticks in the market for you all and myself - so we know which one to pick next :D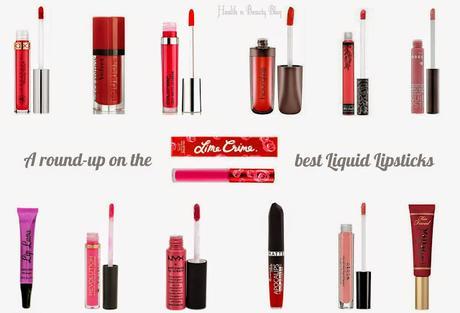 ANASTASIA BEVERLY HILLS LIQUID LIPSTICK (USD 20)
Anastasia who has established herself as the queen of brow products, recently launched her liquid lipstick range in 20 amazing shades which has got everyone including me swooning to lay my hands on them! This lipstick dries to a matte formula and most shades have been sold out ever since their debut!
BOURJOIS PARIS ROUGE VELVET EDITION (GBP 9)
This product was a runaway hit world over, even in India where it never got launched. At the given price, this lipstick had awesome quality and packaging and was loved by all. Recently, Bourjois has launched their Rouge "Aqua Laque" Edition, which also doesn't seem to hit the Indian shores.
COLORBAR DEEP MATTE LIP CREME (INR 675)
New baby from the Colorbar cradle! Colorbar has some amazing makeup stuff to offer and this matte lip cremes have got good reviews in the blogosphere. At the given price, its one's best bet on a liquid lipstick that's easy on the pocket and availability too!
HOURGLASS OPAQUE ROUGE LIQUID LIPSTICK (USD 28)
We all love and yearn for the Hourglass Ambience Lighting Radiance Palette. If there is another product that makeup lovers swoon for from Hourglass, it is this Opaque Rouge Liquid Lipstick.
Comes in a unique flattened tube that is classy and cute as well. This liquid lipstick is available in mini sizes as well for USD 10 - Aint't that great news?
KAT VON D EVERLASTING LIQUID LIPSTICK (USD 19)
Another cult favorite product of all from the Kat Von D stable! I so love the brand font and motifs on the products, I could buy them just for that! This lipstick goes on like a gloss and settles ultra-matte on the lips upon drying with mind-blowing longevity.
KORRES RASPBERRY ANTIOXIDANT LIQUID LIPSTICK (USD 22)
Korres is a brand that is proud of the natural ingredients present in all of its products, even in their makeup range. If you are a natural makeup lover, you should definitely check out Korres Liquid Lipsticks that have raspberry and pomegranate oils in them.
Check out the review of

Korres Liquid Lipstick in Fuchsia

posted in the blog already.
LIMECRIME VELVETINES (USD 20)
These are #awesomesauce liquid to matte lipsticks that I am totally in love with. Great staying power, out-of-the-box color options, transfer-proof formula - I love everything about them. The recent Limecrime website hack is a big deterrent for me, since I am used to buying directly from the official site for fear of fakes around. The newly launched shade - Riot, is high up in my wishlist!
I HEART MAKEUP LIP LAVA (GBP 3)
An English makeup brand, I Heart Makeup, makes quality makeup stuff at incredible prices. These lip lavas are known to be very affordable dupes of Too Faced Melted Liquified Lipsticks at just 3 pounds each.
MAKEUP REVOLUTION LONDON SALVATION LIP LACQUER (GBP 3)
Another awesome product at super pocket friendly price from Makeup Revolution London. They have these Salvation Lip Lacquers in two ranges - Velvet Lip Lacquers and Intense Lip Lacquers with 11 shades in each. You can call them affordable dupes to Limecrime Velvetines!
NYX SOFT MATTE LIP CREAM (USD 6)
This product needs no introduction! One that has been loved all over the world for quality and price point. I love the semi-matte finish and also how the lipsticks have been named after cities in the world.
RIMMEL LONDON APOCALIPS MATTE LIP VELVET (USD 5)
First we had the Apocalips Show-Off Lip Lacquer that sold like hot cakes and then Rimmel introduced Apocalips Matte. Another coveted product in the blogosphere, sadly the shade range isn't all the impressive. Nevertheless, at just 5 bucks these are a bang-on for the price you pay!
Here is a review of

Rimmel Apocalips Show-Off Lip Lacquer in Apocaliptic

from the blog.
STILA STAY ALL DAY LIQUID LIPSTICK (USD 20)
The shade "Patina" is so universally famous, that this one shade has given Stila Liquid Lipsticks a flagship status amidst other brands. These are so worth the money, like other Stila products and is a must try if you are a matte-finish liquid lipstick lover.
TOO FACED MELTED LIQUIFIED LONGWEAR LIPSTICKS (USD 21)
Best selling liquid lipsticks ever! Too Faced got everything going their way right from the packaging to the sponge applicator to the shade range to the formula! Just about everything seems to be perfect with these Melted Lipsticks. Apart from the initial 12 shades, Too Faced added 6 more shades to the Melted basket and is now out with "Melted Metal Liquified Lipstick" range having 8 liquid lipsticks with a metallic finish.
Here is a slideshow with shade range and price of each of these liquid lipsticks -
Are you a fan of liquid lipsticks as well? Which brand and shades are your favorites?
How did you like this listing of must-try liquid lipsticks from the beauty market? Any other brand that you think can be included to this listing?