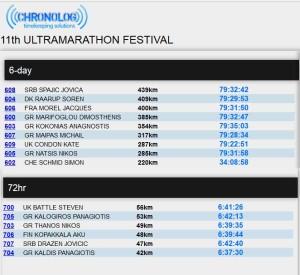 The 11th International Ultramarathon Festival Athens 2016 is fast approaching the 80 hour point in the 6 day race. Serbian Jovica Spajic continues to lead the race and has  30 km cushion over second placed Soren Raarup from Denmark. Frenchman Jaques Morel maintains his third place. Kate Condon, the only woman in the event is on 285 km.
The 72 hour race began this afternoon and this screenshot taken approximately at the 6:40 point shows the event being led by the UK's Steven Battle.
Tomorrow the 48 hour starts and finally the 24 hour race kicks off on Friday which is the Greek 24 hour championships and has a field that will considerably swell the numbers over the last day of the race.
Website: Dayrunners.gr
Facebook: Athens Ultramarathon Festival