More than likely no two apartments or houses you are looking at to buy or rent are the same. One might be bigger or brighter than another; another might have a big bathroom or small kitchen. You'll need to know some key adjectives to help explain to your colleagues or the agent showing you around just what you are looking for!
In this Podcast, you will learn:
(i) How to describe the characteristics of a room or living space
(ii) To talk about the qualities of the property you are looking at
Dialogue: A real estate agent is showing an apartment to her potential buyer:
A: 王女士,这套房是我特地给您留的。Wáng nǚshì, zhè tàofáng shì wǒ tèdì gěi nín liú de.
Ms Wang, I think this apartment is ideal for you.
B: 是么,谢谢你拉,小刘。呦,这客厅采光真好!Shì me, xièxiè nǐ lā, xiǎo liú. Yōu, zhè kètīng cǎiguāng zhēn hǎo!
Really? Thank you, Liu. The natural light in this living room is great!
A: 是啊!您看,厨房也宽敞。Shì a! Nín kàn, chúfáng yě kuānchǎng.
Yes, look at it, the kitchen is spacious too.
B:嗯不错。两间卧室的大小刚好,还朝南。En bùcuò. Liǎng jiān wòshì de dàxiǎo gānghǎo, hái cháo nán.
En not bad. These two living rooms are alright. They are facing south.
A: 对,而且主卫和客卫也很亮堂,您看!Duì, érqiě zhǔ wèi hé kè wèi yě hěn liàngtang, nín kàn!
Yes, the bathrooms in the master bedroom and guest room are also bright and spacious.
B: 嗯,这么好的房,确实很难得。En, zhème hǎo de fáng, quèshí hěn nándé.
En. This is such a good apartment. One like this is very hard to find.
Chinese words and phrases mentioned in this Podcast:
王女士:Miss Wang
特地:especially
是么:really?
采光:natural light
厨房:kitchen
宽敞:spacious
不错:not bad
卧室:bedroom
大小:size
刚好:just right, perfect
朝南:facing south
主卫(主人房卫生间):bathroom in the main living room
客卫(客房卫生间):bathroom in the guest room
这么好:so great
确实:indeed
难得:rare
Mandarin Chinese learning resources we recommend: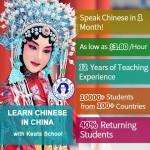 Keats Chinese School
, which was founded in 2004, is one of the top Mandarin Chinese language schools in China, offering both one-on-one immersion Mandarin courses and small group Chinese classes. Located in Kunming, Keats develops personalised exercises and materials for students to meet their learning goals and requirements and can arrange a student visa for its 16 week course. Why not try one of their highly recommended courses?
Sensible Chinese Character Course: Learn Chinese characters quickly and effectively using methods developed by the Sensible Chinese Character Course. Their unique video course will teach you these modern learning methods. Currently, there is a special offer and you can get $189 of Chinese learning courses and learning material for just $57!