Most people aspire to own or rent a nice new property. In many Chinese cities there are so many new properties being built, but some are better than others! Learn how to talk about the characteristics of a new apartment or house you might be considering…
In this Podcast, you will learn:
(i) How to explain about the actual accommodation in a house or apartment
(ii) To comment on the features of the bedrooms and living space
Dialogue: A person is showing her new home to her friend:
A: 来,快进来看看我的新房。Lái, kuài jìnlái kàn kàn wǒ de xīnfáng.
Hi, please come and see my new home.
B: 啊呀,这客厅可真大。Aya, zhè kètīng kě zhēn dà.
Wow, this living room is really big.
A:这边是厨房,一共三室两厅两卫,还有一个阳台。Zhè biān shì chúfáng, yīgòng sānshì liǎng tīng liǎng wèi, hái yǒu yīgè yángtái.
This is the kitchen. The house has a total of three bedrooms, two living rooms, two bathrooms and there is also a balcony.
B: 这三个卧室都挺宽敞。卫生间采光也好。Zhè sān gè wòshì dōu tǐng kuānchǎng. Wèishēngjiān cǎiguāng yě hǎo.
These three bedrooms are spacious, and the natural lighting in the bathroom is good as well.
A: 是啊,我们真是等不及要搬进来呢!Shì a, wǒmen zhēnshi děng bùjí yào bān jìnlái ne!
Yes, we can't wait to move in!
Chinese words and phrases mentioned in this Podcast:
来:Come here is a popular phrase to use when you are about to show something to others
客厅:living room
厨房:kitchen
真大:really big
这边:here
一共:total
卧室:bedroom
客厅:living room
卫生间:bathroom
宽敞:spacious
采光:natural light
等不及:can't wait
搬进来:move in
Mandarin Chinese learning resources we recommend: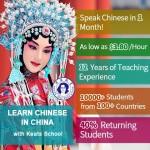 Keats Chinese School
, which was founded in 2004, is one of the top Mandarin Chinese language schools in China, offering both one-on-one immersion Mandarin courses and small group Chinese classes. Located in Kunming, Keats develops personalised exercises and materials for students to meet their learning goals and requirements and can arrange a student visa for its 16 week course.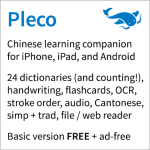 Pleco Software
makes popular Chinese dictionary/flashcard/document reader apps for iPhones, iPads and Android devices, featuring dozens of licenced dictionaries, handwriting input, OCR, stroke order, Cantonese support, and tons of other amazing features. We highly recommend taking a look at some or all of their great products…