No matter how you try, sometimes things don't turn out well. It may not be your fault or it may be that the other person/people was/were unreasonable. How to deal with this, and what actions to take for future?
In this Podcast, you will learn:
(i) How to explain to someone else about a bad experience
(ii) To describe an event which made you unhappy or uncomfortable
Dialogue: Two girl-friends are talking about their dating experiences:
A: 你上次去相亲结果怎么样?Nǐ shàng cì qù xiāngqīn jiéguǒ zěnme yàng?
How was your last blind date?
B: 唉,别提了!糟透了!Āi, biétíle! Zāo tòule!
Ai, do not mention it. It was terrible!
A: 怎么回事儿?快给我说说。Zěnme huí shì er? Kuài gěi wǒ shuō shuō.
Ai, what happened? Hurry up and tell me.
B: 唉,服务员给我们上错了菜。那个男的竟然劈头盖脸地把服务员数落了一顿。我觉得他太过分了。我是不会再见他了。Āi, fúwùyuán gěi wǒmen shàng cuòle cài. Nàgè nán de jìngrán pītóugàiliǎn de bǎ fúwùyuán shǔluole yī dùn. Wǒ juédé tā tài guòfènle. Wǒ shì bù huì zàijiàn tāle.
The server brought the wrong dish to us and the man I was with scolded the server excessively. I think he was not fair so I am not going to see him again.
Chinese words and phrases mentioned in this Podcast:
上次:last time
相亲:blind date
结果:result
别提了: don't mention it
糟透了: It was terrible
怎么回事儿:What happened?
服务员:server can mean waiter or waitress
上错了菜:served the wrong dish
劈头盖脸:a vicious assault on a person
数落:scold someone, blame someone
我觉得:I feel,I think
他:he
太过分:excessive(ly), too much
Mandarin Chinese learning resources we recommend: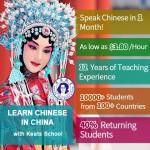 Keats Chinese School
, which was founded in 2004, is one of the top Mandarin Chinese language schools in China, offering both one-on-one immersion Mandarin courses and small group Chinese classes. Located in Kunming, Keats develops personalised exercises and materials for students to meet their learning goals and requirements and can arrange a student visa for its 16 week course.