Not everything you might hear is the truth or has been confirmed. So, how do you question what you are hearing. Or what if someone asks you to reconfirm what you've just told them, can you do it clearly and accurately?
In this Podcast, you will learn:
(i) How to query something you have just been told
(ii) To ask someone to reconfirm a statement they have just made
Dialogue: Two colleagues are talking about their company's travel plans at the end of the year:
A:小王,你知道年底公司组织旅游去哪儿么?Xiǎo wáng, nǐ zhīdào niándǐ gōngsī zǔzhī lǚyóu qù nǎ'er me?
Mr Wang, do you know where are we going for the year-end company trip?
B:知道呀。去三亚!Zhīdào ya. Qù sānyà!
Yes. San Ya.
A: 啊?三亚啊。你确定么?A? Sānyà a. Nǐ quèdìng me?
San Ya, are you sure?
B:我确定啊。Wǒ quèdìng a.
Yes, I am sure.
A: 真的假的?不是去泰国么?Zhēn de jiǎ de? Bùshì qù tàiguó me?
Really? Aren't we going to Thailand?
B: 不是啊。呵呵,你想的美啊。Bùshì a. Hēhē, nǐ xiǎng dì měi a.
Of course not. Hehe, you wish.
Chinese words and phrases mentioned in this Podcast:
你知道:Do you know?
年底:year end, at the end of the year
公司:company
组织:organise
旅游:travel
哪儿:where
知道:know, understand
三亚:Sanya city
确定:sure
我确定:I am sure
真的假的: really
泰国:Thailand
你想的美:you wish
Mandarin Chinese learning resources we recommend: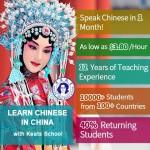 Keats Chinese School
, which was founded in 2004, is one of the top Mandarin Chinese language schools in China, offering both one-on-one immersion Mandarin courses and small group Chinese classes. Located in Kunming, Keats develops personalised exercises and materials for students to meet their learning goals and requirements and can arrange a student visa for its 16 week course. Why not try one of their highly recommended courses?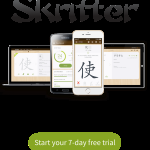 Skritter
allows you to learn to write Chinese characters quickly and effectively. You choose the vocabulary lists you wish to learn, set the pace, and Skritter handles the rest. Say goodbye to forgetting characters, making tone mistakes, and your piles of flashcards—and say 你好 to the right way in mastering Chinese characters!