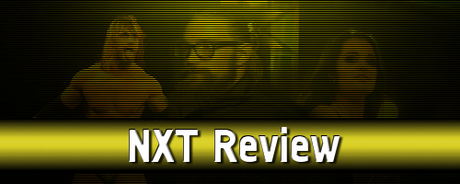 *Winners in Bold
From Full Sail University in Florida NXT kicks off in a different way this week. The WWE Champion CM Punk starts the show with a "respect" promo. Just like he has said on Raw he talked about how people has been disrespecting him. How he has watched Main Events while holding the WWE Championship. Then he talks about how the NXT Champion will defend his championship for the first time in the Main Event. He closes the Promo by saying that this weeks episode is all about "Respect". Interesting to see they taped this after the NXT tapings because he is with his new short hair look and on NXT he has his slicked hair look.
Bo Dallas vs Johnny Curtis—Nice match to start the show. Is shame that Johnny Curtis is still on NXT when he can be an interesting character on TV, he really is weird. Bo Dallas winning with the spear appeared out of nowhere and left me asking "is that it?". A spear shouldn't be use by someone small as finisher because it looks less impactful. When you see a Goldberg spear or a Big Show spear and compare it to Edge's spear the ones made by the big men are more impressive. That's why Dallas spear looked so weak, also I think he has another finisher and that's why I was waiting for it.
Kaitlyn & Alicia Fox vs Paige & Audrey Marie—This weeks divas action was a tag team match, the second divas tag team match since the reboot. Excellent match, the four divas really brought it. Watching so much Raw and Smackdown makes you believe that fans don't care about the Divas and when you watch NXT you see that's not true. Paige is as over as any male competitor on NXT. The fans chant her name and cheer every time she is in the ring. This match was really good and it showed that if you give them time they will deliver. Also hearing William Regal 'pop' for a move that Audrey made was a cool sight.
Backstage Jake Carter challenges Trent Barretta that will take place next week.
Briley Pierce is Backstage interviewing the NXT Champion Seth Rollins. He is asked about how he feels about his first title defense and he answers that he is more excited than nervous. Then when he starts to talk about how he felt disrespected by Michael McGilicutty the WWE Champion appears. In a surreal moment for ROH fans the two former ROH World Champions are face to face with their respective championships. Also is like CM Punk is talking to his 2005 self. The WWE Champion tells Seth Rollins that holding the Championship doesn't mean that people will give him respect and he is the proof of that. He then tells him that like him people will tell him that he has to earn respect even when he has proven that he is the best, that on the main event he has to beat the respect out of Michael McGilicutty. Incredible segment between the two of them. Seeing the CM Punk give some words to Seth Rollins a man that has gone through the same path as him makes you look forward of the future, will he be like CM Punk one day?
Leo Krueger vs Dante Dash—Another squash match for the new unstable Leo Krueger. Not a lot to say about it except Krueger is clearly Mental and that his finisher is really cool, at least for me. After the match he takes the microphone and cuts a promo that shows he has some problems. He talks about how his prey will not suffer long and who will be his next prey. The laugh alone makes you think he really has gone mental.
Briley Pierce this time is interviewing the challenger Michael McGilicutty, he asks if the match is more about the title or respect. He answers that when he beats Seth Rollins for the NXT Championship he can have all the respect he wants, then he talks about how he will go after CM Punk and win the WWE Championship.
NXT Championship Match: Michael McGilicutty vs Seth Rollins © with CM Punk at commentary—Before the match even starts the WWE Champion makes his entrance and tells them he will take a close look, he then joins commentary with William Regal and Jim Ross. Incredible main event, the two men really delivered an outstanding match. Seeing Seth Rollins and Michael McGilicutty deliver such a great match makes you want them on TV. The finisher to end the match was also great, the blackout is great but the move he did out of the top rope is a nice second finisher. Also Punk giving Rollins his stamp of approval after he retained the title was a great sight. It really looked like Punk was seeing his 2005 self, but like they said on commentary Rollins needs to be him and not be anyone else. Being compared to Punk will not make him be on Punk's level he will need to prove himself.
A great NXT edition, the best since the debut. The energy of the crowd, the matches throughout the show and the main event makes you excited for the future. The talents down there are the future and Triple H who runs NXT is the future heir of the WWE, that's why every time I watch NXT I get excited. Also the way they used CM Punk was perfect. Punk giving his stamp of approval to Seth Rollins a man that took the same path as him and looks up for him was the best way to use him. That was a really good rub for Rollins.
Final Score: 9.8/10