I have just finished reading this – Yes I would have looked very ambitious reading this on the tube on my commute, obviously one of my targets ;)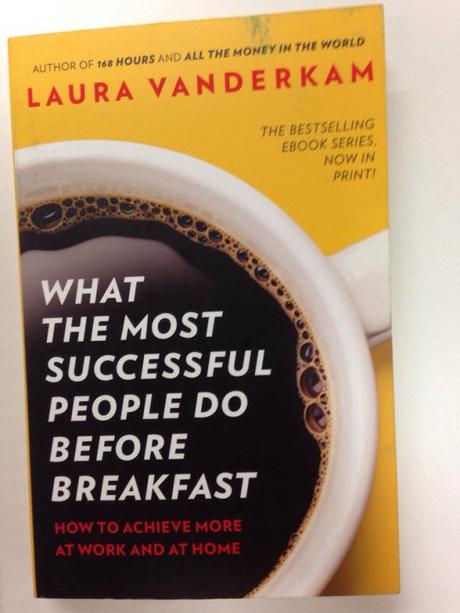 I think this is a fantastic book. Really informative and gets you thinking seriously about your time. You have 168 hours every week, where does it go?
It's backed by research and interviews with real life case studies making up much of the book – it's great to see I'm not the only one apparently finding it hard to find time to do everything I want to!
If you're looking for a motivational book to help you think about what you should be doing to get the most out of your time/life, I would defnitely recommend reading this! Be warned though, you might annoy others with your constant chatter about what they should do too to fully enjoy their life!
So here's the key things I picked out for my life too:
Mornings – start creating a habit of getting up a little earlier. Mornings shouldn't be started with e-mail, checking a phone or jumping straight into the shower. Mornings started with at least stretching to get the blood flowing, some time exercising, meditating or even with your family are the best spent – this obviously depends on your goals and personal opinion. Personally I'm going to start getting up early a couple times a week to run and start with stretching out other days, as this will help with my flexibility too!
Productivity – You are most productive usually in the morning hours. You should make the most of this time for the bulk of your work, prioritise what is most important and plan this in to your mornings. If you are in meetings a lot for your job, try plan these for the afternoon after you've got everything else done. You won't then try to work in the slots between meetings when you only have 10-15 mins. You will get more work done this way – no interruptions!
Weekends – Plan your weekends. Yes you may fancy a lazy weekend, I admit it's sometimes exactly what I need but I have learnt from reading this that you should plan at least a few things in to your weekend – 3 things at certain times is a good start. Weekends aren't super long, you have to make the most of them, and if you use them productively and do interesting things especially on a sunday you are more likely to not mind going back to work as much!
Plan – It's all about planning. You don't need to have solid plans all the time, but the basics for the week and some time slots for the weekend. If you spend time wondering what to do on that evening or day then you are wasting time, and we don't have enough time to waste. Face it, wandering around the flat wondering what to do with your day will always end up with you tidying a little and doing things which don't necessarily need to be done – like watching TV!
Late Nights – Do I really need to stay up in the week? It would be so much better to go to bed at a reasonable time and get up early to exercise. Not only will I not have to think about (sometimes dread!) exercising all day before the evening run, I will have more free evenings for other plans, skip unnecessary TV, and probably get to sleep earlier. I can always watch programs I really want to see at a later time! That's what catch-up is for

:)
And to help with it all, I need to make my list of 100 dreams [recommended by Laura Vanderkam] – something to aim for in life. 100 because as you get further down the list you will start making smaller goals/plans which can be used for weekends – achievable goals/plans you will be happy to have done over the weekend or in the evenings. Things you really want to do in life.
At first I thought I could just think of these in my head, but I realised I'm not making the most out of my free time and I don't remember these when coming to think of what to do with my weekends. So I have decided these need to be written down somewhere I can see them, so I can see once they are completed.
I obviously have some huge life goals, but here are a few further down my list - more weekend/evening/weekday activities for other the next so many months:
Rent a Barclays Bike and go cycling on a lovely afternoon [Done this weekend!]
Try a hot yoga class
Go to a Zoo Late
Go to a festival [Doing in a couple weeks - Wireless tickets bought!]
Go Trekking in the UK
Climb Ben Nevis
Do another half marathon, beat the time of my first
Try a different type of dance class – belly dancing anyone? (I have to conquer my disliking for my middle section too then!)
Learn more hip hop! I want to be amazing – how about, master a new move every week!
Go up the Shard
Breakfast/drink in the Duck and Waffle to watch the sun rise
Complete a novel writing course [started this month]
Write more articles for online publications
Paint more pictures – a couple landscapes in the new few months?
Baking/Cooking – try new recipes! Experiment at least once a fortnight! Something completely different – japanese?
Go camping – haven't been in years! but none of this glamping, need to really try it! Might as well go all out!
Visit European cities – flights are so cheap! Try 2 this year?
Colour Run – looks so fun [booked for September in Brighton]
Visit Brighton [booked for September]

Learn to Knit – Everyone to get something knitted this year as part of xmas present! (Last year was art and fudge!) – personal little extra and a new skill. 
And that's only 20 dreams but just so you have an idea.
Go on you should do it too! Make the most of your life and time, start thinking about how you're wasting time, what your 100 dreams are and work on fitting what you want to do more of into your week! You'll be lots happier :)
I'd love to know how you all find it! I'm loving it so far!