After blogging for over 4 years, I have shared a lot of career advice on this blog. But, unless you want to read through 947 blog posts (holy cow!!) it's hard to find the best advice in one spot.  So since I just celebrated my birthday, I thought I would give you a gift as well to celebrate four years of blogging and you being so awesome! Make sure you scroll to the bottom where you can download a brand new ebook I just put together called 100 Ways to Elevate Your Career For Ambitious Professional Women.
In today's blog post, I am sharing with you the top 10 ways that you can elevate your career this year:
1) Do what you want to do instead of what you feel like you should do.
It's so easy to just go along that path of what you should do. You can save yourself so much time and trouble if you just start with what you want to do. The career you started in doesn't necessarily have to be the career you ended with. There is freedom in your career and you don't have to stick with one career. You can be so many things.
2) You need to promote yourself.
You are going to have great bosses and bosses you don't love but the only person that will speak up for yourself, your goals and your expectations is you yourself. Don't say I am pretty good. Say I am great at it and I am an expert. Give yourself credit for knowing what you know.
3) It's OK to ask for help.
One of the best and easiest ways to gain experience is by asking others. Most people are happy to help but they can't help you if they don't know what you need.
4) You absolutely must ask for the money.
You have to ask, ask, ask! Otherwise no one will not give it to you.
5) Share your opinion and speak up more.
It is so much less important that you have the exact right answer and much more important that you have the confidence to put some ideas on the table. Try to speak at least once in every meeting.
6) Say "no" a lot.
Once you say no to the things in your life that are holding you back and free up room for awesome things to come your way, doors will start opening. "No" is a complete sentence. Only say yes to the things that really matter.
7) Be comfortable being uncomfortable.
The best opportunities come when you are a little scared. Do what you fear and go where you're scared to go.
8) Surround yourself with people that are positive and bring out the best of you.
Find people to add to your network that inspire you.  Challenge yourself to meet new people inside and outside your current company. We all need a tribe  because a tribe will teach us new things and help us reach our full potential.
9) Understand the importance of saving money and getting out of debt.
Having money is not about wanting money, it's about having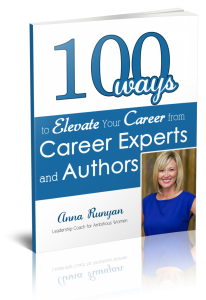 freedom and new choices in your career.
10) Do one small task daily that helps you get closer to your big goal.
If you do something daily on your way to your big goal, totally amazing things will start happening. And don't forget that the best investment you can make is always in yourself. Take a course or find a coach. It's always worth it.
If you enjoyed this post, make sure you download my brand new ebook I just put together called 100 Ways to Elevate Your Career For Ambitious Professional Women. Enter your name and email below to get access to it right now.

Readers, what are your best tips to elevate your career success?