I keep getting this question over and over, "What books do you recommend for young professional women?"  Well here you go!  I have read a lot of books and these are my absolute favorites!!  What I like about the list below is that each book is a little different and they range from important topics such as of finding a job you love, networking, getting out of debt and organizing your life. It's a little bit of everything! Let me know what you read and if you liked it!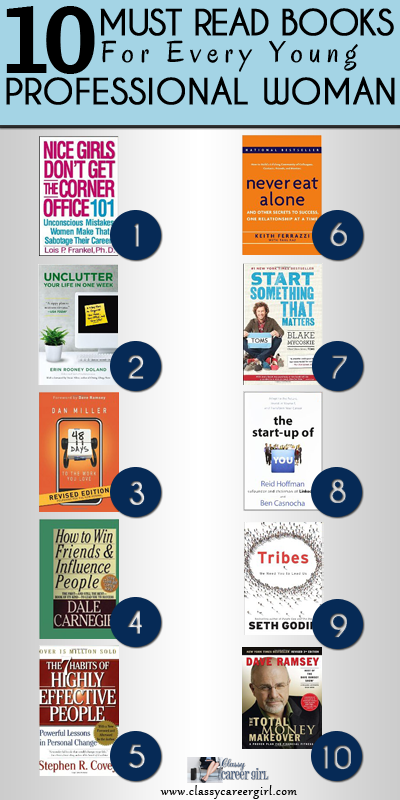 Nice Girls Don't Get the Corner Office by Lois P. Frankel
Unclutter Your Life in One Week by Erin Rooney Doland
48 Days to the Work You Love by Dan Miller
How to Win Friends and Influence People by Dale Carnegie
7 Habits of Highly Effective People by Steven Covey
Never Eat Alone by Keith Ferrazzi
Start Something That Matters by Blake Mycoskie
The Start-up Of You by Reid Hoffman and Ben Casnocha
Tribes by Seth Godin
The Total Money Makeover by Dave Ramsey
Did your favorite book make the list?  What books do you think are recommended reading for young professional women?