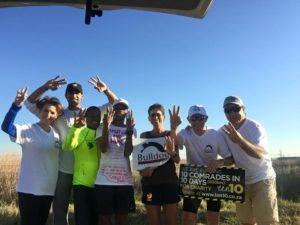 Ten comrades in 10 days – Hazel and Tumelo (centre) and crew
Hazel Moller and Tumelo Mokobane are running the Comrades distance – 90km each day consecutively – for the 9 days leading up to the epic ultra marathon – then culminating in the official Comrades Marathon on the 29th May 2016.
The 10 Comrades in 10 Days project, to raise funds for two charities, PETS (Pet Empowerment in Townships) and the society for the prevention of cruelty to Animals SPCA Germiston and Bedfordview started last Friday 5:30am in Pretoria (Voortrekker Hoogte) and the first stage finished in Johannesburg. The route follows the road to Pietermaritzburg.
The runners hope to raise R500k for the two charities and people can donate via the website link below.
Website: www.ten10.co.za/
Facebook updates