How to Enjoy Chia Seeds?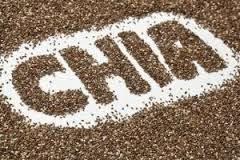 Chia seeds are extremely versatile and tasteless which makes it quite easy to incorporate into your meals. The best way to eat chia seeds is to soak them in a liquid of your choice to make a gel. They will absorb all that liquid within 10 minutes, and take on an interesting halo-like appearance. As chia seeds don't have in flavor of their own, they take the taste of food mixed with.

*Blend them in your smoothies
*Mix them with juice
*Mix them with almond milk or regular milk
*Bake with bread, muffin, cookies, or recipes that usually calls for sesame seeds
*Sprinkle them in yogurt, cereal, oatmeal, or salads
*Add it to a bottle of water and take it on your next hike!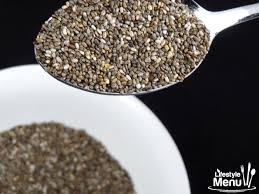 They can be sprinkled on a salad, oatmeal, on a baked potato or in any smoothie.
They can be mixed in any fried recipe like stir fry, orange chicken. sausages, etc..

Chia Seeds can easily be ground up in any coffee grinder.
Ground seeds easily blend in to any flour, sauce, gravy or dressing.
Ground seeds are a great way to super-boost smoothies too if you don't care for the consistency of the whole seeds.

When the seeds are soaked they turn into a gel.
Chia Gel can be used in many different baking recipes as an oil supplement, as a dessert topping or a delicious snack with fruit and granola.
Buy Chia Seeds Online

10 Best and Simple Recipes with Chia seeds
1.Overnight Chia Seed Tapioca Pudding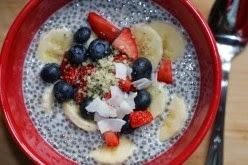 *2 tablespoons raw, organic chia seeds
*1 cup of unsweetened almond milk (or any other nut milk)
*Sweetener of choice: (optional)

*Place chia seeds in a bowl
*Pour almond milk in and use a fork/spoon to mix it up.
*Leave the mixture overnight and in the morning add some fruits ,sweeteners,
2.Traditional Oatmeal using Whole Chia Seeds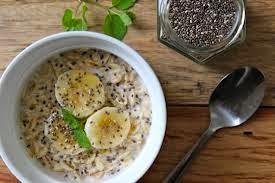 Start but combining ½ cup milk, ½ cup uncooked oats, 3 teaspoons of Raw Chia Seeds and a dash of cinnamon in a bowl. Stir gently and place in the refrigerator overnight. In the morning, stir the mixture and add more milk until desired consistency is reached.
3.Peach Oat Chia Smoothie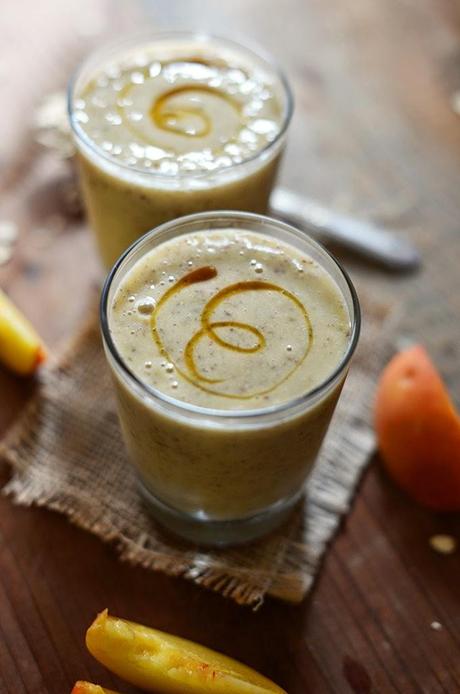 2 ripe peaches, quartered, pits removed

1/4 cup rolled oats (gluten free for G-free eaters)

1/2 frozen banana (peeled before freezing)

1/4 cup fresh orange juice

1/2 cup unsweetened almond milk

OPTIONAL: 1 Tbsp. agave, maple syrup or stevia for added sweetness (or honey for non-vegan)
4.Whole Wheat Chia Seed Pancakes

Makes 8-10 pancakes
1 c. whole wheat flour
1/2 c. old fashioned oats
1 c. milk
1 egg
1 tbsp. canola oil
2 tbsp. honey
1/2 tsp. pumpkin pie spice
1 1/2 tsp. baking powder
1/4 tsp. salt
1 tbsp. chia seeds (plus more for garnish)
Syrup or other desired toppings

Spray griddle or pan with cooking spray and heat to a medium heat. Beat egg and add milk and oil. In a separate bowl, combine flour, oats, pumpkin pie spice, baking powder and salt. Slowing stir flour mixture into egg mixture. Add honey and stir until combined At the last minute, stir in chia seeds. Pour 1/4 c. portions of batter onto griddle and cook until edges of pancakes start to bubble and bottoms are light brown. Flip and cook until centers are completely done (about three to four minutes). Top with syrup, additional chia seeds or desired toppings and enjoy.
5.Cucumber Chia Seed Salad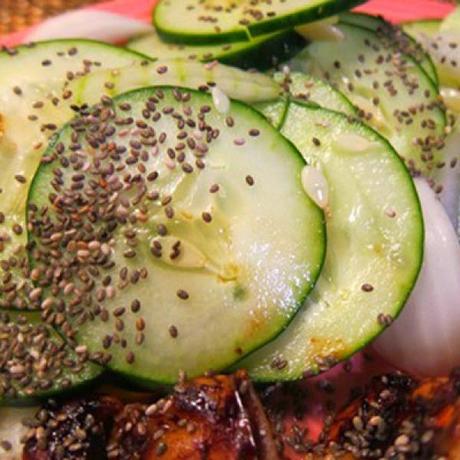 Serves two
1 large cucumber, thinly sliced
1/2 yellow sweet onion, sliced
4 ½ tbsp. rice vinegar
1/2 tbsp. sweetener of choice (Stevia, Splenda, agave nectar or sugar)
Salt, to taste
½ tbsp. chia seeds

Combine all ingredients except for chia seeds in a bowl and let sit for an hour. Right before serving, sprinkle with chia seeds and enjoy.
6.Summer Moroccan Carrot Salad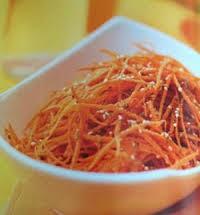 1/4 cup chia gel
2 tbsp. extra virgin olive oil
1/2 tbsp. lemon juice
3 cloves garlic, minced
1 tsp. cumin
1/4 tsp. black pepper
8 carrots, grated
Salt, to taste
Crushed red pepper, to taste
Optional: white sesame seeds for garnish

1. In a large bowl, mix together the chia gel, olive oil, lemon juice, cumin & pepper.
2. Add the shredded carrots and gently mix to combine and evenly coat the carrots.
3. Season with salt and crushed red pepper.
4. Garnish with white sesame seeds if using.
7.Avocado Fruit Salad with Chia Yogurt Dressing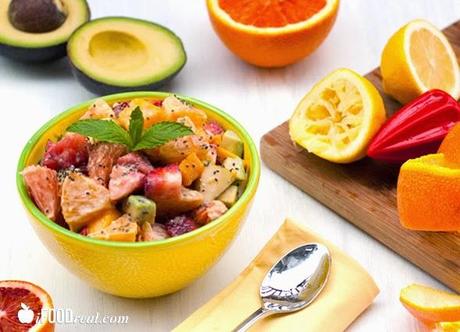 1/2 lemon, juice squeezed
2 tbsp. pure vanilla extract
1.Wash, peel, core, remove seeds (if necessary) and cut into desired size pieces fruits. Add to a bowl.
2.To make the dressing, in a separate bowl whisk together Greek yogurt, lemon juice, vanilla extract and chia seeds. Pour over the fruits and mix just enough to combine. Serve chilled.
3.Store covered in the refrigerator for up to 1 day. Stir gently before serving to lift the juices from the bottom of the bowl.

Source:http://ifoodreal.com
8.Roasted Chia Cauliflower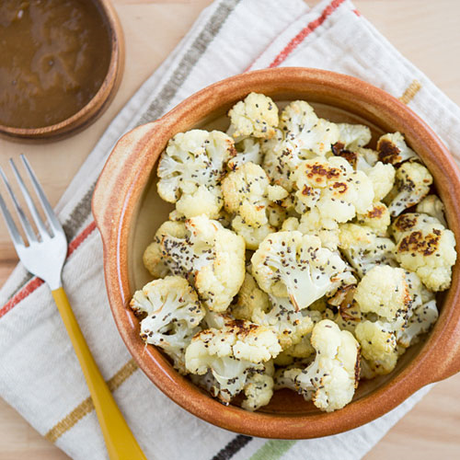 Ingredients:
a pinch of red pepper flakes
1 head cauliflower, broken into florets
2.Heat olive oil and pepper flakes in a small saucepan over
medium heat for about 3 minutes to infuse the flavor of the
pepper into the oil. Set aside.
3.Line a rimmed baking sheet with foil. Transfer cauliflower to
the baking sheet and drizzle with infused olive oil. Toss with
tongs to coat. Sprinkle chia seeds over the cauliflower and add
salt and pepper to taste.
4.Bake cauliflower for 20-30 minutes, or until softened and just
9.Blueberry Breakfast Pudding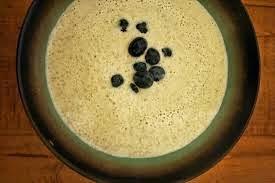 Ingredients
2-3 fresh pitted dates, or dried pitted dates soaked in water overnight to rehydrate.
Fresh or frozen blueberries
Since chia rapidly absorbs fluids and takes on gelatinous properties when soaked, it makes an ideal nutrient-dense pudding base.
Soak chia in water for 15 minutes. In a blender, combine with the rest of the ingredients, except the blueberries, and blend until smooth. Transfer to serving bowl and top with blueberries.
10.Lemon Chia Seed Dressing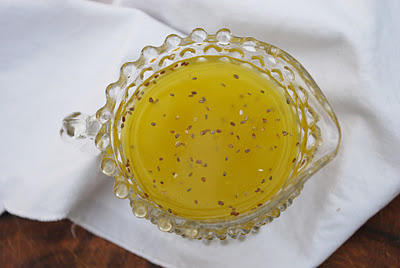 1/4 cup extra virgin olive oil
Whisk together all of the ingredients and enjoy right away.