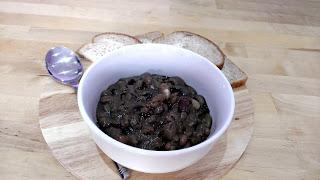 Ingredients500g beans (I used black eyed beans, black turtle beans, butter beans, haricot beans, lima beans, pinto beans, red kidney beans, rose cocoa beans, alubia beans & mung beans), 415g chestnut puree, 200ml vegetable stock, pumpkin oil, white onion, garlic, olive oil



Serves:

 5 

Preparation:

 3 hours (plus 12 hours soaking)
If you are a vegan or a vegetarian, creating a hearty stew that can rival one containing meat is not an easy task. Nothing good ever came easy though, and hoo boy this stew is good. The richness of the chestnut forms a great thick gravy, and the pumpkin oil and garlic packs this with flavour, Plus... the protein from the beans will rival any cut of meat. This is comfort food at its best and super low maintenance to make.
1) Soak the beans overnight, ensuring that they are well covered in water otherwise as they rehydrate there won't be any liquid left to soak them in!
2) Peel and dice the onion and sautee in a glug of olive oil until the onions are soft. Drain any liquid left from the beans and add the beans to the onions, along with the vegetable stock.
3) Put a bulb of garlic in the oven, whole, and roast for 20 minutes at 200 degrees. Squeeze out the pureed garlic from the skin and add to the beans and onions along with a can of chestnut puree.
4)

Allow to simmer for 2 1/2 hours, stirring frequently until the beans are cooked. Season to taste and serve with a drizzle of pumpkin oil.