Hey Loveys,
This morning is the best morning ever. Not for any reason specifically... but the sky looks so pretty. I'm up at 8am which is kind of early, yet still "sleeping in" from my regular time.... I'm sipping a delicious coffee... watching my new obsession (Gossip Girl - why am I not part of the upper class in Manhattan?? I think I'm dramatic enough..) and writing a post for you fine people :).
I hope you all had a great week! It was a short week for us here in Canada because Monday was a holiday thanks to Canada Day! So the week flew by faster than normal actually!
We stayed in last night and it was kind of nice. I got home and I was kind of grumpy and tired so I had a nap, but then I got some coffee into me and finished watching Dr. Oz and Ellen and decided to go for a walk to pick up some dinner! We decided on Hero Burger for dinner, so I picked a delicious turkey burger on a gluten free bun with brie cheese, portobello mushrooms, lettuce, tomatoes, and onions. Omg it was to DIE for. It makes my mouth water thinking about it.. nom nom nom.
Speaking of yesterday - I had the most insane workout. Well... not the most insane, but it killed me regardless. First things first. I went up to the gym originally to do my own workout. I didn't have a plan, but then again I never really have a plan when I get to the gym (I should work on this). But I ran into my Trainer Friend on the way and he had half an hour so brought me upstairs to workout with him. He asked what I wanted to train and so I told him it didn't really matter. So he decided on legs...
We started with a standing row for some random reason lol. It was the only back exercise we did.. but whatever. It was a good warm up. OH! I forgot to mention, the air conditioning in the gym was broken, so it was basically like a sauna which made me sweat SO MUCH... but also made me feel really intense. Anyways, so we went onto doing that thing where you place an Olympic bar in the corner, and squat down with it and push it up once you're standing. Do you know what I mean? I can't remember what it's called. To superset that, we mixed it with a rotation while holding the bar straight out to work on core.
We moved along after doing 3 sets of those and did a ton of 1-legged lunges. We started by doing a split squat, so one leg propped up on a bench behind me while I lunge down on the other leg. I think it should be called Split Lunge because it's not really a squat position. Whatevs. So I did each leg 3 times and wanted to barf basically. To superset those bad boys, we did the lunges where you're on a step, and you step one leg backwards and lunge down until your knee touches the floor. Again - 3 sets of those... I almost fell over after completing them. :)
After doing those, I was dripping sweat, Trainer Friend has this brilliant idea that we needed to do Tabata Intervals. So if you don't know what Tabata Intervals are, it's 20 seconds of work with 10 seconds of rest repeated 8 times for a total of 4 minutes. This is what we did:
20 seconds - squats with a 12kg kettlebell in my right hand
10 seconds rest
20 seconds - kettlebell swings
10 seconds rest
20 seconds - squats with a 12kg kettlebell in my left hand
10 seconds rest
20 seconds - kettlebell swings
10 seconds rest
20 seconds - plank marches
10 seconds rest
20 seconds - knee highs
10 seconds rest
20 seconds - plank marches
10 seconds rest
20 seconds - knee highs
BARF!
So obviously by this point when I was doing plank marches, I had sweat dripping off of the end of my nose and onto the mat I was on. Not glamourous hahaha. I ended up doing 20 minutes of cardio after all of that just to top the whole workout off, and I ended up with beads of sweat on my back - beads of sweat on your back is hard to get!! It was amazing. It was an awesome workout and it made me SO happy.. however today my legs are SO SORE I can barely curl up on the couch and write this! :) I'm actually about to get up and hit the gym to do some upper body and core before my afternoon out with friends at the Blue Jays game!! I figured getting my workout in early will just make me feel better all day because I'll know my workout has already been done!!
Last night I saw someone had posted a picture on Instagram of a poem that I really liked: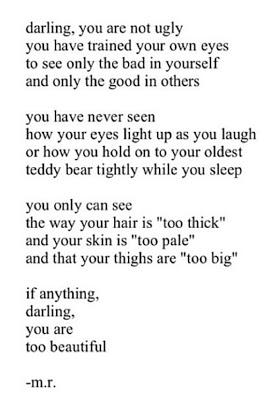 I loved this poem. I think a lot of people are overly critical about themselves (myself included) and this poem really stood out to me. But not only did I love it and think it was beautiful, it reminded me of my favorite poem...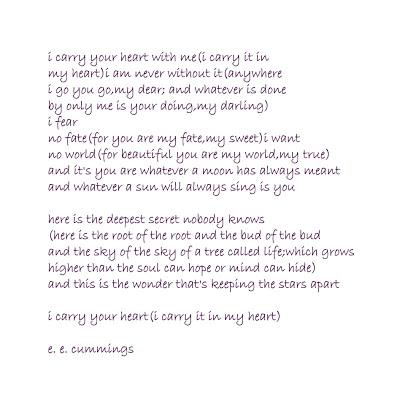 I've loved this poem for a very long time. I'm not sure what about it I love so much, but I think when E.E. Cummings was writing it, it came from a place deep within them (do we know if E.E. is a guy or a girl?) and I think the words are so genuine. I just love it. I have it on my phone and read it often :). I was thinking last night and I think starting in August I'm going to host a Brain Fitness Challenge.... I don't have all of the details worked out yet but I will post probably closer to the end of July. Not only is it important to keep our bodies fit, it's important to keep our brain and minds fit as well. But more on that later.. :)
Ok! I'm off to the gym to get jacked before the baseball game this afternoon! I hope you all have a FABULOUS weekend!! xoxo
Q: What's the highlight of your weekend??
Q: What's your favorite poem?