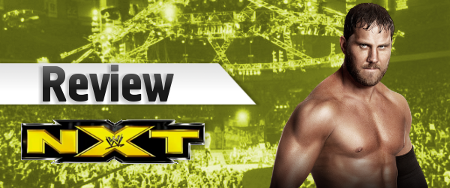 Another week and another NXT edition. This week was filled with good matches as always, developing feuds and a lot of entertainment.
Kenneth Cameron w/ Conor O'Brien vs Jey Uso w/ Jimmy Uso: First match of this weeks NXT was a battle between Kenneth Cameron and Jey Uso. This match was put on after the two teams latest bouts in which each one has a victory. This singles match was a great opener for the show. The crowd was into the match, they were so into it that they started chanting "Twilight sucks" to The Ascension.
Dusty Rhodes is in his office when Rick Victor breaks in. He says he is more than capable of defeating the NXT Champion and Dusty tells him he just needs to prove he is a contender. Rick Victor says he is going to prove it before he leaves.
Big E Langston vs Chad Baxter: Another squash match but still was entertaining. For some reason seeing Big E squash people is more entertaining than seeing Clay or Ryback squashes. Also seeing him hit his finisher two times is entertaining. After hitting his finisher again he announced that from now on his opponents will have a 5 count instead than a 3 count. Then he hits his finisher a third time.
Kassious Ohno is shown backstage. He is talking about how he told everyone how dangerous he was but nobody seem acknowledge it and that's why Richie Steamboat found it the difficult way. He then tells that if they don't believe him they should see next weeks Kassious Ohno Sparring session that's when they will know how dangerous he is.
Out of all the Superstars Video Packages this week they showed the best one. They show superstars asking where's Trent? and then is revealed he has been found in the most hilarious way possible. Briley Pierce opens a Janitors closet and finds him watching TV and then asks him if he wants to wrestle next week on NXT. So next week is Trent's return after 6 months.
Garrett Dylan vs Damien Sandow: Really weird to see someone like Damien Sandow on NXT after he has battle guys like Sheamus and Randy Orton even if he did leave the match. Damien takes the microphone and tells his opponent that he has a choice to make. He can leave the ring and hear a lecture he had prepared or he can have the match, obviously they had the match. Nice action that showed more of Sandow. Damien Sandow still hasn't done a long match but this was the closes to that.
Seth Rollins is interviewed backstage by Briley Pierce. He is asked about the match between Tyson Kidd and Michael McGilicutty where the winner will face him in a title match. While he answers the question he is interrupted by Rick Victor who tells him he doesn't even know his name to which Rollins answers he is right that makes Rick slap him. After that he says he knows who Rick Victor is and he jumped into the top of his list.
After an amazing Raw Rebound they show Seth Rollins entering Dusty Rhodes office. He demands to face Rick Victor next week.
#1 Contender for the NXT Championship Match—Tyson Kidd vs Michael McGilicutty: Once again this rivals face in the ring of NXT. Just like all their battles on the square circle this was a great match. Is outstanding to see this two in the ring together and is also a shame that neither are featured on TV. At the end Michael McGilicutty hit the running neck breaker to get a shot at the NXT Championship. Like always NXT had solid wrestling matches and buildup for next weeks show. Also they're starting to develop feuds and storylines. Currently the most interesting one is Kassious Ohno feuding with Richie Steamboat. Well for next week we got Seth Rollins vs Rick Victor, Kassious Ohno sparring session and Trent Barretta's return.
 Final Score: 9.7/10