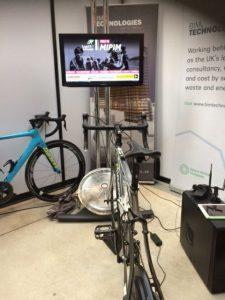 My day job is as an Information Management Consultant for Major Construction Projects and Estates Management at PCSG – whats that exactly I hear you say – well its making sure the right document, drawing or 3d computer model is available in the right version at the right time to get things built and then to maintain them going forward – sometimes the acronym BIM is used – Building Information Modelling but my role goes well beyond that.
Anyway the UKs main conference on BIM – BIM Show live was this week in Newcastle. I was speaking with one of my clients and generally networking but one of the exhibition stands run by BIM Technologies had a zwift hill climb challenge to raise awareness and money for MIPIM charity ride later this year. (MIPIM is the worlds premier property and development conference in Cannes)
Olly Thomas from BIM technologies is taking part in the Legal and General MIPIM bike ride and he cajoled me to have a go at the challenge (not that I needed much persuasion)
The leading time was 2.41. Ive never ridden a zwift before and on the TACX Neo it was amazing – I went out way to hard trying but soon settled into a decent rhythm and using the gears to keep the cadence high.
With about 20 people cheering me on I smashed it in 2.27 but was completely broken afterwards and it took me about 30 mins before I was back to a normal temperature, even then with no blue inhaler with me I was struggling with wheezing for a couple of hours !!! you dont think youd need an inhaler at a BIM Conference !!!
Later on someone pipped me by 2 seconds and finally Olly jumped back on and managed 2.17 but ill take a vets victory I think

Good luck to Olly on his way to Cannes – you can sponsor him here https://race-nation.com/sponsor/e/65001