Hey y'all! How is it going?
We're still waiting on Ms. Charlotte over here! We had a long day at the hospital yesterday since I was contracting like CRAZY and just generally uncomfortable and I was ALMOST dilated enough to be admitted, but after being sent walking for a little while I hadn't made enough progress for them to pull the trigger. Darn it! They sent us home, and honestly I actually started feeling better once we got back. I've been feeling 'normal' ever since. Total bummer… I'm ready to be done being pregnant. My midwife is on leave this week, but she told me to keep walking. If I can show some improvement by my next appointment, she's outta there!
One of the things that my midwife told me was to keep walking, and really do things to take my mind off "the wait", without getting too far away from home, so when some of the barn crew asked if we wanted to join them at the zoo, Mike and I were pretty quick to say yes. It was beautiful out today, and I'm glad that we had a chance to get out and do (probably… hopefully) one last thing as a family of three. We stuck to the top loop of African animals, and Shannon had a blast.

We started with Shannon's first ride on the roundabout. Clearly she was not so impressed with the whole experience, but when you're not quite two, you can feel however you want about them. Mike had the good sense to sit on the horse with her, and I think that that helped her feel a little bit more secure. She still wasn't a fan, but the ride was overly pretty quickly. I guess we'll have to wait another year before she steals Stewie from Ashley to tackle the lead-line class at Devon.

From there we wandered towards the petting zoo, where Shannon got to meet some pretty chill goats as well as a couple of donkeys.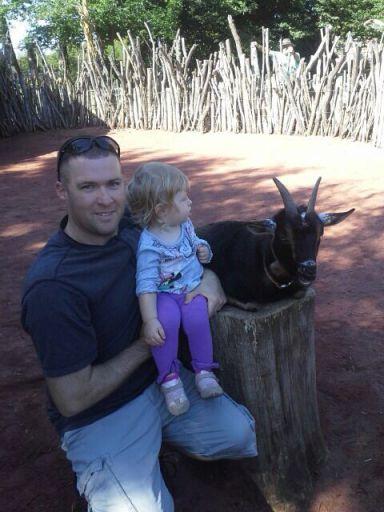 The goats sat up on these little logs. I think they knew that they were badass. Shannon had a good time petting them all, but she wasn't so sure about the horns. She's a smart kid.
We went to see the giraffes next, and we even got to feed one of the younger ones. Even I have to admit I got a little overly excited about that, and made Mike let me do it while he took pictures. They give you a little cup of pellets and the giraffes pretty much do the rest. Shannon thought that they were pretty neat, and I think they were the only animal that she waved 'bye bye' too the whole day.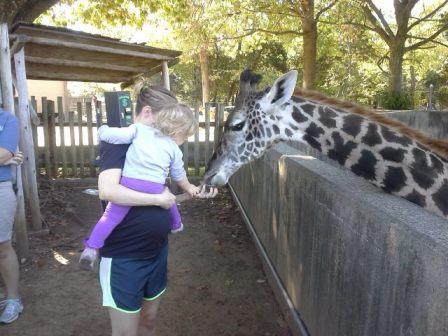 We wandered around and I was starting to get exhausted so we kind of fast tracked it through the rest of the section. The only other really cool exhibit was the polar bear. They have her in her enclosure, but you can see all through the water where she was hanging out. Shannon thought that that was pretty awesome, but the crush of people was a bit much, so I hung back while Mike fought to get her up close to the glass.
We finished out the day with a train ride that took you all through the park to see the 'behind the scenes' of the whole operation. Both Shannon and I were pretty beat by that point, but it was still nice to sit and watch everything.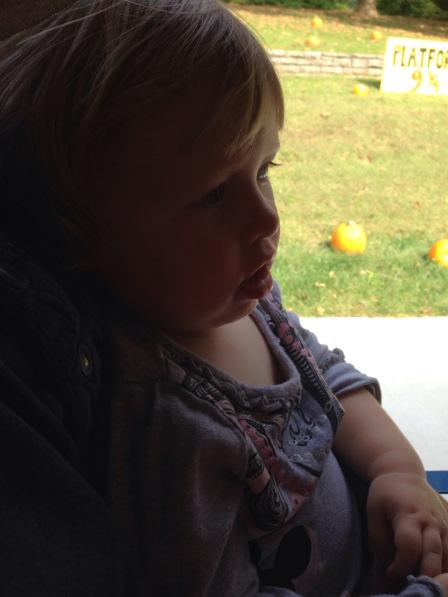 All in all it was a great day, with great friends and great weather! We had a blast. I even wandered out to the barn tonight to visit everybody and meet a boarder's super sweet new rescue mare, Lacey. She needs some TLC but I don't think that she could have landed herself with better owners.

I'm home and ready for bed now, hope y'all have a great Sunday! I get to go pick up my Momma tomorrow at the airport and I can't WAIT!