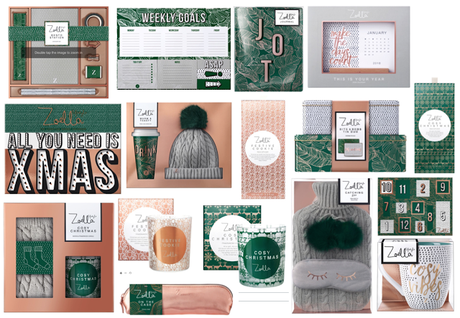 I was so excited by the Zoella Beauty Christmas Range (full details of that
 here
) but I am even more impressed by her lifestyle Christmas range! I have got to hand it to Zoe and her team as I have been a massive improvement to her products and packaging this year, I feel like they are better suited towards a slightly older audience. I can't wait to buy a couple of things and put a few on my Christmas list!
12 Days of Christmas Advent Calendar £50 - includes 12 exclusive treats from candles to baking goodies 
Journal £14 - for keeping all your notes in one place! 
Weekly Planner £10 - for keeping your week ahead well organised 
This Is Your Year £10 - a gorgeous desk calendar 
Catching Zzz's £20 - a hot water bottle and sleep mask duo 
Stationery Bento Box £12.50 - for all your stationery needs 
On the Case £6 - rose gold pencil case
Cosy Vibes Mug £8.50 - to get your day started this Winter with a cup of tea (or coffee!) 
Warm and Toasty Set £18 - a travel mug and bobble hat duo 
Cosy Christmas Soft and Candle Gift Set £18 - 
Cosy Christmas Candle £12.50 - a candle with a winter spice and sweet cinnamon scent.
Festive Cookie Candle £12.50 - a warm sweet gingerbread scented candle. 
Bits & Bobs Set £12.50 - a set of two storage tins 
Cosy Christmas Reed Diffuser £14 -  a warm sweet gingerbread scented reed diffuser for the home. 
Festive Cookie Reed Diffuser £14 - a reed diffuser with a winter spice and sweet cinnamon scent.
How gorgeous is this years collection, I'm obsessed! I love that the candles are back as I am a huge fan of the Zoella candles as I was really impressed with the scent throw and quality. I love Christmas candles more than anything so I can't wait to see what these smell like. As this range is specifically for Christmas, there are a few gifting opening available. My favorite is the Warm and Toasty Set as they are both products I would actually use! 
I'm so excited Zoe has decided to do an advent calendar this year and make it a lifestyle one rather than beauty as there isn't as many of those on the market at the moment. This is something I definitely want to find out more about and maybe buy (hopefully it will be a star gift - fingers crossed!) 
If you want to see the Christmas Zoella Beauty range, you can check that out - HERE.
What's your favorite product from the collection?