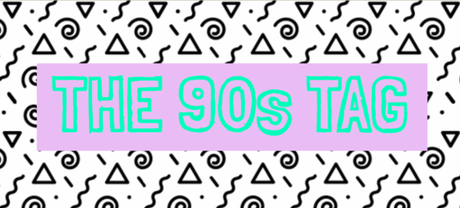 Let's do the 

90's Questions Tag

, shall we? i

t's a short questionnaire about my favourites from the 90's I 

was born in the early 90s, so I don't remember that much about it, but what I do remember, I have very fond memories of. So without further ado, let's begin…


01. What Type Of TV Services Did You Have?


We used to have the old Telewest box on cable (Witch is now Virgin media) and we had was was the first called cable services in our area around 1996 - 1997, 

I can remember the box was very huge and very ugly looking and it used to sit underneath our video recorder with our huge black 

Sanyo tv. I really cannot 

remember

 who took out the 

original contract with them but as far as i know we have carried on with there services since they became Virgin Media,


02. What Was Your Favourite TV programme?


There was so much to choose from as tv was so much better back then and it was well worth watching not like today, As i grew up i loved to watch comedy programmes with my dad on a Friday night while the BBC ran the Comedy zone witch offered some amazing programmes from 9pm until 10pm. Witch included the Fast show Shooting Stars and red dwarf As i watched these shows every week i just got into them and i started to enjoy comedy stuff!. Of course Red Dwarf and Shooting Stars was my favorite programmes and they are still are to this day! They both 

offered some amazing quotes and great memories witch has never left me since the day that i sat down with my dad and watching it, I started to watch Red Dwarf in 1997 and Shooting Stars in 1996 and i still remember everything to this entire day!



03. What Was Your Favourite Toy?




Oh gosh!!! i had so many toys when i was little and i can remember that i had a lot of Barbie and Sindy dolls  and i also had owned  a Baby born when they first came out and i also had a lot of the Spice Girls 

Merchandise as well. I remember one year for Christmas that i had a Sindy camper van witch was so cheaply made that everytime i used it it would snap in half and in the end i ended up loosing all of the pieces that came with the camper van. My best toy that i had ever had would of been the Get set Chocolate factory where you would buy this kit and have different style of chocolate molds where you could create some amazing eggs and individual Chocolates from the comfort of your own home, I can remember that you had a huge yellow dish that you would melt the Chocolate in and then you would use the paint brush to paint in the chocolate into the molds and then put in the fridge for a few hours at a time it was amazing set but sadly i don't know what ever happened to it! I would love to own one of these sets again!I also remember queuing up in Toys R us with my mom and my nan when there was a huge demand for the new Furby's in 1998, When i first saw it advertised on tv i asked my mom for one straight away as i knew that a 9 year old me would love it, As there was a huge demand for them in Toys R us we had to wait outside for a few hours before we was allowed to go into the store and have one as Toys R us didn't have enough of them and so many people was fighting over them and it was so crazy for a new toy launch. In the end i managed to get one and i had the Green & white one when i spoke to it and interacted with it i absolutely loved it and i knew that this Furby would last me a long time! But sadly it stated to act weird and spoke different Languages in a few years after i had him and then he stopped working all together and i never knew what happened to him. I also owned a Furby baby when they launched in the same year!
04. What Was Your Favourite Tv Commercial?There was only a few commercials that i loved back then and that was the Spice Girls ads that was for there Impulse Spice Fragrance, The Spice Cam & The Famous Pepsi Ad. These were so good and very well made for the time.
05. What Was Your Favourite Collectables?I cannot remember as i used to have so many toys and clothes i never had a collectable of things until the Spice Girls craze started in 1996. I can remember that i asked my mom for some of there items and i do recall me starting to collect them especially there stationary and school ranges from Pens, Pencils, Notebooks, Folders, and much more. I also used to use all of my Spice Girls Stationary at school and it was very popular so i believe that my first ever collectables was the Spice Girls Merchandise from the age of 7.
06. What Was Your Favourite Game Console & Games?My very first game console that i ever owned was the Playstation 1 that my dad went out and bought for me and my brother in 1995 for over £500 with a few games, I originally had a few Sega Consoles that my dad also bought me from the original Sega Megadrive to the slimline one in my room so when i came home from school every day i would go into my room and play on Sonic on it. By the

end of 1997 i had a Playstation 1 and 3 Sega Megadrive consoles and every console that i owned was completely different and offered better graphis and more games to offer. The best console that i ever had was the Playstation because it was a new system and had so many great games on offer from Cash Bandicoot, SpiceWorld,

Porsche Challenge, The 

Getaway, 

Formula 1 (Witch i learnt how to drive on) and more great games on offer!
07. What Was Your Favourite Clothing Shop / Brand?There were so many great clothing brands out there in the 90s and my favorite brand was Tammy Girl that used to be in eTam witch was downstairs in the same shop in the shopping center. Everything in the store was absolutely amazing and there shoes was one of the best and i loved everything that was sold in that shop when i was a kid, My mom would take me in there every other weekend to see what was about as clothes shopping for me when i was a kid was pretty easy not like today! I can remember having a pair of funky wedged purple platform 

sandals that came in a Tammy girl carry bag and it was one of 

the

 best pair of shoes that i ever owned, I went to my dads one day while i was wearing them and 

sadly

 one of the 

straps broke on one of the shoes and i was completely gutted when this happened so my mom took them to the shop and i was able to get a free pair due to what happened.
08. What Kinda Music & Groups Did You Listen To?
I used to listen to quite a lot of music when i was growing up as there was so many girl & boy bands and i suppose that i got into dance / rave music when i was around about 5 due to my brother and his old rave taps that he had, I knew that i loved listening to the Spice Girls, Steps and S Club 7 when they all started out. My mom also had a huge collection of the Now what i call music series and some of the series does bring back a tonne of memories for me including now 38 & now 39 witch had some amazing great tracks on.
09. Do You Remember Using The Internet For The First Time?
I only remember using the internet for the first time when my dad had it installed on his old Windows 95 pc that was in the bedroom and i can recall that it was very slow and it would take a while for a web page to load up, I do recall seeing Amazon and eBay witch was just basic (not like today) and that's about all i can remember from the sites! My dad used to have a lot of computer magazines that sometimes came with free cd's with them that offered a free trial on the internet with providers such as AOL and others witch has now kinda disappeared. I believe that my dad had AOL in 1997 and i can remember that he had to plug the telephone line up to the modem for the internet to work and it was so noisy and took a while to connect to a server! When i was on the internet my dad would always ask me to hurry up as he wanted to use the phone (witch was a pain in the neck)!
10. Do You Remember Thoes Famous BBC 2 Idents From 1991?
Oh gosh!! i do these idents were very famous even to this day when they were first showed on BBC 2 in 1991, I don't remember seeing every ident back then the one that i always remember is the Silk ident when i was about 2 years old and when i first saw it and the music with it i used to hide behind the sofa and it really scared and i wouldn't come out behind the sofa until the ident had disappeared.
As i got older the BBC Had brought out some amazing idents out and with better graphics for 1997 and the ones that i loved was the Fluffy dog , The Car , The Zapper and Neon witch i loved very much! in 2002 the BBC decided to kill off some of the famous idents and replaced them with new ones for the time and i really didn't like them at all, In 2014 the BBC decided to renew there contract for the famous logos and made them into HD graphics and they look better then ever!
12. Where Did You Do Your Monthly Food Shopping?
As i wasn't far from town we done our monthly food shopping in ASDA as it was closer to us. Back then ASDA in the 90s was pretty cheap and as both of my parents worked full time and bringing home a good pay i was able to have anything that i wanted from sweets etc! We used to spend usually over £100 - £200 a month on food and there would be so much there for the money not( like today theres hardly anything there) I can remember that everything in ASDA was really cheap and well worth it!


13. Do You Remember The Millennium?


Sadly i don't remember it all as i was around about 9 when it happened and i do remember seeing the 

Millennium dome on tv being built and also the clothing range that was in ASDA for the event, My brother had 

actually

 caught the 

Millennium

 bug as he was 

livingwith my dad at the time and he wasn't feeding him and he was so dehydrated that my mom had to come and rescue him because we thought that he was going to die as he was that ill with it, I knew that my mom took my brother to hospital but i am not fully aware of it and he made a fully recovery and has been ok ever since!