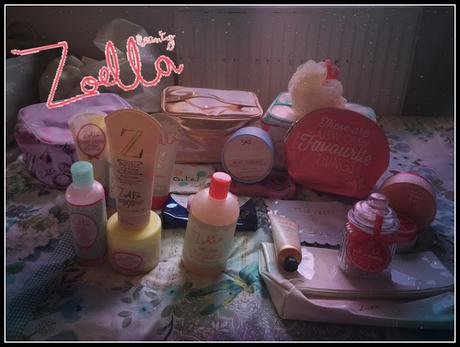 I have been a fan of Zoella from the early days of YouTube and after i started watching her channel
and vlogs i decided that i wanted to make my own channel and blog where i would talk about beauty fashion and my lifestyle, I thought around about 2008 & 2009 was right about the right time to start  my channel as Zoella gave me some good points and advice about setting up a good YouTube channel. I really didn't know what videos i was gonna make because i really didn't have anything that i could talk about only about makeup and fashion and then talk about each item on a video. Well i posted my very first haul and it didn't produce a lot of views until i changed what i was gonna blog about and i can remember Zoella saying just blog about your about yourself and tell everyone each and every detail about every post that you wright so people would get to know you and all about you and your past life and what you wanna achieve about doing Blogging and YouTube, Once i set up my blog and channel and started to do that i was getting a lot of positive reviews and people was slowly recognizing me across the web. I was really thrilled that my videos and my blog was actually building up with some really good comments and and also leaving me tweets and and sending me emails for sponsorships and blogging for companies to review there new line of products!I couldn't believe that i was becoming kinda popular with this YouTube and blogging as a small little hobby that i decided that i wanted to carry on with it as a part time job. I think that Zoella has a helped me start of this little carer for me and she has given me so much advice and how to word each and ever post that i write, Of course Zoella is one of the best YouTubers that i first watched when i saw her videos and channel that i wanted to start my own little business and now the rest is history!
I new that Zoella had something very big as i have always wanted her to bring out her own line of products as she knew what people wanted and thats what she did in 2014 she created Zoella beauty a range of bathing and pampering products and i was super excited to see this range because this was the first YouTuber that had brought out her own line of beauty products, I saw the collection online i think it was superDrug and i absolutely fell in love with the products and i wanted everything from the collection when it was released. I loved the beauty bags and the soak opera was one that i was very excited to try because i have used so many bath products in my time and i also suffer with a bit of eczema and some of the products that i used gave gave me rashes all the time. I wasn't able to get my hands on the collection in my local super drug store because they didn't stock it so i made my order viva the Superdrug website and everything that i ordered came very well packaged. I saw that feel unique was holding a giveaway to win the whole collection via there website and i entered it but i was unlucky that i didn't win,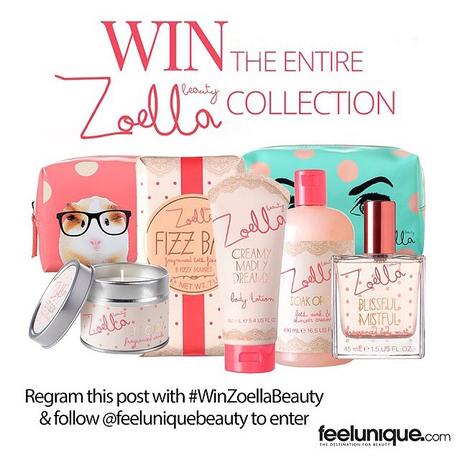 I am still surprised that i have still got this photo and it now it looks like a piece of history when the first range of Zoella beauty came out!

I was so shocked to be able to order everything as some of the items that i wanted was out of stock and i was a little bit worried that i wouldn't be able to get hold of the items in time, I was super excited when my Superdrug packaged arrived and i opened the box with excitement and there it was all the products in there glory.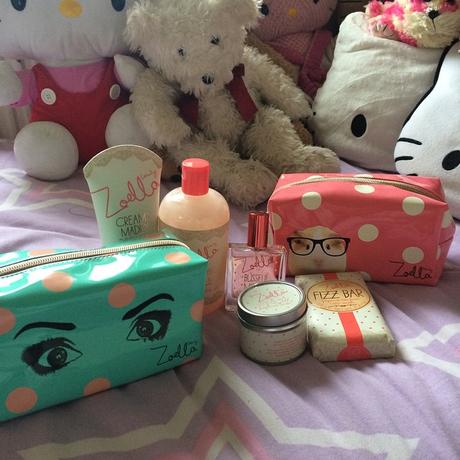 The photo of the very first pieces from Zoella beauty! Witch was taken the same day when i unboxed the Superdrug box!! Its so beautiful.

The second thing that i wanted to do is smell the body creme witch is called

Truly Madly dreamy

and i had a smell of it and i was just blown away the smell was so beautiful and it reminded me of fresh flowers and strawberries, As i applied this to my arms and legs it applied very well to my skin and in just a few hours my skin was so much smoother and more softer and i have now gone though 3 tubes of it because it has to be one of the best body lotions that i have have ever used And since then i have stopped using every other lotions and cremes and just stuck to this one The packaging is very vintage and flowery and i absolutely love these kinda styles and it is so pretty with the pink writing.The next item was the

Soak Opera bath soak and shower creme

 OMG this smelt like heaven when i had a sniff of it and once again i was blown away with it as i have never ever had a bath / shower creme in this form before, I had a bath with the soak opera as Zoella wanted to crete pampering products so you can have a nice hot relaxing bath with lovely scents!  and this does work when you also apply the

Zoella Fizz bar

 in with the soak opera and i tend to use about 3 of the fizz bar and mix it all in together and the bathroom smelt like heaven it was a wonderful scent to be in and it helped me to relax so much and this is why i love this Soak opera because it is one of the best things that has ever been made in history, I was a little bit disappointed that Zoella didn't make / or bing out a bigger version because i would buy one and even stock up because it isn't easy to find in Superdrug in store and online.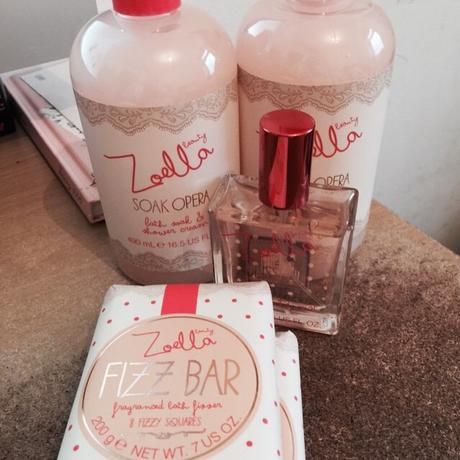 This is how much i loved the Soak Opera and the Fizz Bar that i went to Superdrug and bought two of each!

The Cosmetic bags

Zoella eyes & Guinea pig

was nothing like what i had expected when i saw them in my package and the guinea pig one was so adorable and i loved how she designed them with the polka dots and also the pink lining inside of each bag. I didn't use mine when i bought them as i didn't have no use for them so i decided to give them away to friends and i wish that i didn't know because they are very hard to get and if you do manage to get one you will be paying loads for it on eBay, I have won one on eBay for under £14.50 witch isn't to bad but i have seen that the guinea pig one is quite rare these days. The body spray that was also included in the collection Blissfull Missfull was so lovely and i have been using it ever since the glass container is very cute and i love the pretty pink writing that is also on the front of the glass. I have used 3 of these now and i absolute love the scent to everything from this first bit of zoella beauty,

The

Fragranced Candle

 was the last product that was in the collection and i burnt this while i was taking a bath with the Soak opera and the Fizz bar and the room felt like a beauty salon as everything around me felt so peaceful and i was so relaxed that i didn't want to come out of the bath for about a week. The candle didn't last that long but i think this small candle was a early test for Zoella to work on for one of her new collections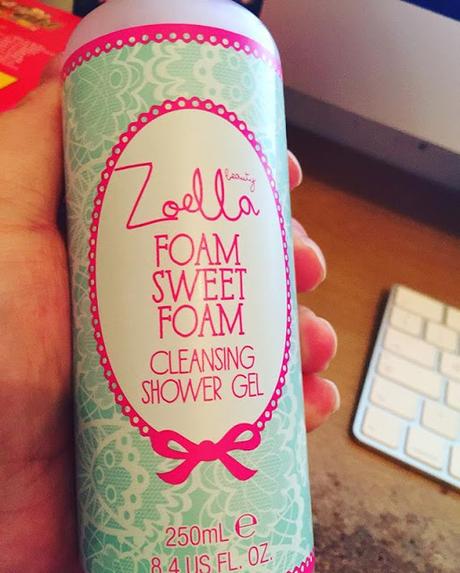 .

The Foam Sweet foam cleansing shower Gel From Tutti Fruity

In a few short months Zoella released a brand new collection called Tutti Fruity and i was so excited to try the new shower gel and the lip balm and the new body spray, As i thought that i wasn't able to order anything online viva Superdrug as everything was sold out i used Feel unique to place my order for these new products, I am not that keen on Tutti fruity that much but i did enjoy the

Fresh fizz bath bombs & the sweet foam shower gel

that both left me feeling very relaxed and very well pampered.The Candy creme body lotion is not one of my favourites but it does apply lovely to your skin and also leave your skin lovely and smooth and also it has some bits mixed into the creme witch is a really good idea as this does help with skin. one of my favourites is the 

Scrubbing me softly smoothing body scrub

 i have been though two pots of this stuff and its amazing for me and my skin i use it every other day when i take a shower and it gets your skin looking very clean. And lastly the the cosmetic purse kissy missy lip balm and the large frosted vanity case & Lets spritz body spay well what can i say everything is lovely and the body spray smells wonderful.
In the last couple of months zoella surprised us with  all of her new beauty bags and new products to add to her classic range and this included  

Just say yes beauty bag

Classic vanity case (From the original collection)

 Lace collar purse

Wonder hand hand creme

Soap pop fragrance soap on a stick

Blissful missful solid fragrance & Hey roomie reed diffuser 

I have bought everything that Zoella brought out in September and i have bought there Hey roomie reed diffusers as they are so good and they do actually work as i can smell that amazing scent that is in the whole classic collection, The soap pop on a stick is once again one of my favourites and i have been through two of them as they last for such a long time and the scent is truly wonderful.
Christmas 2015 was so exciting as Zoella brought out some amazing things like the

Awesome drawsome bathing collection

 

Two Balmy Lip Balm Duo

bath bombinis fragranced bath fizzers

Cosy Toesy Bath soak & shower creme With Cosy Socks

 

All That Glimmers Powder puff With Dusting Shimmer

Mini Fizz Bar Trio

Rose Gold Vanity Case

So Cute Coffret Set

&

Fairest Of Them All Travel Pass and Compact Mirror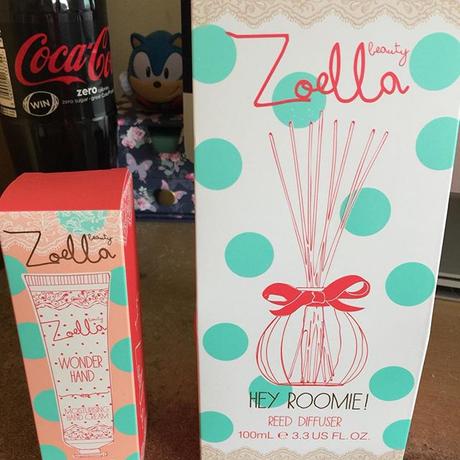 The Wonderhand Hand Creme and Hey Roomie Reed Diffuser 

I wasn't able to get any of the christmas products last year because they completely sold out and all i managed to get was the all that glimmers powder puff and the awesome bathing collection witch i picked up in the Black Friday sale in Superdrug,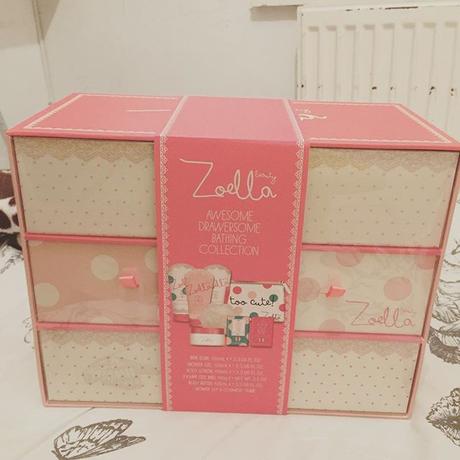 The awesome drawsome bathing collection was a brilliant idea that Zoella had because it was a storage box as well, I had mine and then it broke as the little tabs broke off and i was completely gutted as i loved this box so much. I am in the progress of getting another as i am always in need of storage boxes.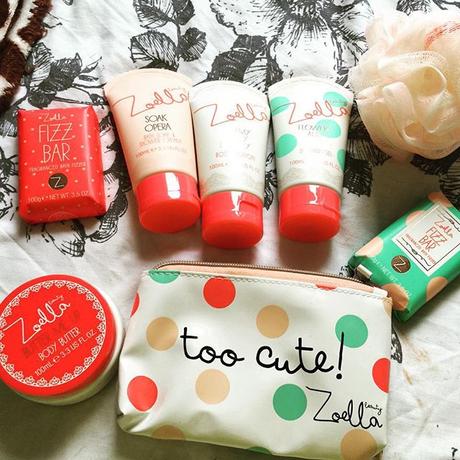 The wonderful products that came in the Awesome drawesome bathing collection!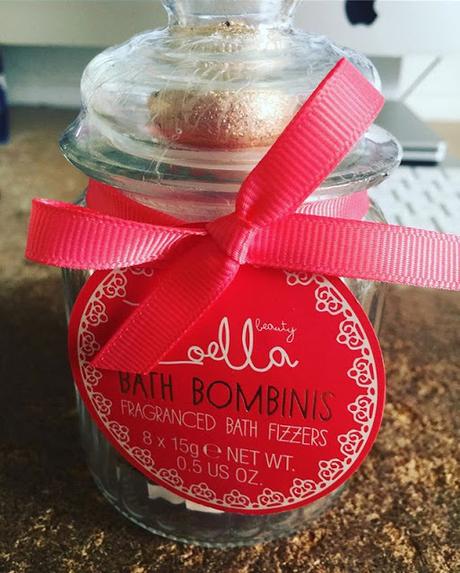 The Bath Bombinis fragranced bath fizzers witch i picked up for £12.10 off eBay, I loved these when i received it in the post and the smell that the fizzers give is divine! 

This year saw Zoella bring out her new collection Sweet inspirations and i was super excited as we waited months for a new line of products, I actually bought the products just after my 27th Birthday with my birthday money and when i went into Superdrug in Bristol i was so shocked to see it as the packaging was super cute and i loved the color and it was very stylish too. I was gonna have a sniff of the body spray in the store but i waited until i got home.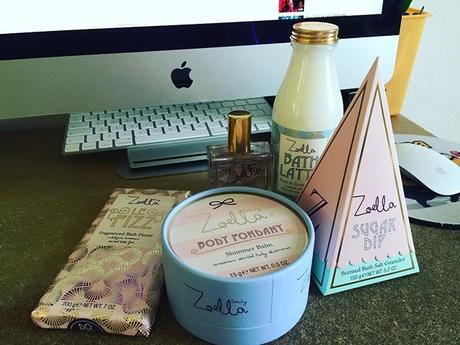 The Sweet Inspirations range Witch i bought in June 2016.

With this new range i was so excited as i actually love the scent of macrons and this range had that and the first day i brought it home i took a bath and added in all the product

s

Le fizz frgarnced bath fizzers

sugar dip (I used a small amount)

 

And the bath latte

 And the bathroom smelt like strawberry maroons and it was the best scent in the world. and the

Body Fondant

i have yet to use but it does look very good and i wanna keep this forever! The two cosmetic bags that was also included in the collection i adore so much especially the white and pink one as i can easily use this when i am on my travels.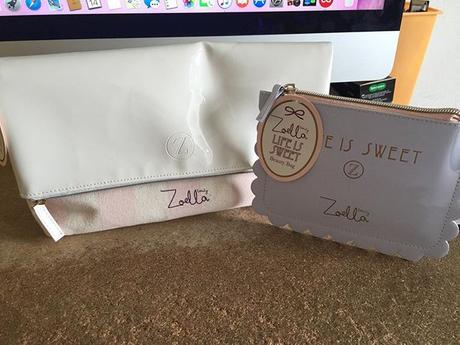 So whats coming up next for the amazing Zoella beauty team? Well Zoella has just brought out her Christmas 2016 range and i am just waiting for that to come into stock online viva Superdrug & Feel Unquine, I am super excited to get my hands on the Gingerbread scent and body creme set and the amazing pamper hamper witch is one of the most expensive on the collection. I have already made my Christmas list and i have asked for all of the Zoella beauty Christmas stuff and i will get this as soon as i am available to get it as i have seen that my superdrug does't have it on display as yet but i have been given a sneak peek of the lip balm duo and the fragrance set witch was very kind of the lady when i visited my local store a few weeks ago! And also Zoella has released her own range of lifestyle products witch i am looking forward to get as i am in love with the pencils and the candles and i am hoping to get half of this before Christmas this year!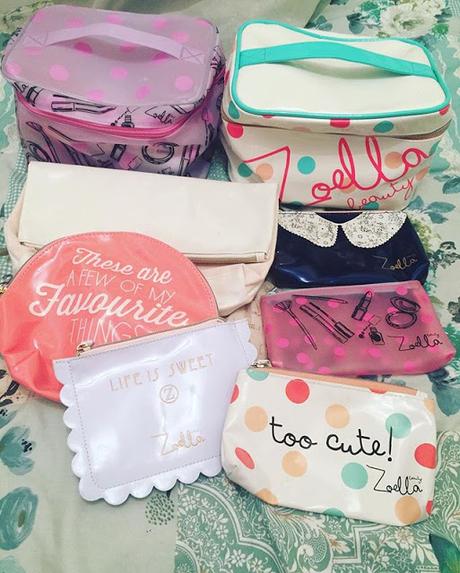 Collection of Zoella Beauty Cosmetic bags

I just wanna say a massive thank you to Zoella for making my YouTube and my blog into a huge success with out her and her range of beauty products and knowledge  i would be so stuck for advice. Zoella has helped me to begin my blogging career and bring out some of the most amazing products in the world and i will continue to support her and buy her products all the time as i cannot live without Zoella beauty!!!Thank you Zoe .Love Rianna x


Save

Save

Save

Save

Save

Save

Save

Save

Save

Save

Save

Save

Save

Save