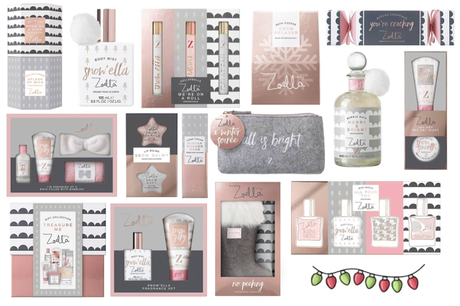 As soon as I spotted the Zoella Christmas collection online, I knew I had to share it with you! I love Zoe's beauty products and this collection has seriously impressed me! There are so many gift sets to choose from and the packaging looks even better than last year if you ask me. How amazing is the name too (Snowella) - I love a good pun. I love that's there's a gift set or product for every price range too and I'm almost sure they would be on 3 for 2 closer to Christmas too. Snow'ella is said to be a very fresh fragrance and I can't wait to give it a sniff! 
Winter Wonderhand £6: hand cream with enriched peony and mint. 
Snow Balmy Lip Balms £7: star shaped lip balm duo enriched with peony and mint, 
All Four You Mini Mist Set £16: includes Blissful Mistful, Snowella, Gelateau and Bake My Day. 
I'm Dreaming of a Bath Filled with Bubbles Gift Set £14: includes exfoliating mitts, body lotion, bubble bath and a bow head band. 
Snowella Fragrance Set £14: Includes a Snowella body mist and a body lotion. 
Brew Me a Bath £14: includes bath milk powder and bath tea bags with the uplifting Snowella scent. 
Snowella Body Mist £12: A slightly bigger sized body mist at 100ml. 
You're Cracking £12: includes three Zoella Beauty miniatures. Sparry Night Set £11: Includes a body polish and body butter. Merry and Bright Bath Soak £10: A gorgeous presented shimmering bubble bath. We're On a Roll Roller Ball Set £9: includes Snowella, Blissful Mistful and Gelateau.Snow Relaxed Bath Fizzers £8: Snow flake shaped bath fizzers enriched with Shea Butter, softening Peony, brightening Winter Cranberry and soothing Mint. A Winter Soirre Set £16: a gray cosmetic bag with a mini Winter Wonder Hand hand cream and a roller ball of Snowella.No Peaking Set £30: A stocking with three Zoella Beauty products Treasure Me Set £40: Includes a selection of products including the Snow Scoop Bubble Bath. I will be buying my products from next week so i can start getting them early as Zoella's products around Christmas is sometimes sold out, To buy the whole 14 products in one go it will cost a whopping £219.00!! I will start to get the cheaper bits first and then the more expensive ones before Christmas! I am looking forward to try the brand new Fragrance Mist & The Hand Cream!