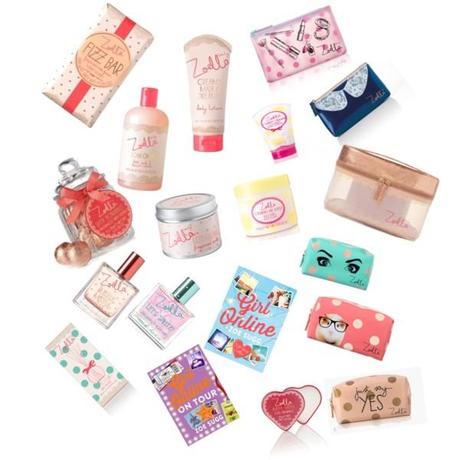 I was super excited to finally see that one of my favorite YouTubers Zoe Sugg was bringing out her own range of products in 2014 under SLG, I was super excited to try these new amazing products and to see what they actually smelt like and also would it be any good, When i was able to watch the video on Zoe's official Youtube channel she explained that she wanted to bring out a collection of bathing products to help people just to unwind and relax as someone people do lead hectic lifestyles and also stress and depression. When Zoe explained the products in more detail i was thinking that i believe that this collection is gonna be a sell out and also people would also be in high demand for each of the products. I was super excited to try the Soak Opera, The body lotion and the fragrance. When i saw each of the product design i found it to be very well designed and Zoe must of put so much hard work into designing each of the products witch i absolute love and adore so much.
When the collection officially launched i wasn't able to get hold of any of the products because on Superdrug's website was completely sold out and i had to wait a few weeks before i was able to get my hands on the full collection itself, As i was watching and reading people's reviews on the products 
and everyone said that the scent smells amazing and its super ideal just to wind down in the bath and just relax and let all your worries drift away. I also liked the fact that she also added the candle and the bath fizzes to the collection witch made it even more exciting. With all the videos and the reviews that i had been reading previously that i wanted this collection so badly and i just couldn't wait to get into the bath and use the scented candle with the Soak Opera.
I would also needed to be very careful on what i can apply to my skin as i do suffer with blemished Eczema as it could easily flare up while i use any kinda product on my arms and legs and this made me a little bit worried when i was trying the body lotion for the first time if i was gonna have a reaction to it
, 
So finally the day came when i was able to get my hands on the complete collection from Superdrug and i was so happy that it was finally coming and i just couldn't wait to see it in person as i just wanted to get my hands on it straight away. I cannot remember how much the hole collection was at it was a few years ago now but it was totally worth every single penny what i did pay. When the package finally arrived i was just blowed away with how the products were designed and also how pretty each and every item was and i do like the sticker on the bath Frizzer "do not eat" as it does look pretty much as a chocolate bar and i just had fallen in love with this collection. 
When i finally opened up the Soak Opera i was also blowed away with the scent as it smelt so divine and this stuff is super ideal for baths and showers but i would prefer baths with mine with the Bath Frizzers. I just absolutely loved the scent from this amazing collection and the Soak Opera it was super ideal for baths.
Since i have been using Zoe's Products since 2014 i have never ever had any reactions to the range or has reacted to my skin in any way and since i have been using all of the body lotions every day that i have also seen that my skin has improved especially on my arms more then anything and my arms and legs feel very soft after i have applied the body lotion after i have had a shower or a bath.
When i first used the Soak Opera with the  bath Frizzers for the very first time i was impressed how easy it was just to pour it into the bath with the Frizzers and watch all the super bubbles appear and also the bathroom transformed into this amazing scent that made me wanna relax in the bath even more and it was super nice in the bath that night with the Soak Opera that i didn't wanna get out as it was so good.
There was only one thing that i was only a disappointment to and that was the Bath Frizzers and i was hoping that they would produce bubbles once you had placed them into the bath but saying that they did have this amazing scent to them witch i absolutely loved and the Soak Opera was more then ideal to use with the Frizzers witch i didn't mind doing. In the near future i would love Zoe to bring out some bath Frizzers that contains bubbles in them so i wouldn't need to buy more bubble bath and £5 is a excellent price for frizzers for what they do for you in the bath.
S
ince 2014 Zoe has come a very long way with her range of bathing collections and i have loved each and every one that she has worked on and also designed, I have been collecting and also been using her range of products now for almost 4 years and i must say its one of the best out there and i wouldn't use any other product unless it has Zoella Beauty on the item, Some of the items can be a little bit expensive but its worth every single penny that you pay as it lasts for a long time and you smell super nice with the scent that she creates on each collection that she brings out. I will never stop using Zoe's range of beauty items and collect her limited edition Christmas products because its well worth it and i love it all
At the moment my Zoella collection has come a very long way and it can be kinda tricky to store my items somewhere safe due to the size of my bedroom, I always look after my Zoella products and i also take care and pride with each and every one that i own, I am always looking on eBay and Depop to add more items to my collection every single day and when i find something for my collection i usually buy it every 2 and weeks and four weeks.
My Zoella Beauty Collection 2017 Update so far....
Creamy Madly Dreamy Body Lotion 
Candy Cream Softening Body Lotion 

Double Cream Body Lotion 

Body Fondant

Awesome Drawsome Bathing Collection

Bath Bombinis Fragranced Bath Frizzers
Cosy Toesy Bath Soak & Shower Cream With Cosy Socks 

All That Glimmers Powder Puff With Dusting Shimmer

 

Rose Gold Vanity Case 

Two Balmy Lip Balm Duo

Fairest Of Them All Travel Pass & Compact Mirror 

Gelat Eau Body Mist 

Gelato Body Pudding

Gelato Beauty Clutch Bag

Beauty Purse No Filter Needed

I am Dreaming Of A Bath Filled With Bubbles Gift Set 

Winter Wonderland Hand Cream

Sweet Inspirations Body Mist 

Snowella Body Mist 100ml

Write On Point Pencil Collection

 

Hand On Heart Hand Gel

 

Wondrous Whip Body Moisturiser

Large Vanity Case 

Warm Heart Warm Hands Travel Mug & Glove Set 

Lace Collar Purse 

Let's Spritz Body Mist
Wonder Hand Moisturising Hand Creme 

A Winter Soiree

All For You Mini Mist Set 

Brew Me A Bath Set 

Snowella Fragrance Set

 

The Key To Inspiration Key Ring

We're On A Roller Ball Trio

 

Merry And Bright Bath Soak

Snow Balmy Lip Balms 

Spray Night  

Treasure Me Set 

You're Cracking 

Snow Relaxed Bath Frizzers

Fairest Of Them All Midi Cosmetic Bag 

Just Say Yes Beauty Bag 

Guinea Pig Beauty Bag

Eyes Beauty Bag

Cosmetic Coin Purse 

Winking Eyes Beauty Bag

We 3 Beauties Cosmetic Bag Set 

Best Chums Coin Purses 

Lip Balm Duo

Candy Clutch Beauty Bag 

Life Is Sweet Beauty Bag

Blissful Mistful Fragranced Body Mist

Kissy Missy Lip Balm

Hungry Hands Hand Cream

Classic Vanity Case

Sticker Me Beauty Bag

These Are A Few Of My Favourite Things Beauty Bag

Pink Frosted Vanity Case 

Just Crackers Set 

Secret Santa Mini Mist Set 

Gingerbread & Vanilla Fragranced Set 

Weekly Planner

This Is Your Year Desktop Calendar 

Catching ZZZs 

Stationary Bento Box 

On The Case Pencil Case 

Cosy Vibes Mug 

Warm & Toasty 

Cosy Christmas Sock & Candle Gift Set

Bits & Bobs Strage Tins 

Once Upon A Lifetime Notebook 

She Designed A Life She Loved Stationary Book

Lazy Days Gift Set 

Naps fix Everything Pillow  

Pottering Around Storage Pots  

Hey Roomie Reed Diffuser

Soap Pop Fragranced Soap On A Stick

Blissful Mistful Solid Fragrance 

Zoella 12 Days Of Christmas Advent Calendar
As you can easily see that i am 
hugely addicted to Zoella Beauty & Lifestyle and my collection just keep growing and growing and theres no way i will stop ever buying it because its a 
excellent brand and well worth the money and the scents that Zoe creates is out of this world. I think that i have spent a few thousands on my collection so far and my mom doesn't really understand what is the massive hype about the collections as she tells me that its a waste of money but it isn't! My auntie had a smell of the scent when Zoe had released her first line of Christmas products in 2015 and once my auntie had a smell of the scent she absolutely loved it and she wanted some straight away and my auntie is much older then me and she said that she would love the fizz Bars of course she still hasn't tried them since she smelt the scent almost 4 years ago.At the current moment i am still collecting my Zoella Beauty & Lifestyle ranges and there is a few products that i am missing from my collection and thats a few items from last Years collection and a few that has been released between this year and 2016. I have never ever been disappointed with Zoe's products and i have loved the designs and all of the hard work that Zoe has put in each and every product. She just amazes her fans with amazing products each and every year for her collections and i am hoping that she does bring out a Makeup line out in the near future and of course shampoos and conditioners that would be amazing if she did.I think its one of the most popular ranges in the world and i will never ever continue to stop buying it even when i am in my late 30s and 40s because i know this collection is one of the best out there on the market and i will never ever use any brand of body lotions unless its from Zoella beauty as i love the scent and the cream is super for my skin and it lasts a hell of a long time. Thanks Zoe for all of your hard work and your amazing products.